New Program Shift Shop Review LIVE from Punta Cana Rewards Trip
**SHIFT SHOP has been released since I wrote this blog article, check out my detailed Shift Shop reviews with heart rate analysis HERE**
I was SO excited when I first heard the big news on the performance-based total body workout program called SHIFT SHOP coming from Beachbody in July 2017, especially with the announcement of the new Super Trainer Chris Downing leading the workouts!! Agility and athletic performance have always been my favorite focus areas in health and fitness including Insanity, Asylum, P90X2 and others. What is great is the addition of modifier options to make this 3-week progressive ramp program more accessible to a range of fitness levels and goals. Shift Shop looks like an amazing program (see trailer below)!
I was also excited to hear that Chris would be at the Team Beachbody Success Club Trip April 2017 in Punta Cana, Dominican Republic that I was scheduled to attend a few weeks later! All inclusive, rewards trip to the Hard Rock Hotel and Casino. As such, I reached out to Chris to congratulate him…
What brand new Beachbody Super Trainer takes the time to send me an audio message on the day his new program is announced to the public?!?
Meet Chris Downing…
(Click play to listen to my Facebook audio message from Chris on April 8, 2017!!)
Amazing individual. Below find some footage, pics and screen shots from my experience with Shift Shop and Chris Downing in Punta Cana!!
Below is the FIRST EVER live Shift Shop workout with Chris Downing and 1400+ coaches. I was in the front row, check out this workout from my perspective and join along with me! And, seriously, check out the inspirational words from Chris at the end of the workout, great guy, #EmpowerLoveInspire.
Press play on this Instagram video for one of my favorite moves!
Chris even gave me a shout-out of encouragement on Instagram!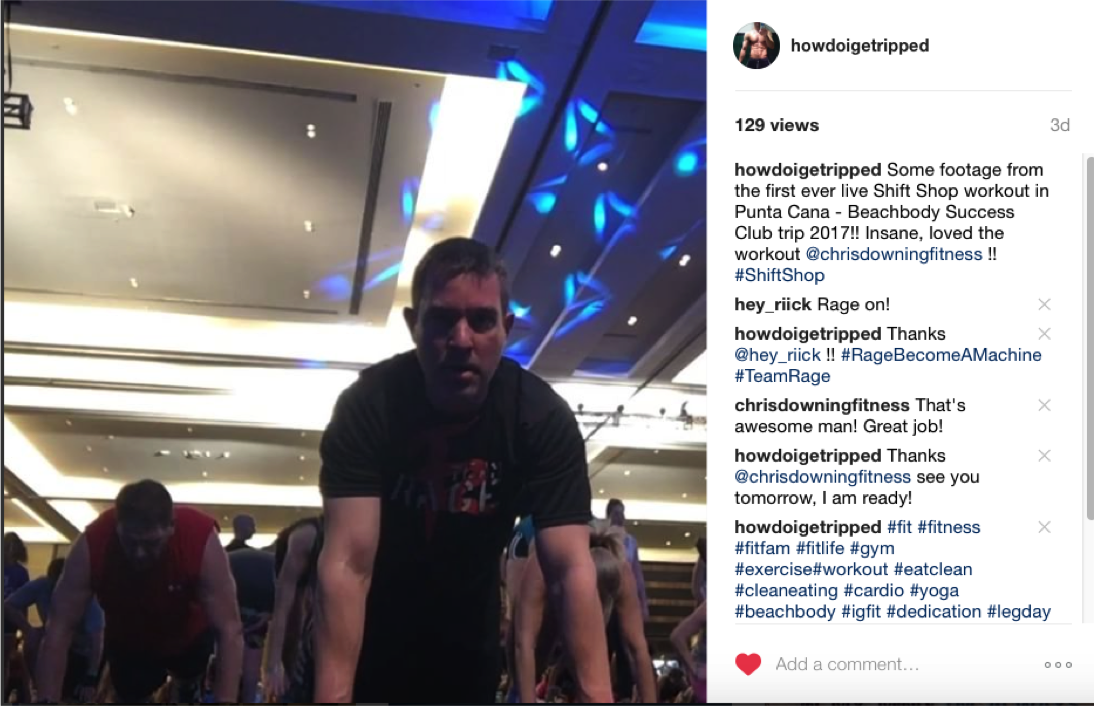 The Shift Shop workout we did was pretty tough, to be honest. I noticed everyone around me was getting a great workout, even with modifier moves. A lot of people were taking breaks. It was crazy hot in there with that many people, and I worked up a sweat. Many of the moves are total body focus and my legs and shoulders were worked hard. Clearly in this live setting we had to use body weight for resistance vs. free weights that will accompany some of the workouts in the official program available in July. My Team and I were up close and personal with Chris in the first row. His motivation and inspiration were unique and pushed us much harder to get more out of ourselves when ready to quit (similar to Shaun T style). Chris was in our faces with intensity and tips to SHIFT our mindset for workouts and life. Yeah, Shift Shop is AMAZING!
More pics after the first EVER live Shift Shop workout (see if you can find me near Chris Downing!)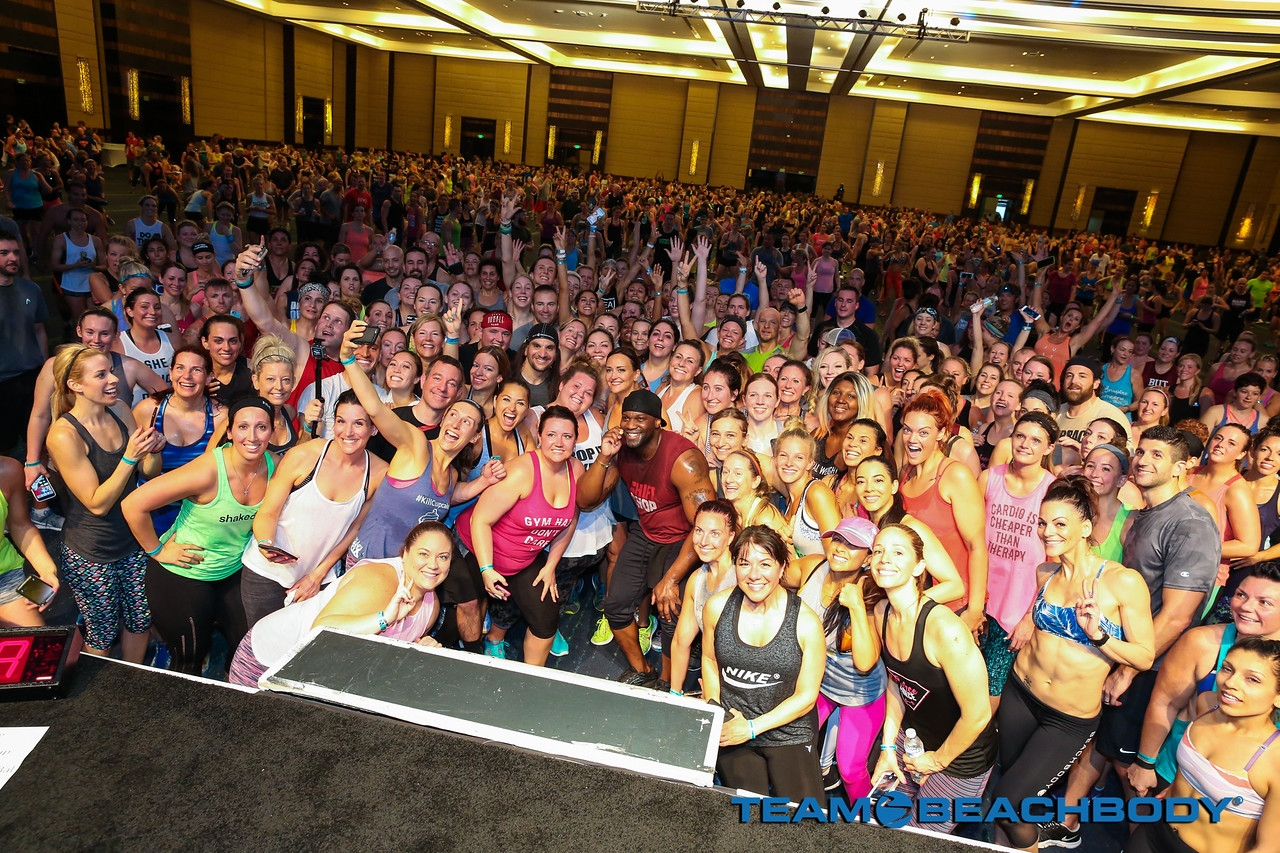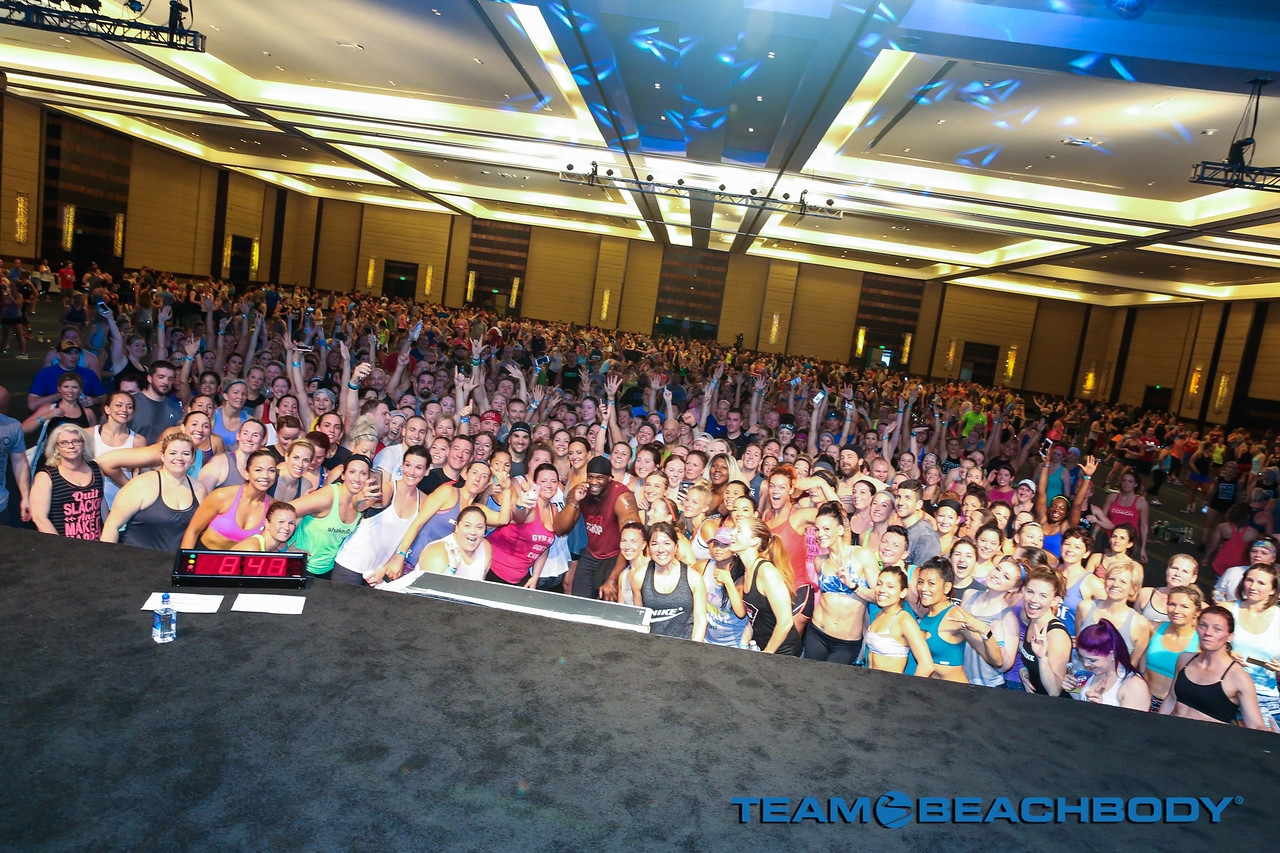 Here is some video from the Shift Shop workout on Day 2, more total body movements and encouragement from Chris!
Chris even shared my Facebook video post and I got the opportunity to meet some of his supportive friends and family in the process!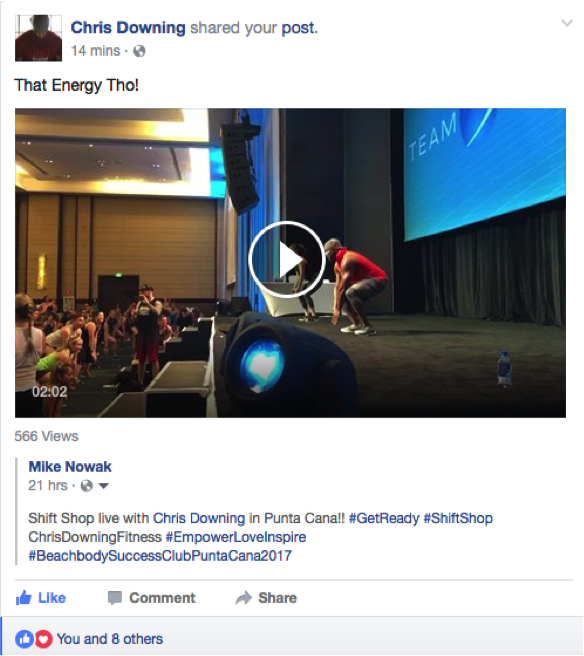 I was already super sore, but the Shift Shop workout on Day 3 was supposed to be even more of a rocker so I broke out my heart rate monitor to get some additional proof (besides sweat and soreness)! I was not shocked at all, check out my heart rate analysis data…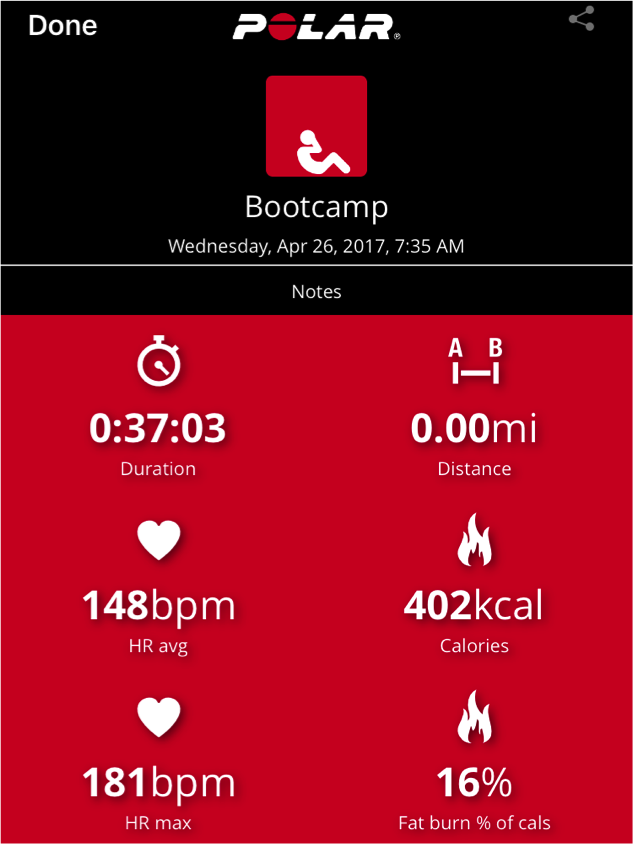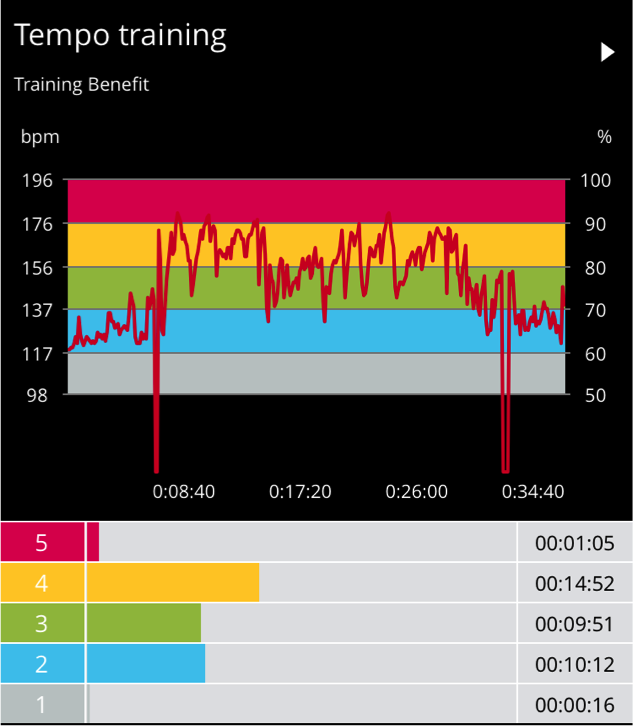 This workout was by far the hardest of the 3 Shift Shop workouts we did live in Punta Cana. I loved it. He gave a few different modifications for the moves to challenge beginners all the way up to athletic types (I tried those variations). You can see I worked it! 402 calories in about 30 minutes actual workout time with average and max heart rates of 148 bpm and 181 bpm, respectively. In these live workouts he had moments where he would pause to explain or do something special only possible in a live setting. For example, the dropped heart rate signal at the end was when he had all of us come to the middle of the room and then do hop squats to the front of the room. We felt the burn! (You can see a similar sequence at the end of my video above for Day 1 Shift Shop workout). My heart rate analysis data indicated most of the workout was in Zones 2, 3 and 4 at 60-90% target heart rate max.
My overall assessment is that Shift Shop has some strong similarities to Insanity Asylum series from Shaun T with heart rate analysis profile near some of the Insanity Max:30 workouts, 22 Minute Hard Corps and Core De Force (Agility workouts). I am pumped to do this program. It will come with agility markers as shown in the trailer video at the beginning of this blog post. My favorite moves from the workouts in Punta Cana include the plank shoulder fly moves (will allow weights in the actual workouts) as well as the athletic sequence that has you perform agility jump laterally to plank burpee, pushup and then jump knee tuck. Killer! I do have to say as well that Chris is amazing at pulling people up on stage with clear obstacles and challenges to inspire them and others to simply be OUR BEST and supportive of others. Awesome stuff. Shift Shop — #GetReady
Chris gave me some love on Instagram again when I shared my detailed heart rate analysis from Shift Shop workout #3!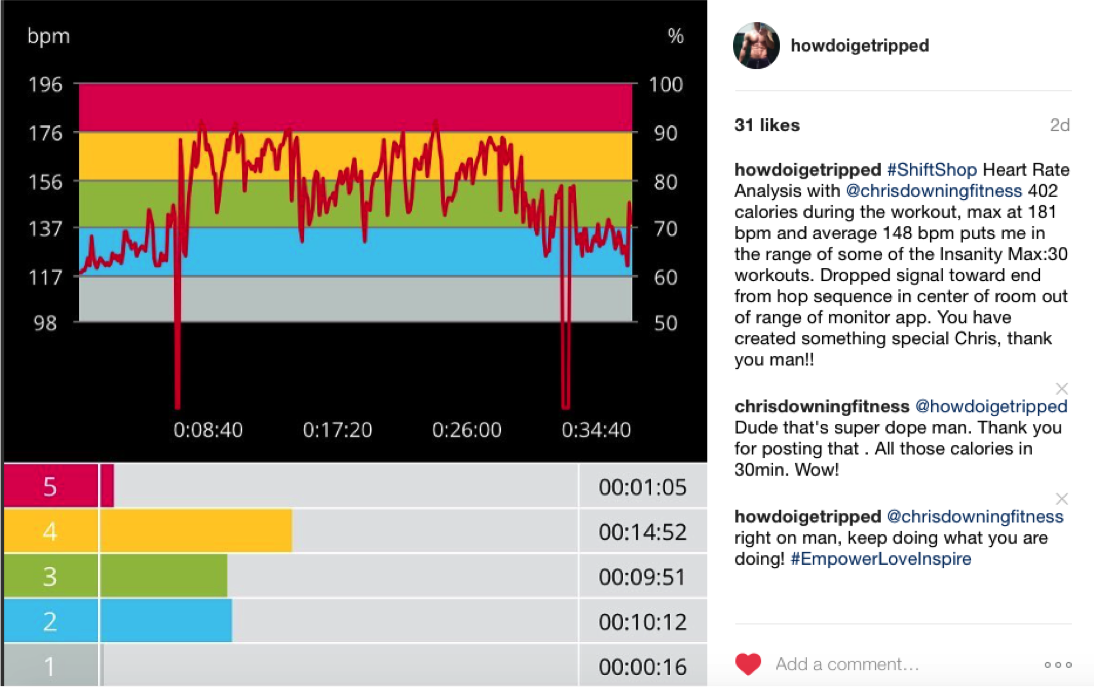 **SHIFT SHOP has been released since I wrote this blog article, check out my detailed Shift Shop reviews with heart rate analysis HERE**
Email me at MikeNowakFitness@gmail.com to get added to my list for private Shift Shop Challenge Group in July. We can get you added to the Team support in the meantime with free personal one-on-one coaching to get you ready for Shift Shop and other programs. As always, I will be conducting a full, detailed heart rate analysis review of Shift Shop as well as create an insane hybrid with Body Beast to get the best of hypertrophy mass gain combined with agility/intervals cardio performance. Let's do this!!
Also, there are new programs coming from Shaun T and Tony Horton as well as other Beachbody Super Trainers. Plus, the insane value of the All Access Challenge Pack at $160 will continue until August end, click here to learn more about All Access exclusive benefits!
Some more pics below from our time in Punta Cana!!
Interested in joining TEAM RAGE on future Success Club trips for coach success helping others? Message me today to get started on your legacy at MikeNowakFitness@gmail.com !!
The following two tabs change content below.
Premiere 5 Star Diamond Independent Beachbody Coach, CEO and Founder of TEAM RAGE, Mike Nowak Fitness, HowDoIGetRipped.com and How Do I Get Ripped, LLC. You are about to learn how I went from out-of-shape busy dad with significant travel, 2 kids and a wife to losing 20 pounds, 16% body fat and 7" off my waist while getting paid more income from home than my Ph.D. in Science & Engineering. Retired my Ph.D. career to focus on FAMILY & FITNESS!
Latest posts by Mike Nowak (see all)
Comments