Does Shaun Week Work? Workout Reviews (Complete List)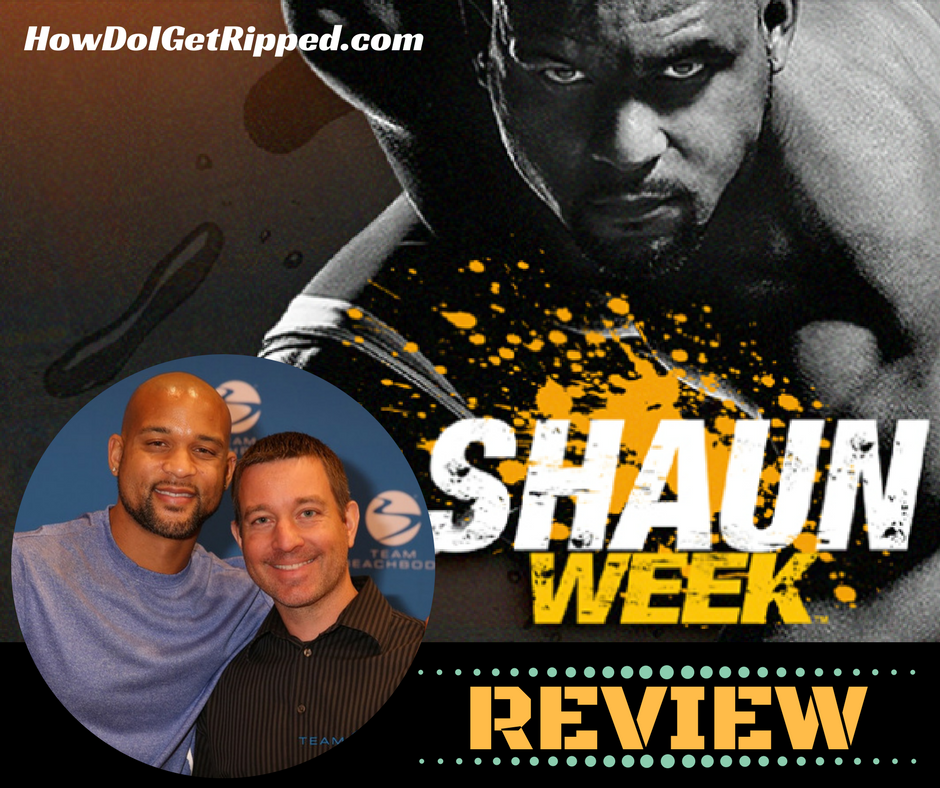 Shaun Week Review – Does it Work?
It has been years since Shaun T's last "insane" workout released with Insanity Max:30 in December 2014. Before that, Shaun T developed Insanity, Insanity Asylum Volume 1, Insanity Asylum Volume 2 and T25. They are ALL amazing workouts with my favorite being Max:30, original Insanity and Asylum Volume 1. I have been using these workouts as standalone or in hybrids (typically Body Beast) for many years and they have helped me get absolutely ripped in the best shape of my life! I have also had the opportunity to do these workouts live with Shaun T many times… AMAZING. And now, Shaun T is releasing his new 7 day series of workouts called, "Shaun Week: Insane Focus," beginning June 12th, 2017 exclusively on Beachbody on Demand (BOD)! Get your ALL ACCESS pass to BOD and get these new Shaun T workouts along with nearly $8,000 worth of other workout programs, nutrition guides, healthy cooking show and exclusives. The ALL ACCESS Beachbody on Demand Challenge Pack is a KILLER deal and most popular. Dig Deeper!
Shaun Week is an intensive bootcamp with 7 new workouts from Shaun T ranging from 25 – 40 minutes per day inspired by his greatest hits including Insanity and T25 to get the challenge of Insanity with the timing and weights found in T25 = Insane Focus! One new workout will be released per day on BOD beginning June 12th for a week straight. The workouts will remain on BOD thereafter for those that plan to take on Shaun Week at a later date or in hybrid schedules. Get your access now! The workouts incorporate cardio, intense strength conditioning, abs/core and mostly leverage your own body weight for resistance, although two of the workouts require some dumbbells (Insane Weights and Ripsanity). Modifiers will be available for a range of fitness levels. I am pumped to press play on these new Shaun T workouts!
My goal with this detailed Shaun Week Review is to both try the program AND create perspective for you to make a decision on leveraging Shaun Week for your health and fitness goals. I am also interested to see differences for Shaun Week relative to Insanity, T25, Asylum, Insanity Max:30 as well as other Beachbody programs. I have literally tried them all. I also created a hybrid schedule with my favorite mass gain program, Body Beast! Be sure to join my PRIVATE SUPPORT TEAM for daily motivation and accountability, the slight edge, for your success. Check out my TESTIMONIALS!
Again, given that I am a Science guy,  I will leverage heart rate analysis for each workout to draw conclusions and comparisons including the data in my perspective. This approach is similar to my popular reviews for P90X3, Insanity Max:30, Hammer & Chisel, 22 Minute Hard Corps, Body Beast, Country Heat and Core De Force. I have a Polar H7 Bluetooth enabled heart rate monitor (chest strap) synced to my iPhone using the free Polar Beat Mobile App and Polar Flow. Warmup and cooldown time is included in the heart rate analysis. The warmups (6 min) and cooldowns (1.5-3.5 min) are limited so it is recommended to add additional time to stretch if needed. Nutrition is CRITICAL for getting the results you want with this program and the targets are aligned with the clean eating systems based on your stats and goals (see Insanity and T25 nutrition guides, or Portion Fix). My supplements include Beachbody Performance Ultimate Stack of ENERGIZE pre-workout, HYDRATE during workout, RECOVER post-workout, CREATINE, RECHARGE casein protein before bed and Shakeology snack. I hope you enjoy my Shaun Week Review!!

The Workouts
Insane Basics — Day 1
Pure Cardio 2 — Day 2
Insane Weights — Day 3
25 Abs — Day 4
Ripsanity Workout — Day 5
Speed 4.0 — Day 6
Dig Deep — Day 7
The Data Analysis Summary
Bottom line… Shaun Week will be a GREAT option in hybrids for those that are fans of Shaun T and cardio intervals with some workouts using resistance via body weight and dumbbells. It is a 7-day program and I do not necessarily recommend doing the 7-day schedule as designed for more than a month straight without mixing up workouts. I also switched up the order of the two workouts with dumbbells in my hybrid (Insane Weights, Ripsanity) to give the muscles more time to recover and avoid overtraining those groups. With that said, Shaun Week is definitely a mix of Insanity with T25. The data below demonstrates Shaun week is one of the more challenging Beachbody programs available, but not the most demanding for me (hello, Insanity Max:30!). However, Shaun Week represents some of the best, most motivational work from Shaun T. It is a challenging AND fun program. More on my data analytics in this section followed by full, individual workout reviews. You will also want to check out my Body Beast Shaun Week hybrid!
The table below demonstrates the VERY detailed results from comprehensive heart rate analysis for all 7 workouts for Shaun Week (click to expand for easier reading).  The data includes calories burned, average heart rate, max heart rate, time in each of 5 workout zones plus the percentage of time in max zones 4 and 5. Normalized calories are also shown (calories/workout time). The data is sorted with the highest calorie burn workouts near the top ranked toward lowest calorie burn at the bottom (not surprising, basics workout and core routine). The graph also summarizes the workouts with regard to heart rate analysis (calories burned, average heart rate).
I feel really good about the data set and the regression analysis below indicates a very strong correlation to the data set for normalized calories and heart rates, which is a good sign (very close to perfect correlation R2 = 1). Although not shown in graphical format, max heart rates vs. average heart rates for all 7 workouts also provides a good fit at y = 0.7836x + 59.105  (R2 = 0.78132).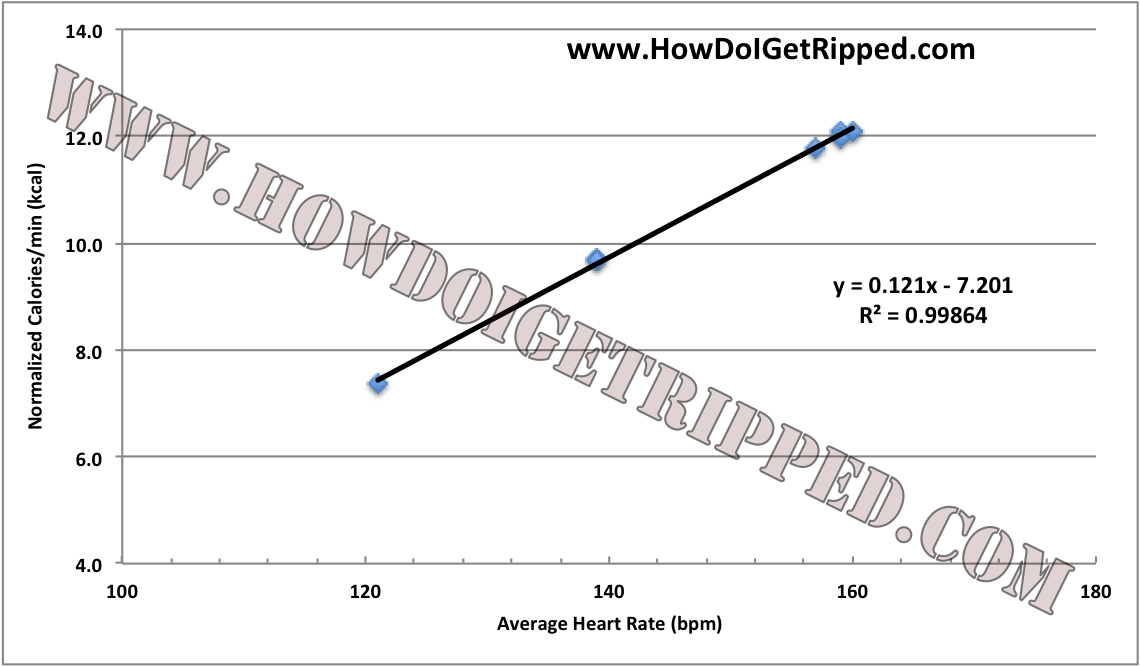 You can see from the data set that Shaun Week provides a range of workouts that challenge in different ways. (By the way, I know that you are not actually "burning" calories, ha, it is just a term.) The two workouts with dumbbells, Insane Weights and Ripsanity, provided the greatest caloric expenditure for me during my Shaun Week Review. This is not surprising if you check out my detailed Body Beast review since resistance work often indicates weights may actually promote enhanced, sustained calorie burns. I love the incorporation of these weighted workouts in Shaun Week, although, again, I think that they need to be separated a bit more in the weekly workout schedule. Insane Weights and Pure Cardio 2 have the highest normalized calorie burns, and they are VERY different workouts. Insane Weights gets you there via cardio-based resistance while Pure Cardio 2 is pure cardio intervals with a lot of sweat equity. Ripsanity is perhaps my favorite workout of Shaun Week. Calorie burn is significant, but it is accomplished over a longer period of time and normalized calorie burn per minute is much lower given the breaks and active recovery movements. I was expecting Dig Deep to be the hardest workout of Shaun Week, and possibly even the hardest ever created by Shaun T, but the heart rate data confirms my overall perspective afterward that this one is tough, but not the most challenging ever (that would be Max:30 Friday Fight Round 2!). However, Dig Deep absolutely had its moments with so many extended sequences of plyo moves and I did record my highest max heart rate of the program with Dig Deep at 191 beats per minute. Overall, Insane Weights, Pure Cardio 2, Speed 4.0 and Dig Deep pushed me hard from elevated heart rates and residence time in the higher workout zones. And, 25 Abs is going to be classic for hybrid schedules!
Check out the comparison below to some key performance indicators relative to other top Beachbody programs P90X3, Insanity Max:30, Hammer & Chisel, 22 Minute Hard Corps, Body Beast, Country Heat and Core De Force (click to expand for easier reading). Numbers shown are averages of all 16 Insanity Max:30 workouts, all 20 P90X3 workouts, all 19 Hammer and Chisel, all 13 22 Minute Hard Corps workouts, all 15 Body Beast workouts, 11 Country Heat workouts, all 14 Core De Force workouts relative to all 7 Shaun Week workouts. Workout times generally average in the 30 minute range for most of the programs…
The data confirms my general assessment of Shaun Week. It was challenging, but not the most demanding Beachbody program for me falling somewhere in the middle of this table with regard to all of the data sets measured. As such, this program did not push me as hard OVERALL as Insanity Max:30, for example, which pushes you to "max out" to failure (body weight only), although some of the Shaun Week workouts given Max:30 a run for the money. Again, I also generally see more of a challenge from the workout programs that involve resistance with actual weights. With that said, the interval conditioning spikes found in most Shaun Week workouts do indeed ramp/spike heart rate and push you as hard as you want to push yourself, especially challenging push-up variations and plyo exercises.
So, Does Shaun Week Work?
YES! I am not going to lie, most if not all of these programs will work if you follow them, especially the nutrition guide and discipline. I know this from my personal experience as well as the experience of thousands on my Team across the World over 8+ years already. Shaun Week is ANOTHER tool in the toolbox for achieving your health and fitness goals. If you are a fan of Shaun T, this is vintage Shaun T and new, innovative variations of many of his popular moves. I am a fan of Shaun T, but I still gravitate toward Body Beast for my mass gain goals at the present time. As such, I have created a Body Beast Shaun Week Hybrid that incorporates Shaun Week workouts to enhance my overall core, cardio and performance development. Dig Deep(er) with Insane Focus!
Favorite Workouts: Ripsanity, Speed 4.0
Least Favorite Workouts: Insane Basics
Hardest Workouts (for me): Insane Weights, Dig Deep
Easiest Workouts (for me): Insane Basics, 25 Abs

The Reviews
Insane Basics
Day 1 of Shaun Week is all about learning the moves and basics of good form throughout the workout. As such, I was expecting Insane Basics to be relatively easy. Wrong! Yes, it is probably one of the easier workouts in Shaun Week, but this workout was still a very good challenge.
"If you focus, your body will get the results." – Shaun T
So how did I do in 31 minutes of Insane Basics?
Heart rate analysis data…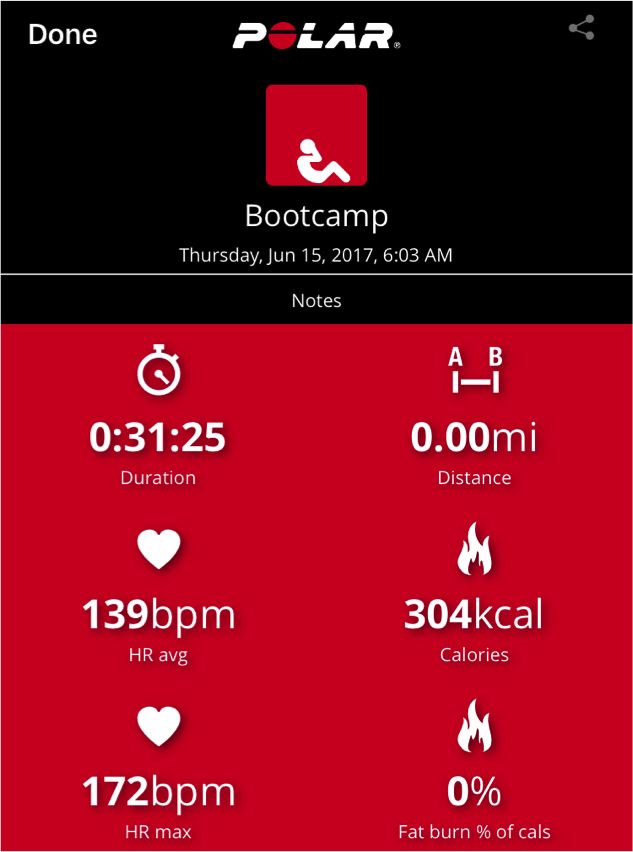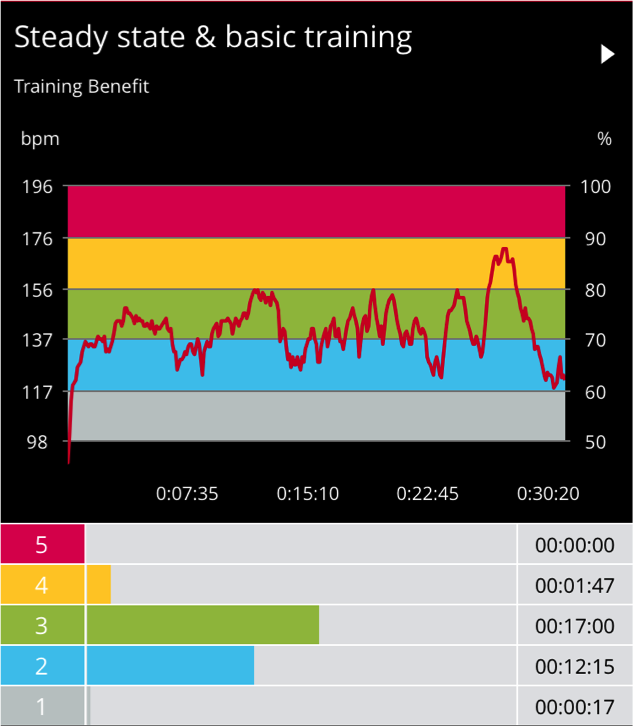 Insane Basics begins with two rounds of warmup with 6 moves in each round. This format is much more similar to Insanity than T25 and I was excited to see a better warmup in this series vs. having to warmup on your own prior to the workout (most don't, which can lead to injury). The warmup includes slow jog, 123 lateral, glide, double butt kick, shoulder jack attack and high knee punch. Focus is on good form and core engaged throughout (common theme during the entire workout). After the warmup there is a 30 second break followed by the first circuit of exercises (I recommend some stretch before pressing play). For Insane Basics there are generally 3 circuits of 12 moves each targeting the total body. Each move is around 30 seconds. For the 12 moves in each circuit, there are 4 general moves repeated two more rounds with progressive difficulty in each round. Circuit 1 consists of mostly moves to isolate leg muscles. Round 1 of Circuit 1 includes squat step back/forward, stance squat, feet out attack and lunge/adductor. Rounds 2 and 3 added hops (round 2) and jumps (round 3). There are NO breaks in Circuit 1. After Circuit 1 there is a 30 second break. Circuit 2 focuses on the Shoulders, Arms and Core. Again, 12 moves with 4 exercises each round and progressive difficulty. However, there are 30 sec breaks in Circuit 2 between each round. Round 1 consists of plank hold, V hold, superman (squeeze shoulders) and spider lunge elbow thrust. After a short break, Round 2 adds some dynamic movements to those base moves, and even moreso in Round 3. Round 2 is plank row, plank walk to V up (and back), superman speedbag and spider lunge lift twist while Round 3 is plank balance row, V pushups, flutter kick superman speedbag and lunge up twist run. Keeping the core tight and engaged is key to good form and getting the most out of the moves! Finally, after a 30 sec break Circuit 3 is next with chest and abs/core focus. There are again 30 sec breaks between the 3 Rounds. Round 1 includes slow burpee, pushup, modified speed and agility (T25) and reaching abs. Round 2 is burpee jump, out-out in-in pushups, speed and agility and lift knee crunch. Round 3 consists of burpee scissor jump, pushup jack, speed and agility X jump, and reciprocating reach knee abs. There is then a burnout V hold leg lift for abs/core fatigue for 40 seconds. Tough! Insane basics ends with a 2 min 20 sec cooldown.
This was a GREAT workout! My heart rate analysis demonstrates 304 calories gone in 31 minutes with average heart rate of 139 beats per minute and max heart rate of 172 bpm. The workout was mostly in Zone 3 at 70-80% target heart rate max. I can tell you at times I was definitely challenged, but there were quite a few floor moves that brought the heart rate down and numerous breaks. I did manual pulse checks during the workout and confirmed the general trends of the monitor. This compares to some of the "easier" workouts of Insanity Max:30 in my previous analysis for similar length workout, although the workout zones were in the lower range for Insane Basics due to the factors mentioned. Insane Basics is on par with T25 Beta phase workouts. Keeping in the spirit of Insanity Max:30, I almost "maxed out" around 20 minutes as my legs were ON FIRE from the first Circuit of moves. Same happened near the end for abs/core burnout with the V hold leg lift (as Shaun T was kicking others out of the workout!). Good stuff. I found the jump moves especially challenging including Speed and Agility X Jump! Plank balance row in Circuit 2, Round 3 was killer for core engagement. Overall, this was definitely a total body workout and I need my RECOVER shake! Shaun T was dialed in with his patented motivation and inspiration balance of tough love, but genuine support to be your best. Looking forward to Day 2 in my Shaun Week Review!
Pure Cardio 2
Day 2 of Shaun Week brings Pure Cardio 2. I was excited for this workout given that Pure Cardio in the original Insanity was one of my favorite workouts (shorter, but effective with no breaks after warmup). I will always remember when Shaun T says he is nervous about Pure Cardio 1 during the warmup. You know anything called "Pure Cardio" will be a challenge.
"The results start in the mind and they filter into your body." – Shaun T
So, how did I do with 26 minutes of Pure Cardio 2 in my Shaun Week Review?
Heart rate analysis data…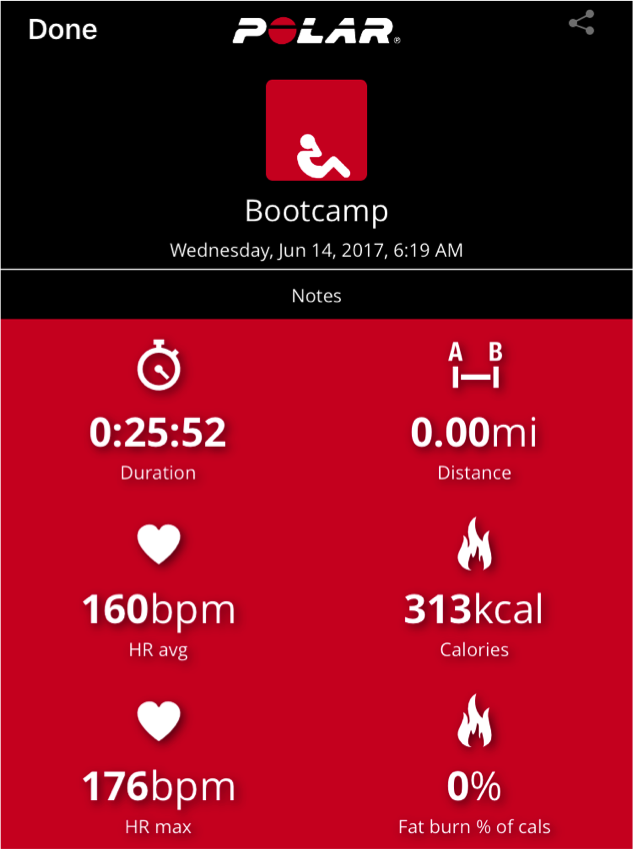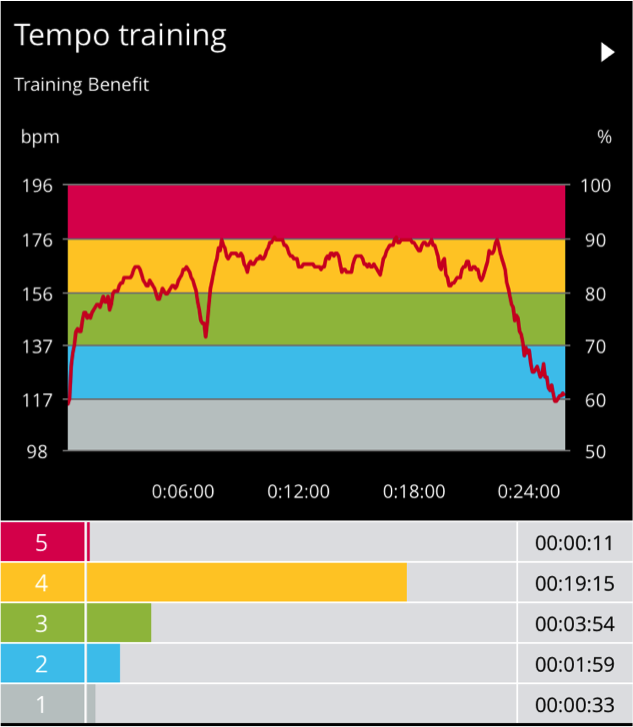 This workout is a ROCKER, much more challenging that Pure Cardio 1 from the original Insanity series. There are balance-stability moves and dynamic intervals testing your total body performance. After the 6 minute warmup (same as Day 1 Insane Basics Warmup) there is a one minute break before the main workout, which is only about 15 minutes (no major breaks) before the cooldown. Thus, this is a shorter workout. The main workout of 15 minutes involved 15 moves at about 1 minute each. You do not go to the floor in this workout and it is a leg burner, again. My legs will be sore for a few days! There are lateral, hop and jump combinations. Movements found in Pure Cardio 2 include pencil jump, heal kick squat, lateral shuffle set with suicide sprints, heisman jabs, scissor power knee, hop hop throw, back rotational jumps, soccer kick, medicine ball step side-to-side, frog jump to diamond jump, jack knee, flying jack, drop attack, heisman kick and iron legs part 2. By far, iron legs 2 and frog jump to diamond jump were the most challenging, and certainly at that later point of the workout. Also, the pencil jump and heal kick squat moves at the beginning are designed to get those legs burning and fatigued right away. It worked. This is definitely another leg burner of a workout! Heart rate analysis data indicates 313 calories in 26 minutes with average heart rate of 160 bpm and max heart rate 176 bpm. Max heart rate is similar to Insane Basics on Day 1, but calorie expenditure and average heart rate were higher in the time available. There are no breaks in the main workouts so there is very little time for the heart rate to "relax" or recover (some active recovery moves help). Workout Zone was also higher primarily in Zones 4 at 80-90% target heart rate max. This workout is around 5 minutes shorter than Insane Basics so if you normalize the calorie burn you get 12.10 calories/min for Pure Cardio 2 vs. 9.68 calories/min for Insane Basics. This puts Pure Cardio 2 in a similar burn/minute as some of the Max Out workouts in Insanity Max:30. Regardless, Pure Cardio 2 is a GREAT, challenging workout and I will be doing this one again in hybrids no doubt!!
Insane Weights
Insane Weights is the workout I was looking forward to the most in Shaun Week, especially with my consistent focus on adding lean muscle mass. However, I fully expected that the weights would be incorporated in more cardio intervals type performance training characteristic of Shaun T's style vs. Body Beast traditional gym lifts with Sagi Kalev, for example. This workouts requires 2 sets of dumbbells, resistance bands will not work.
"Strength is not in the dumbbells, it's in your body. How far can you go, how hard can you push, and how bad do you want it." – Shaun T
So how did I do in 33 minutes of Insane Weights?
Heart rate analysis data…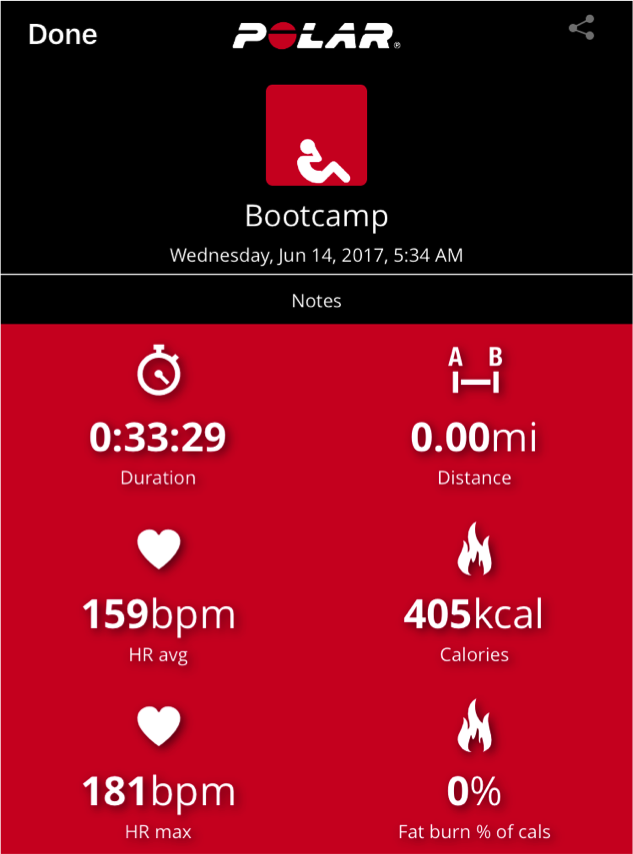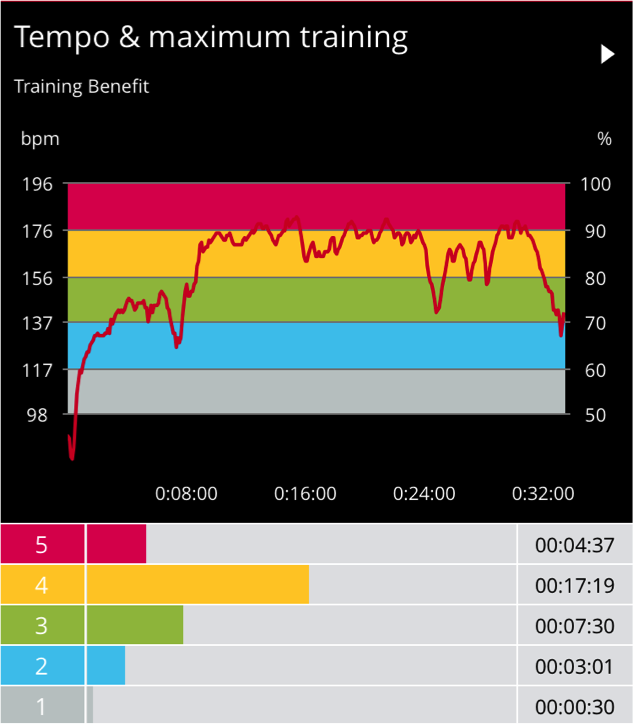 This was one of the best workouts I have EVER done. Seriously, new combinations that really challenge and take performance to the next level. Shaun T said he was using 15 pound dumbbells at the start so that is what I selected as well. I stayed with 15 pound dumbbells throughout the workout though instead of having two sets, and, trust me, that was very challenging and plenty of weight! Stay safe with good form. This workout consists of the standard 6 minute warmup in Shaun Week followed by approx. 1 minute break then into the workout. As usual, there are modifiers throughout for a range of fitness levels. There are 3 circuits of 5 moves each at about 30 seconds per move. Each circuit is repeated 3 times. 3 times! There are no breaks between rounds for each circuit, but the fifth move is "active recovery". Doesn't always feel like a recovery move, ha! The break between circuits is short around 30 seconds. Circuit 1 includes hammer curl deep squat, row hit the floor, plank to squat, tricep pushup burpee and jack knee active recovery. Circuit 2 is killer with shoulder push press straight leg lift, bicep curl alternating knee, elbow wide fly, tricep calf raise combination and throw away rotational jumps active "recovery". There is a one minute rest before Circuit 3, which consists of PYRAMID SETS of progressive reps for each exercise (typically up to 7 reps). Moves include adductor squat wide fly (pyramid = down 1 rep, up, down 2 reps, up, etc. up to 7), alternating hammer curls, close grip row frog jump, 2 minutes of tricep pushup jack hammer hip fly burnout and then balance hop punch active recovery for 1 minute. Cooldown is 2 minutes. Wow, the burnout at the end is INSANE with the tricep pushup jack hammer hip fly! That move was very tough with the 15 pound dumbbells and most people in the workout were taking breaks. I think the addition of balance/stability moves to the resistance moves is innovative and some of these combinations are plain hard, especially near the end of the workout when exhausted. I have always been a fan of pyramid sets (e.g., Body Beast Lucky 7) and am excited to see them in Insane weights for my Shaun Week Review!
Overall, my total body was worked in this one and the resistance was no joke. The heart rate analysis data indicates that my calorie burn was 405 calories in 33 minutes with average and max heart rates of 159 and 181 bpm, respectively.  Workout zone was dominated by Zone 4 at 80-90% target heart rate max for 17 minutes, similar to Pure Cardio 2, except with weights. Normalized calorie burn is 12.10 cals/min, identical to Pure Cardio 2. Yes, Shaun Week is a rocker! Side note, my heart rate took much longer to recover after the workout compared to Pure Cardio 2, which does not involve weights. This behavior is consistent with the concept of resistance workouts providing enhanced metabolism for sustained periods and "afterburn" (i.e., working the muscles burns fat). Anyway, can't wait for Day 4 of Shaun week. THIS. IS. AWESOME!
25 Abs
I was interested to see how Shaun T would take the abs/core workout to a whole new level with Shaun Week. Some of my favorite all-time ab/core workouts were created by Shaun T including Back to Core in Insanity Asylum Volume 1 and 360 Abs from Insanity Max:30. Typically Shaun T adds more of a cardio component to the abs discipline.
"Everything comes from the core of who you are." – Shaun T
So how did I do in 27 minutes of 25 Abs?
Heart rate analysis data…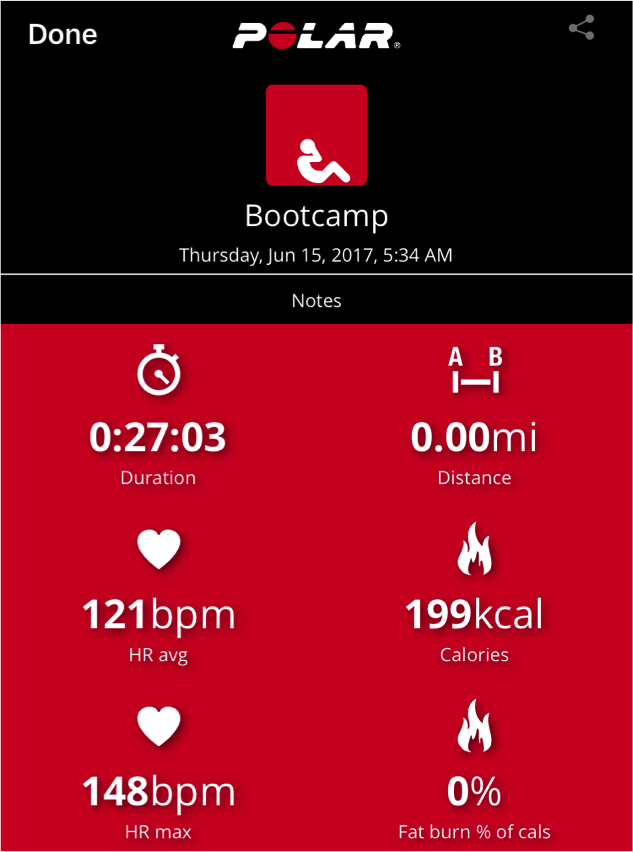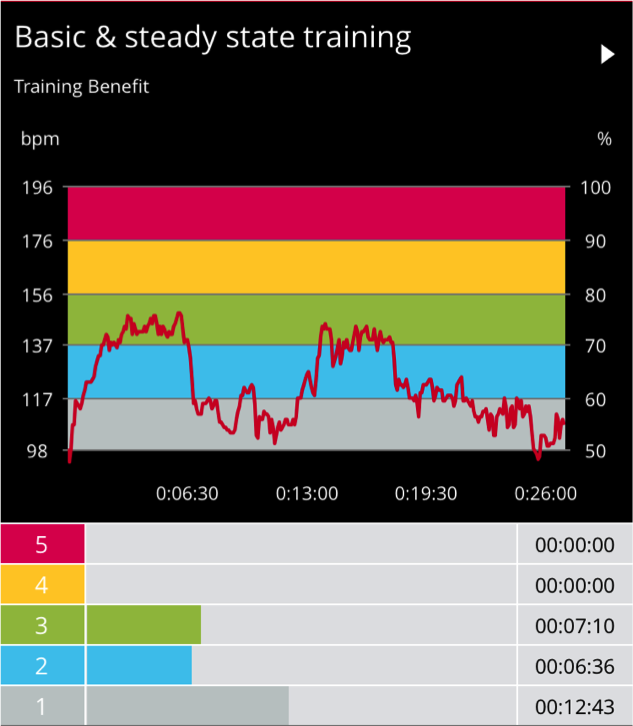 Great workout. Will be adding this one in hybrids since it combines abs/core/lower back focus with some cardio. I definitely have room for improvement after pressing play on 25 Abs! So, not sure why it is called 25 (minute) abs since the main abs/core part of the workout is only around 18 or so minutes, however, Shaun T does remind you to engage your core muscles during the standard 6 minute warmup with Shaun Week. After the warmup there is a one-minute break before hitting the abs/core exercises in succession with no major breaks. There are 18 total unique moves around one minute each in 25 Abs. The movements include alternating c-sit knee pull, hip-up down extend feet, crunch kick down, reciprocating straight leg extension, knee cross crunch (both sides, 30 sec each side), downward dog shin tap, in-and-out knee tap, low plank jack oblique knee, high low spider lunge, balance plank pulse (30 sec each side), alternating glide lift, speedbag flutter, hip up reach tap, canoe abs (30 sec each side), basic crunch extension, knee raise crunch extension, flutter kicks and leg extension hold burnout (with reach up, elevator up-down). There is a 2 min 40 sec cooldown at the end. This workout is pretty tough if you do the moves properly with good form. Even the modifier (with chair) looks like a challenge, although certainly doable for a range of fitness levels. My core was fatigued on several moves and I needed to take breaks including in-and-out knee tap (yes, just as killer from the original Insanity, but with a tap added) as well as low plank jack oblique knee (shoulders were also on fire), canoe abs (ouch) and the leg extension burnout series at the end. As usual, I have a hard time straightening my leg in some of the moves, which means I need to keep working on my mobility and flexibility (hello, Yoga Studio in BOD). Heart rate analysis shows 199 calories in 27 minutes with average and max heart rates of 121 and 148 bpm, respectively, with most of the workout in Zone 1 at 50-60% target heart rate max. The max heart rate was achieved near the end of the warmup. I am impressed, however, with the average heart rate as a few of the moves really combine cardio with core/abs engagement, especially the floor jack moves, in-and-out knee tap and speedbag/flutter exercises. I will definitely be adding 25 Abs to my hybrids, good stuff!

Ripsanity Workout
I like the name "Ripsanity" and I am sure it represents a hybrid of Rip T Circuit from T25 and Insanity discipline. Rip T Circuit is a great workout from T25, one of my favorites, and Ripsanity will leverage weights similar to Rip T Circuit. Also, this is the longest workout in my Shaun Week Review, bring it on!
"I'm about to burn your muscles and bring fire to your life." – Shaun T
So how did I do in 42 minutes of Ripsanity?
Heart rate analysis data…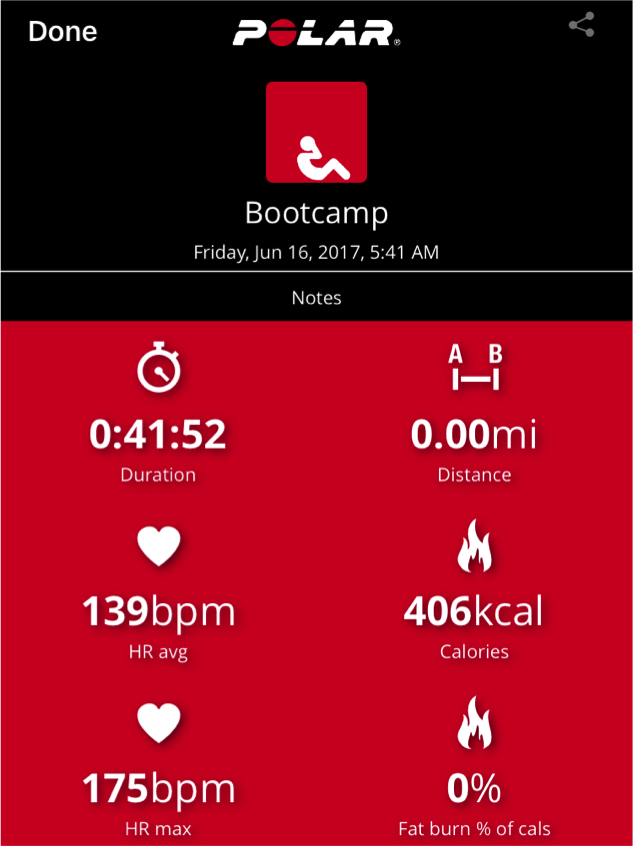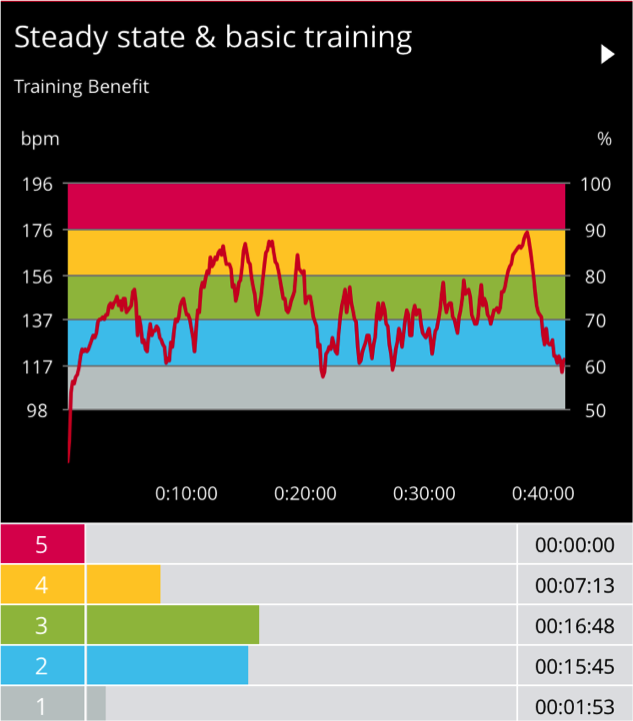 Ripsanity is a challenging workout. By the way, what is up with putting "R.I.P." in front of Insanity?!? It's not THAT bad, I promise. Ha. Yes, definitely a hybrid between Rip T Circuit from T25 and multiple Insanity-based movements! Also, felt a little like Insanity Asylum Strength in some ways. Heart rate analysis demonstrates 406 calories in 42 minutes, which is the highest of Shaun Week. The second closest was the other workout with weights, Insane Weights, at 405 calories. However, Ripsanity is a longer workout so the normalized values are 9.70 cal/min for Ripsanity and 12.1 cal/min for Insane Weights. Ripsanity is not an easy workout, but there are limited spots where your heart rate elevates for sustained periods and there are many breaks throughout. In fact, in my data set the max heart rate of 175 bpm was achieved the last few minutes when Shaun T brought back the old school Insanity warmup to finish off the workout to balance the cardio with weights. The average heart rate is also lower for Ripsanity at 139 bpm with most of the workout in Workout Zones 2-3. I also want to mention that I think Ripsanity and Insane Weights should be separated more in the Shaun Week schedule since only 25 Abs is in between. I think with the other workouts being mostly cardio, it would be good to separate the weighted workouts, which both hammer the total body, which would give the muscles more opportunity to recover more to avoid overtraining. When I hybrid the schedule with Body Beast I plan to modify the order of schedule days.
Anyway, as expected Ripsanity begins with the standard Shaun Week warmup for around 6 minutes followed by 1 minute break. As always, this would be a great time to add some stretch before the fun begins. For weights I selected 15-lb dumbbells again similar to Shaun T. It was more than enough, especially for the insane circuits with shoulder press (more on that). For all moves, it is important to keep the core engaged to stay safe and get the most out of the exercises. The main part of the workout is basically 4 circuits of multiple movements at 3 rounds each (usually 30 sec break between rounds within each circuit). There are 1 minute breaks between each of the 4 circuits. The circuits work the total body with weights including Circuit 1 (Biceps, Back, Abs), Circuit 2 (Shoulders, Legs), Circuit 3 (Chest, Triceps) and Circuit 4 (Back, Shoulders, Legs). The workout finishes up with 3 minutes of the old school Insanity warmup before couple minute cooldown. Circuit 1 includes curl-twist-jump back- burpee tap-up, which is one rep for a total of 7 reps. Round 2 in Circuit 1 is curl-twist-row-jump back-burpee tap-pushup jack-up for 7 reps while Round 3 is killer with curl-twist-row-jump back-burpee tap-walk ski abs each side-2 pushup jacks-2 in and outs-2 pushup jacks-up for 7 reps. Round 3 is TOUGH! Next, Circuit 2  involves Round 1 of lunge-push shoulder press-squat-lunge push press other side = 1 rep for 7 reps. Round 2 is 2 reps of each and then Round 3 is 14 push shoulder press, 14 squat pulses, 14 push shoulder press other side, 14 squat pulses with 30-sec burnout squat hold at the end. Ouch. Circuit 3 is focused on chest mostly with Round 1 being hip up-down-chest press squeeze for 12 reps followed by pushup with knees up (12 reps) and knees down (12 reps). Round 2 is hip up hold-chest press (12 reps) followed by pushup knees up (10 reps) and knees down (10 reps). Finally, Round 3 is hip up hold leg raise with chest press (6 reps each side) followed by pushup knees up (8 reps) and knees down (8 reps). The last main Circuit 4 is adductor hammer curl (12 reps), triangle dumbbell upright row (12 reps) and hip fly (12 reps). The second Round repeats at 10 reps each and third Round at 8 reps each. Again, the warmup finishes up with the original Insanity warmup, which is an awesome way to ramp heart rate and get in some cardio to complement the weights in this workout. Some of the moves in this workout are tough and the difficulty will be ALL ABOUT your proper form and proper selection of weights. If it is easy, you are not going heavy enough or going deep enough into the moves with form. If it is too hard, reduce your weights, modify and take breaks as needed (there is a modifier as usual). 15-lb dumbbells was good for me overall, a little tough on the killer series with shoulders/squats, but fairly easy for the chest work so next time I will increase dumbbells on chest to perhaps 30-lb DBs or so. I really liked this workout. Besides Circuit 2 being most challenging for me (again, weights were tough), I thought Circuit 4 was awesome. Hope you are enjoying my Shaun Week Review! Bring on Days 5 and 6!
Speed 4.0
I was looking forward to Speed 4.0 as the Speed workouts were by far my favorite of Shaun T's T25 program, especially Speed 2.0. They are usually fun, but still a great workout with a variety of cardio upper and lower body challenges using your body as the resistance.
"We are going to hit it today and move through this." – Shaun T
So how did I do in 28 minutes of Speed 4.0?
Heart rate analysis data…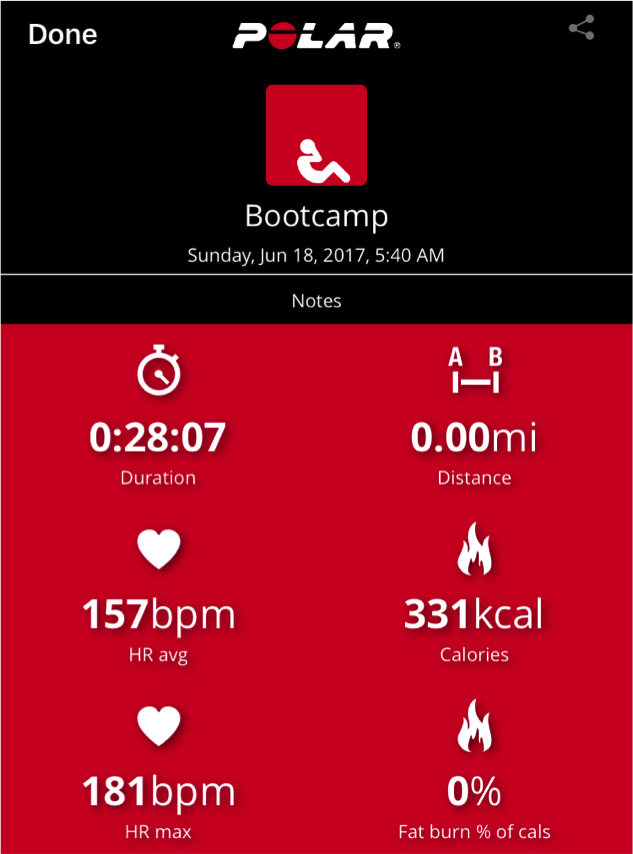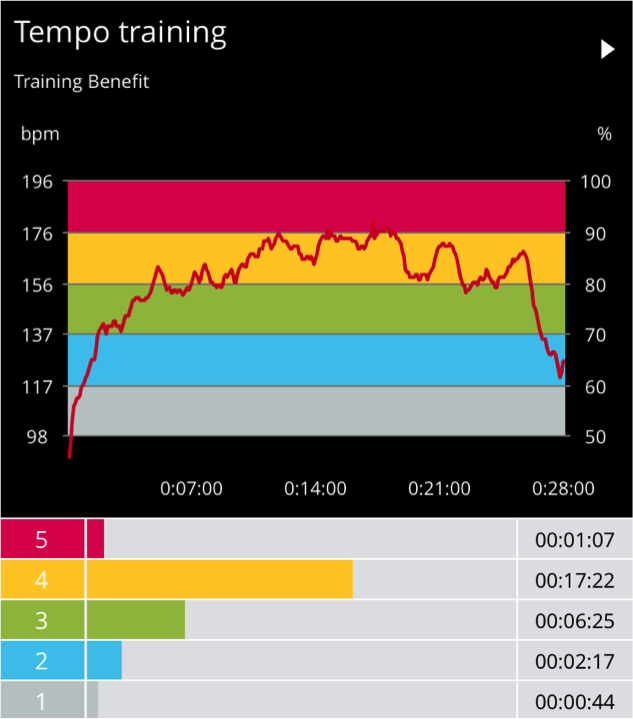 Speed 4.0 was so much fun. EASILY the most fun of the Shaun Week workouts. However, I personally didn't find it as challenging as some of the other workouts (or so it seems). BUT, my heart analysis results tell a different story and this one is deceptively challenging. There are a TON of movements where you hit the floor in burpee/plank variations so I was sweating like a beast by the end! Good stuff. The heart rate analysis data indicates 331 calories in 28 minutes with average and max heart rates of 157 and 181 bpm, respectively. Most of the workout was in Zone 4 "hard" at 80-90% target heart rate max, mostly since there are not any formal breaks (active recovery jog near the last third of the workout). Speed 4.0 is the only workout that did not use the standard 6-min Shaun Week warmup. Instead he goes right into the business with two circuits of 8 dynamic movements each at 30 second per move, each Circuit repeated twice. Circuit 1 includes uppercut lift, hop uppercut, hop hop throw away, speed & agility, low switch kick, power squat 4 lunge, 123 clap under knee and slow mountain climber (then repeat the entire Circuit 1). Circuit 2 involves down back plank walk, down back side plank punch, plank back up flying jack, down back moving heisman jack, slalom, side-side hop, plank back knee switch and plank back in-and-out up suicide jump (then repeat the entire Circuit 2). There is then a jog active recovery for 30 seconds followed by one last repeat of both Circuits 1 and 2 in succession at 15 seconds per move followed by 2 min 30 sec cooldown. Phew. It was awesome and the sequence with plank in-and-out abs with suicide jumps was my favorite (and hardest). And, yes, you should stick around after the workout as Shaun T throws some amazing motivation and life support to one of the cast members going through some tough times. This is real stuff my friends and the healthy lifestyle can make everything better! I will be adding this one to hybrids for years to come.
Dig Deep
And here we go, last workout of the 7 day Shaun Week program! This week has been amazing and I am pumped for my Body Beast Shaun Week hybrid. I hope you have been enjoying my Shaun Week Review! Shaun T has promoted Dig Deep as the hardest workout he has ever created so I was looking forward to this workout. Sounds intense!
"Dig deep is something that should be in your soul so that you can create greatness." – Shaun T
So how did I do in 26 minutes in Dig Deep?
Heart rate analysis data…
The concept of Dig Deep is in the spirit of Pure Cardio 2 where you have the standard 6 minute warmup for Shaun Week, 1 minute break, 15 minutes or so of dynamic movements without break in between at 1 minute each (14 exercises), burnout move and then cooldown for a few minutes. This was a TOUGH workout, but it was definitely not as hard as Friday Fight Rounds 1 and 2 from Insanity Max:30, where I believe FF Round 2 is actually by far the hardest workout Shaun T has ever created. However, Dig Deep IS very challenging with so many plyo jump moves. My legs were on fire! For whatever reason I had some issues the first 10 minutes with the heart rate monitor signal, however, I was able to extract the max heart rate from the curve regardless at 191 bpm (yes, 191 bpm!), and the data looks accurate otherwise to draw conclusions. After the standard Shaun Week warmup Dig Deep consists of hop attack, speed & agility X jump hold down, stance jump, heisman alternating kick hold, scissor power knee (30 sec each side), running spider lunge twist, air runner, jack knee, throw away rotational jump, burpee diamond jump, plank to squat hop, moving heisman jab, pencil squat and pushup jack knee twist. There is a 30 second break and then plank hold twist each leg around 30 seconds each. As Shaun T says, "hold up your body, hold up your life!"
Again, this was the toughest workout of Shaun Week for me. Heart rate analysis indicates 311 calories in 26 minutes with average and max heart rates of 159 and 191 bpm, respectively. Workout zone was bumping up in Zone 5 for a good portion of the Dig Deep workout, which is impressive, with fairly equal distribution of the workout in Zones 3, 4 and 5. Normalized calories was 12.0 cal/min for Dig Deep, similar to 12.1 cal/min for Pure Cardio 2. The active recovery type moves helped bring heart rate down before ramping back up with the plyo moves in particular. The hardest moves are speed & agility X jump hold down, AIR RUNNER, burpee diamond jump and pushup jack knee twist at the end along with the plank knee twist burnout hold to finish up the workout. Air runner is where I maxed heart rate, that is very challenging to keep going for a full minute at that point of the workout. Of course burpee diamond jumps were insane. The active recovery moves include alternating  kick hold, jack knee and moving heisman jab. Overall, great workout and I am excited to have graduated Shaun Week. I will be doing these workouts for years to come. I hope you have enjoyed my Shaun Week Review!!
*****
>>> CLICK THE BANNER BELOW TO GET MORE INFO ON GETTING THE PROGRAM + ACCESS TO MY PRIVATE TEST GROUP!! <<<

Shaun Week Review
Shaun Week Review
Thank you for checking out my Shaun Week Review!
The following two tabs change content below.
Premiere 5 Star Diamond Independent Beachbody Coach, CEO and Founder of TEAM RAGE, Mike Nowak Fitness, HowDoIGetRipped.com and How Do I Get Ripped, LLC. You are about to learn how I went from out-of-shape busy dad with significant travel, 2 kids and a wife to losing 20 pounds, 16% body fat and 7" off my waist while getting paid more income from home than my Ph.D. in Science & Engineering. Retired my Ph.D. career to focus on FAMILY & FITNESS!
Latest posts by Mike Nowak (see all)
Comments