Blog
The following two tabs change content below.
Premiere 5 Star Diamond Independent Beachbody Coach, CEO and Founder of TEAM RAGE, Mike Nowak Fitness, HowDoIGetRipped.com and How Do I Get Ripped, LLC. You are about to learn how I went from out-of-shape busy dad with significant travel, 2 kids and a wife to losing 20 pounds, 16% body fat and 7" off my waist while getting paid more income from home than my Ph.D. in Science & Engineering. Retired my Ph.D. career to focus on FAMILY & FITNESS!
Latest posts by Mike Nowak (see all)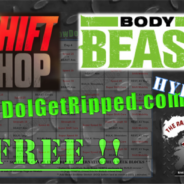 Body Beast Shift Shop Hybrid My new hybrid workout schedule is HERE – Body Beast Shift Shop Hybrid! Most of you that have been following me over the years know that I am a big fan of Body Beast given my current goals for muscle hypertrophy to add lean mass, but I am also focused on promoting a low (healthy) body fat percentage and "functional" fitness performance. My experience with Body Beast has been excellent, but from my perspective it is lacking the cardio challenge I would like to see to further...
read more