Team Beachbody Coach Summit Las Vegas!
Hey Team! I just got back from the Team Beachbody Coach Summit in Las Vegas and it was an amazing experience. I had the opportunity to spend time talking with all of the Beachbody trainers and work out live with them on the strip in Las Vegas including Tony Horton, Shaun T, Chalene Johnson, Les Mills trainers, Leondro, Sagi Kalev (Body Beast!), Brett Hoebel, Dr. Cheng and more. Life is good.
I had the opportunity to compete in an unassisted wide front pullup challenge and had the top performance for the day. Check out the video!
During the Team Beachbody SuperWorkout I had another competitive moment when Sagi Kalev from Body Beast challenged the crowd to "BEAST UP" and do "WHATEVER IT TAKES" with a pushup challenge… I was able to get over one hundred and most of the 3000+ workout crowd was standing by the end! Here is a picture of my last rep…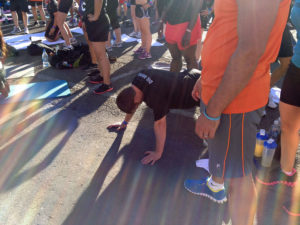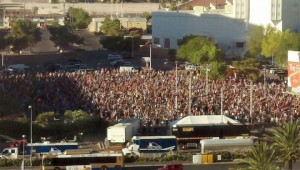 Here a few more pics from the Shaun T Insanity Asylum workout (some Asylum 2 moves were in the workout) and Horton / Shaun T!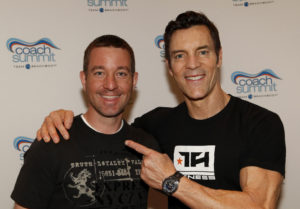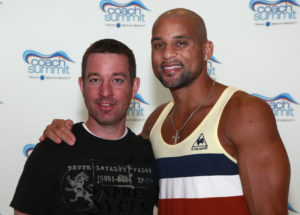 Find below some BIG announcements from the Summit event!
But first, why not pick up a workout program and join my accountability challenge group to help you stay motivated with your workout?! I am creating 2 specific challenge groups for:
1) Body Beast, full 90 day program
2) Beachbody Ultimate Reset cleanse, full 21 day program
There is limited space in these challenge groups so hurry up and confirm your interest. They are in high demand and the results in previous groups have been amazing.
I also have an additional secret Facebook Challenge Group for those doing any other Beachbody programs and/or Shakeology. The group provides daily support, motivation, accountability and valuable information on fitness and nutrition to maximize results. Message me your interest. Let's go!!
BREAKING PRODUCT NEWS
Chocolate Vegan Shakeology®
Mmm. Mmm. Delish! Starting TODAY we're introducing a new member of the Shakeology to TeamBeachbody.com—Chocolate Vegan. The new blend includes 5 new superfoods (such as moringa and Himalayan salt), has more of a natural cacao flavor (sort of like dark chocolate), and is, of course, vegan! Look for it in the TeamBeachbody.com store today, in Challenge Packs this Thursday, June 28th, and in single-serving packets July 5th. Remember to order on Home Direct autoship to save approx $15 in shipping, cancel any time so no risk – save the money!
Body Beast™ Now Available on TeamBeachbody.com
If you just felt your bicep quiver, you're ready to unleash the BEAST on your friends, customers, and prospects. Body Beast is super tough, will get you super jacked, and the general consensus at Summit was that people are super stoked. It's available now exclusively on TeamBeachbody.com and through your Coach! Here is a picture of me and the Body Beast Sagi Kalev in Vegas!
More details on Body Beast here…
• Body Beast DVD – Beast Stack
To join my Body Beast Challenge Group order the Body Beast Challenge Pack. Click the link below to order and you are in for the challenge… BEAST UP!
Beachbody Ultimate Reset!
Increase Energy, lose weight, and lower your cholesterol. If you're feeling tired and sluggish, give yourself a comprehensive inner-body tune-up. In just 21 days, the Ultimate Reset™ can help you gently restore your body to its optimal "factory settings," to help you have more energy and greater focus, enjoy better digestion, lose weight, and reclaim your overall health. Results from those doing the reset have been insane with typical loss from 8 to 30 pounds in just 21 days. Check out the link below to order the Ultimate Reset which qualifies you for my Ultimate Reset Challenge Group!
BEACHBODY ULTIMATE RESET CHALLENGE PACK
Derm Exclusive® Now Available on Team Beachbody.com
Beachbody's breakthrough skincare treatment, Derm Exclusive, is now available to you on TeamBeachbody.com! This incredibly powerful system of treatments works to fight the four signs of aging—fine lines and wrinkles, sagging skin, dark spots, and diminishing radiance. In other words, your face will love it. For more details check the link below!
LES MILLS Body Combat (Coming Soon)
The martial arts are coming to Beachbody via our amazing LES MILLS trainers! Body Combat will be available first for preorder, and we'll let you know official dates as soon as we have them. I had the chance to workout live with the Les Mills trainers Body Combat and it was INSANE!
INSANITY: THE ASYLUM®, Vol. 2 (Coming Soon)
Because just one ASYLUM isn't crazy enough, we've got Volume 2 in the works, and Shaun T is determined to Dig Deeper® than ever before. Stay tuned for an official announcement!
Cordastra™ (Coming Soon)
With the help of Tai Cheng's Dr. Mark Cheng, we're now putting the finishing touches on Cordastra, an herbal energy supplement that helps improve stamina and endurance. News to come!
GET PAID WHILE GETTING IN SHAPE!
Every year the top New Year's resolutions are related to losing weight and gaining financial freedom. 2012 is no different. As an Independent Team Beachbody Coach you will be focused on both fitness AND financial freedom, from home, in as little as a few hours per day! You do not have to be a fitness professional or nutritionist to be a successful Team Beachbody Coach. New Year's resolution, done!
Get Started Now and also get 25% off Beachbody products including the new products announced!
BECOME A TEAM BEACHBODY COACH!
As always, I am here to help you achieve your fitness goals. Ask me if you have any concerns or questions. Make this weekend amazing!
"You've got what it takes, but it will take everything you got!"
Best Regards,
Mike Nowak
P90X Qualified & Star Diamond Team Beachbody Coach
The following two tabs change content below.
Premiere 5 Star Diamond Independent Beachbody Coach, CEO and Founder of TEAM RAGE, Mike Nowak Fitness, HowDoIGetRipped.com and How Do I Get Ripped, LLC. You are about to learn how I went from out-of-shape busy dad with significant travel, 2 kids and a wife to losing 20 pounds, 16% body fat and 7" off my waist while getting paid more income from home than my Ph.D. in Science & Engineering. Retired my Ph.D. career to focus on FAMILY & FITNESS!
Latest posts by Mike Nowak (see all)
Comments