Million Views on Fitness Forum!
Big news this week as my TEAM RAGE thread on the Team Beachbody message boards achieved over ONE MILLION views and approx. 32,500 posts! The views and posts far exceed others on the message boards at Team Beachbody. Note, two of the next most popular threads are sponsored by other TEAM RAGE Coaches with 530,000  and 400,000 views! There are currently 143,000 unique threads on the Team Beachbody site so I am proud of this significant Team accomplishment that supports the difference TEAM RAGE is making in the health and wellness industry. You can see the statistics from this week below for my TEAM RAGE forum called, "TAKE THE POWER BACK – Your Body – Your Life – Your Results." In addition to the Team forum on the Team Beachbody website, we also have private Facebook accountability groups for support and motivation!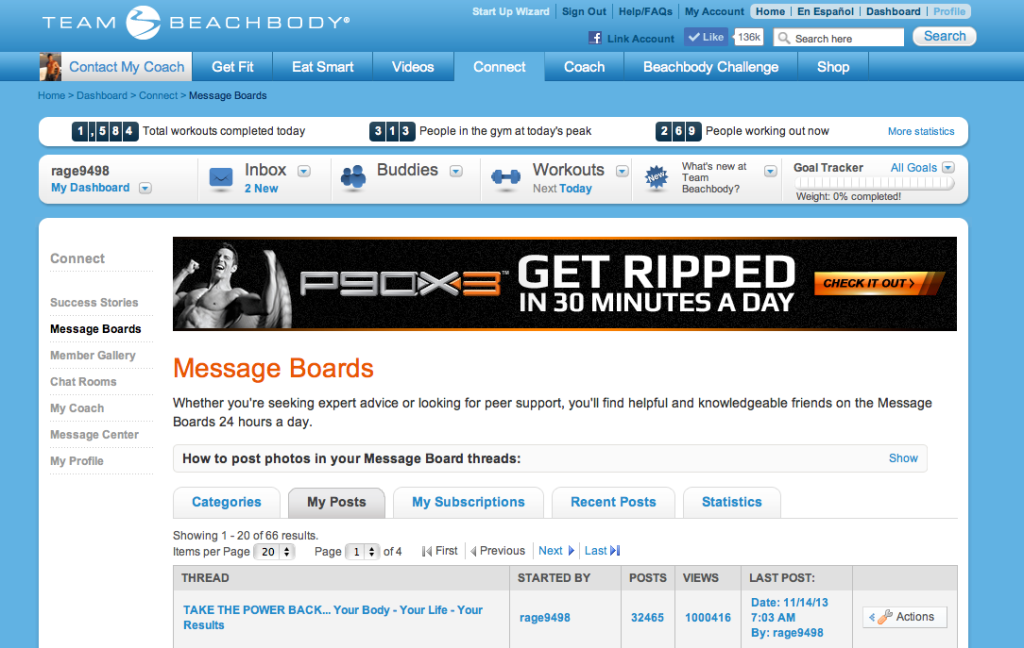 We have several thousand team members across the world. As the CEO and Founder of TEAM RAGE, I appreciate the rewarding opportunity to help others achieve their ultimate goals that are consistent with their "WHY" for success. This includes dialing in a customized nutrition plan for maximum results with a structured fitness program and daily TEAM RAGE support and motivation. Now is the time to get started with the Holidays fast approaching!
For other team members, their goals may also include financial freedom by getting paid as a coach while getting in shape and helping others do the same. This may drive more time with friends and family or supplemental income for the Holidays or otherwise.
I am honored to lead the strong and growing TEAM RAGE community. If you are interested in joining the TEAM RAGE mission as a team member and / or Coach please contact me today at coachragebeachbody@gmail.com. Let's do this!
Mike Nowak, Ph.D.
Star Diamond Independent Team Beachbody Coach
CEO and Founder – TEAM RAGE at How Do I Get Ripped, LLC

The following two tabs change content below.
Premiere 5 Star Diamond Independent Beachbody Coach, CEO and Founder of TEAM RAGE, Mike Nowak Fitness, HowDoIGetRipped.com and How Do I Get Ripped, LLC. You are about to learn how I went from out-of-shape busy dad with significant travel, 2 kids and a wife to losing 20 pounds, 16% body fat and 7" off my waist while getting paid more income from home than my Ph.D. in Science & Engineering. Retired my Ph.D. career to focus on FAMILY & FITNESS!
Latest posts by Mike Nowak (see all)
Comments