Nutrition: Make and Freeze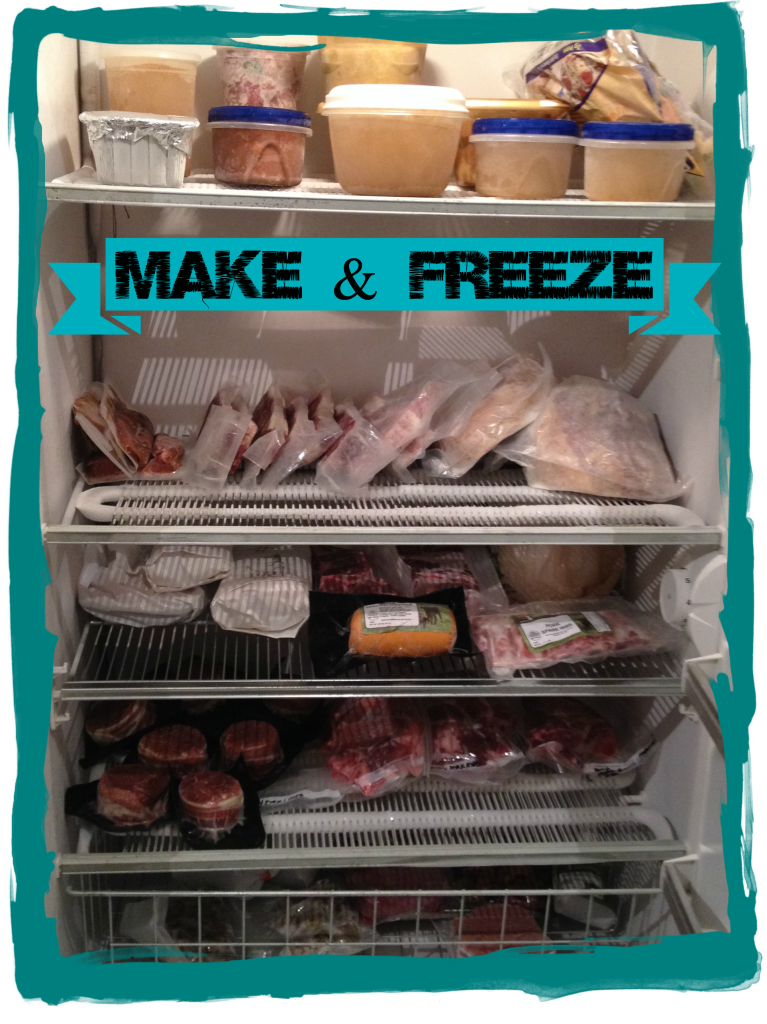 By: Julia Nowak – TEAM RAGE Contributing Author (and my wife!)
One of the staples of our diet is "make and freeze" meals. Like many families, we don't always get as much time for meal prep as we might like. Even with the best of intentions there are nights when we run out of time to make what we had planned. Even if there is room in your budget for regularly eating in restaurants or getting takeout, this sort of habit can wreak havoc on your diet. We avoid the added fat, salt, and expense of takeout and processed frozen food with a little advanced planning. This is where "make and freeze" comes in. I used to do this a little, but have become something of a pro since our children were born. This was especially true when Mike was still working in the corporate world, but we've learned the value of it and I have no plans to stop now! We have healthy meals that are ready to go in our deep freezers for any night we're not up to cooking. Fore-warned is fore-armed, right?
Here are a few tips we've learned about freezing meals:
Not everything freezes well.

 While they aren't unsafe to eat, some foods lose their appeal because their texture changes after freezing. Most veggies for use in raw salads end up limp, potatoes become crumbly and pasty, and cooked noodles can become mushy (though in some dishes like lasagna or stuffed shells they can be okay). See the recipes below for some of our go-to favorites!

Keep an eye on your inventory

. Frozen food stays fresh for a long time, but not forever—at least not without sacrificing taste. Most foods will last between 3 months to a year, depending on how you package them and if you are using a standard refrigerator freezer or a dedicated deep freeze. To keep an eye on how long our frozen food has been stored, we label packages with a sharpie (on a piece of tape if it's on a plastic container).
Packaging food is important! If possible, vacuum seal. The less air the food is exposed to, the less freezer burn you'll see (and taste). We use a FoodSaver® for solid foods, and use plastic containers for soups/stews/etc. If you're freezing a liquid, leave a little room at the top for it to expand when it freezes! In fact, I put a layer of plastic wrap in contact with the surface of the soup before putting the lid on the container.

Try pre-freezing soft foods

. Want to freeze fruit for smoothies? Place berries, banana slices, etc, in a single layer on a cookie sheet and freeze them. Once they're frozen solid you can remove them from the sheet and put them in a zip-top bag or vacuum seal. This way you can freeze them without them smushing or getting stuck together.

Always make double

. If you're cooking something that freezes well, do yourself a favor and make double to freeze some for later! It's a little more work in the short run, but worth it in the long run. Plus you only get the pots/pans/knives/etc dirty once. On the nights you eat frozen meals you get off easier on dish duty too!

Buy and freeze

. Even if you don't make it yourself, there are some foods that are easiest on the budget to buy and freeze. We eat bagels, but not nearly as quickly as necessary to use them before they'd go stale (1/2 a bagel would be part of breakfast, for example). However, they are MUCH less expensive to buy by the baker's dozen on a specific day at our bagel shop. We buy, slice, and freeze and they're ready to pop in the toaster when we want them.
Here are a few of our go-to recipes for meals we prep in advance.
Meatballs: Store-bought frozen meatballs are, frankly, usually pretty terrible and full of fillers. Having frozen meatballs on hand can be handy for quick spaghetti and meatballs, meatball sandwiches, or used in an appetizer. Better yet, you can control the contents—this is one of our favorite recipes, but we often modify to make them with a different ground meat, or with gluten-free bread crumbs.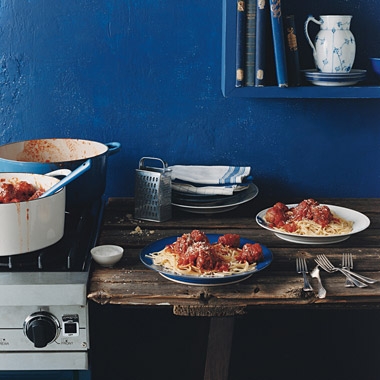 Pasta e Fagioli: Don't let the fancy name deter you (our kids call it "beans and noodles" and they love it too!). This dish is delicious and very freezable. It's worth making double, especially if you're buying fresh herbs.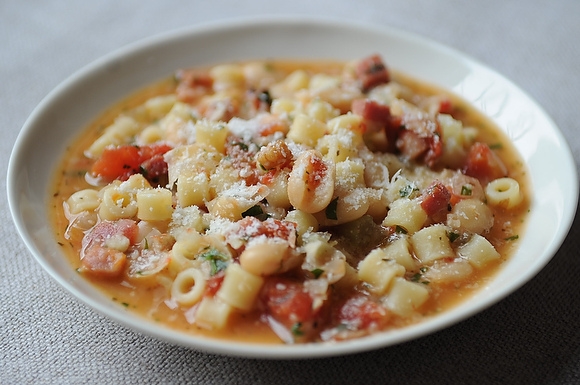 Sloppy Joes: We love this version of the classic "Sloppy Joe"—it's a little spicy, full of veggies, and freezes great. Just a note: we like ours "sloppy" so we use double the liquid ingredients.  Best served with pickles!
Split Pea Soup: This smoky split pea soup has become our go-to recipe for pea soup, and one of my favorite soups, period.  We use a low-sodium broth to keep the salt intake down. Also, feel free to use uncooked sausage, just brown it in the first step.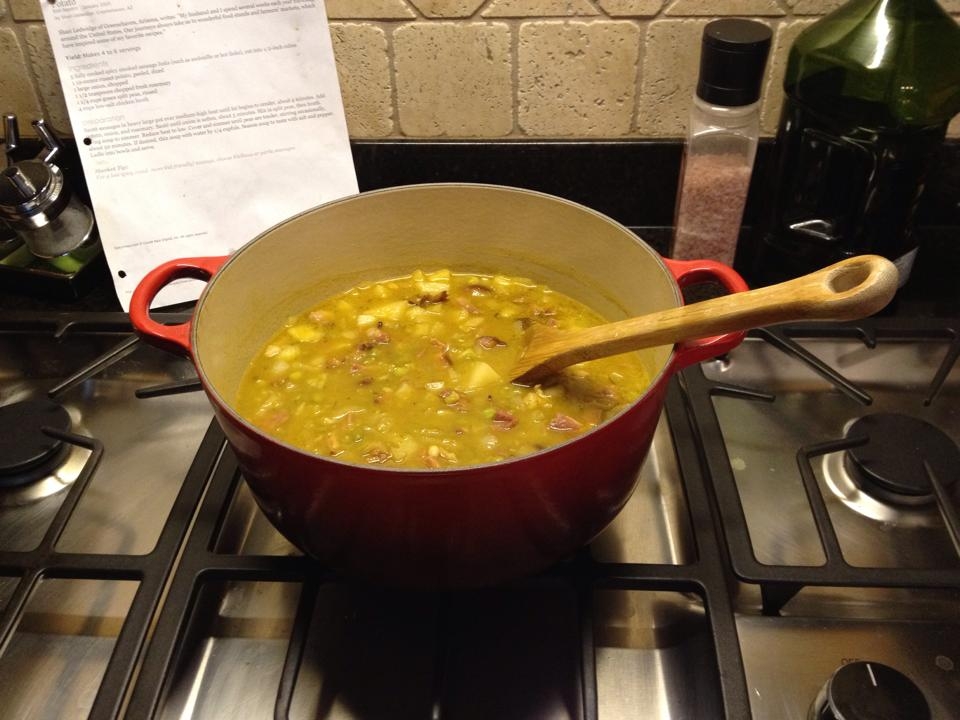 Stuffed Shells: This filling is lighter than a traditional cheese-filled pasta dish, but just as tasty. Try the filling in manicotti crepes or in a lasagna if you prefer!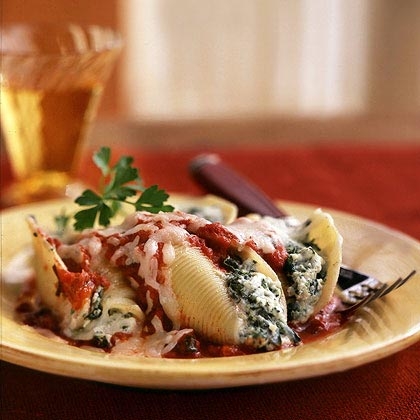 Spicy Corn Chowder: A tasty veggie chowder, easily made vegetarian by swapping out the chicken broth with vegetable broth.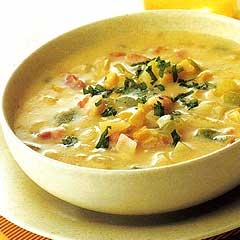 Enjoy!! 
The following two tabs change content below.
Premiere 5 Star Diamond Independent Beachbody Coach, CEO and Founder of TEAM RAGE, Mike Nowak Fitness, HowDoIGetRipped.com and How Do I Get Ripped, LLC. You are about to learn how I went from out-of-shape busy dad with significant travel, 2 kids and a wife to losing 20 pounds, 16% body fat and 7" off my waist while getting paid more income from home than my Ph.D. in Science & Engineering. Retired my Ph.D. career to focus on FAMILY & FITNESS!
Latest posts by Mike Nowak (see all)
Comments