Insane Results 21 Day Fix Extreme Review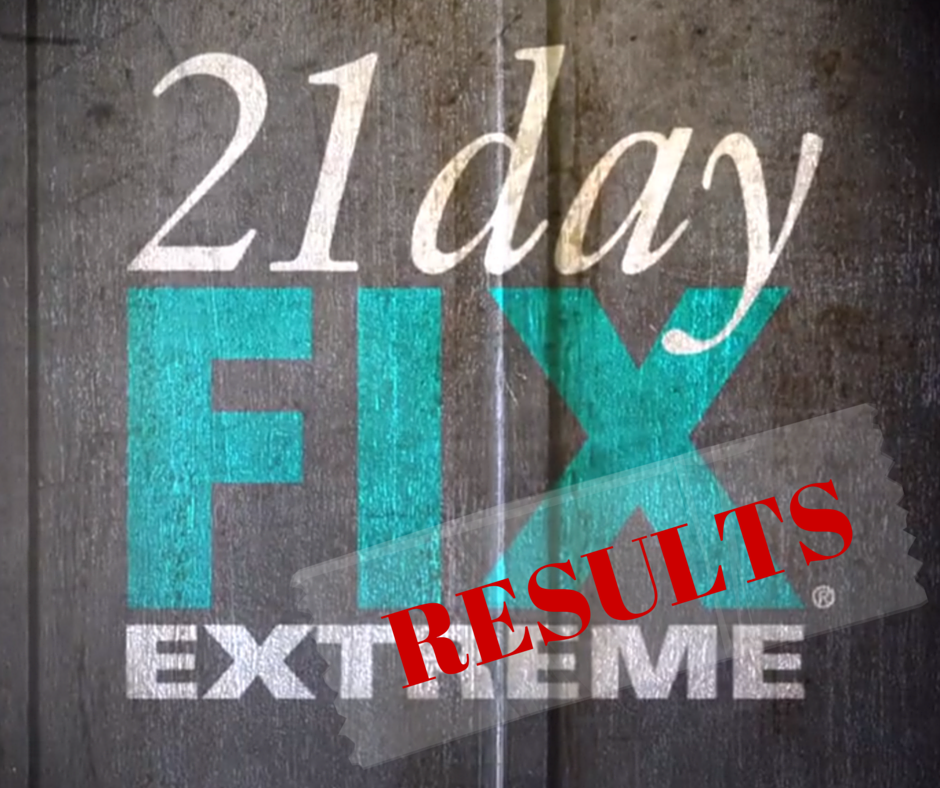 By: Julia Nowak – TEAM RAGE Contributing Author (and my wife!) 
If you're familiar with the 21-Day Fix (21DF) program, you won't be surprised to hear that Autumn Calabrese and Beachbody recently released a second 21-Day program with a format similar to that of the original. The 21-Day Fix Extreme (or 21DFX) is similar to 21DF in that it's a combination of workouts and a container-based nutrition plan. However, there are two main differences: the workouts are more intense and the nutrition plan is even cleaner—more on that later.
But first, a sneak peek to my final results for only 21 days!! More shown at the end of this review!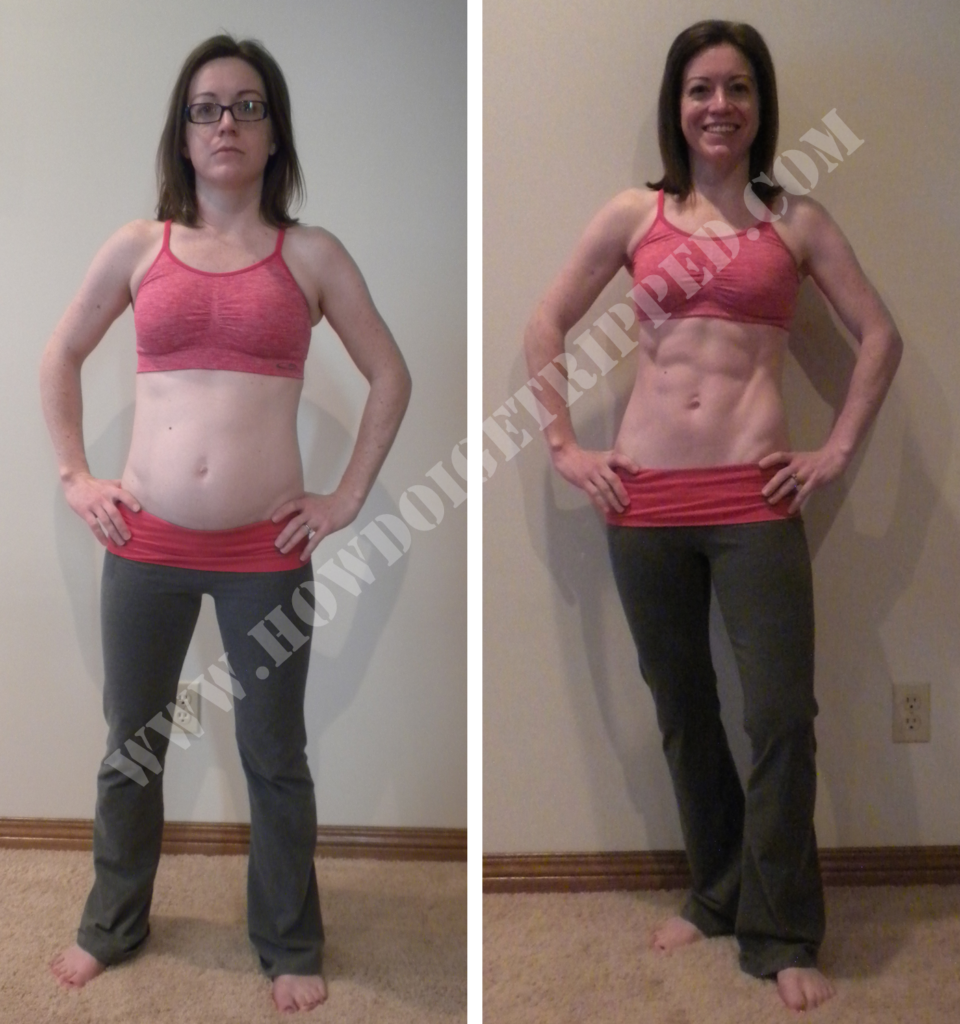 Why I Chose 21DFX:
After a back injury last year I spent 7 months doing little more than yoga and stretching. I certainly wasn't overweight, but I had lost muscle tone and was a little thicker in the middle than I wanted to be. With an upcoming beach vacation I wanted to tone up, feel confident in my bikini, and get back to a body I could feel proud of. So…I decided to do one round of 21 Day Fix Extreme in the 21 days leading up to the trip. I followed the nutrition plan (weight maintenance plan) but modified EVERY workout—I was physically ready for tougher workouts but didn't want to push my back too far. Lighter weights than I would have used a year ago, no jumping, and on-the-knees for many of the plank moves.
The Nutrition:
I'm not going to lie—I struggled with the concept of the containers. Not because of foods I'd miss or smaller portions than I'd like, but because I LOVE to cook! I'd rather work from a list of healthy foods with a macro ratio and calorie goal than try to modify recipes to work with non-standard container volumes. But I bit that bullet and decided that 21 days was worth it to work towards my goal. You can do anything for 21 days, right?
The containers work like this: There are 6 different colors of containers. Green (veggies), Purple (fruits), Red (proteins), Yellow (starches), Blue (healthy fats), Orange (seeds/nuts), plus teaspoons of healthy oils/nut butters. The number of each container you eat each day is calculated based on your body weight, activity level, and weight loss goals. In my case, I wasn't even looking to lose any weight, just to tone up. So I chose the "weight maintenance" plan at 1500-1799 calories per day. In my case, I ate 4 red, 4 green, 3 purple, 3 yellow, 1 blue, 1 orange, and 4 tsp. It might seem like a lot to keep track of, but after a few days you get used to thinking in "containers" and it's not hard at all. A typical day for me looked like this: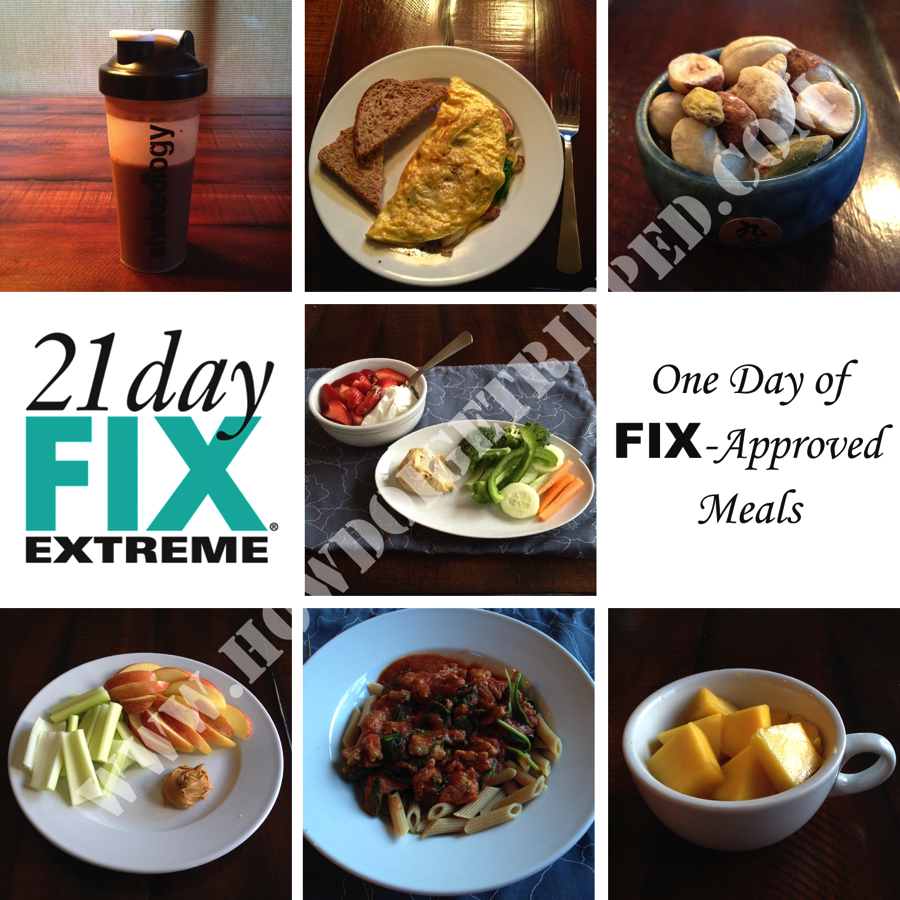 The Countdown to Competition:
Autumn Calabrese, creator of 21DFX, is a bikini competitor. Leading up to competitions she has a very specific nutrition plan that she follows to get in top-notch shape. One of the options with the 21DFX program is the "countdown to competition" nutrition plan. If you're getting ready for an actual fitness competition or just a big day (like a wedding or important event), you can use this nutrition plan to really dial in your results. It's like the Extreme eating plan, but lower carb and higher protein. The book suggests you do it 2-days-on/1-day-off, but also gives options of 1-day-on/2-days-off, or (what I did) just doing it for the last 3 days of the program. On those last 3 days I ate 7 red, 4 green, 1 yellow, and 3 tsp. This was a typical day's food: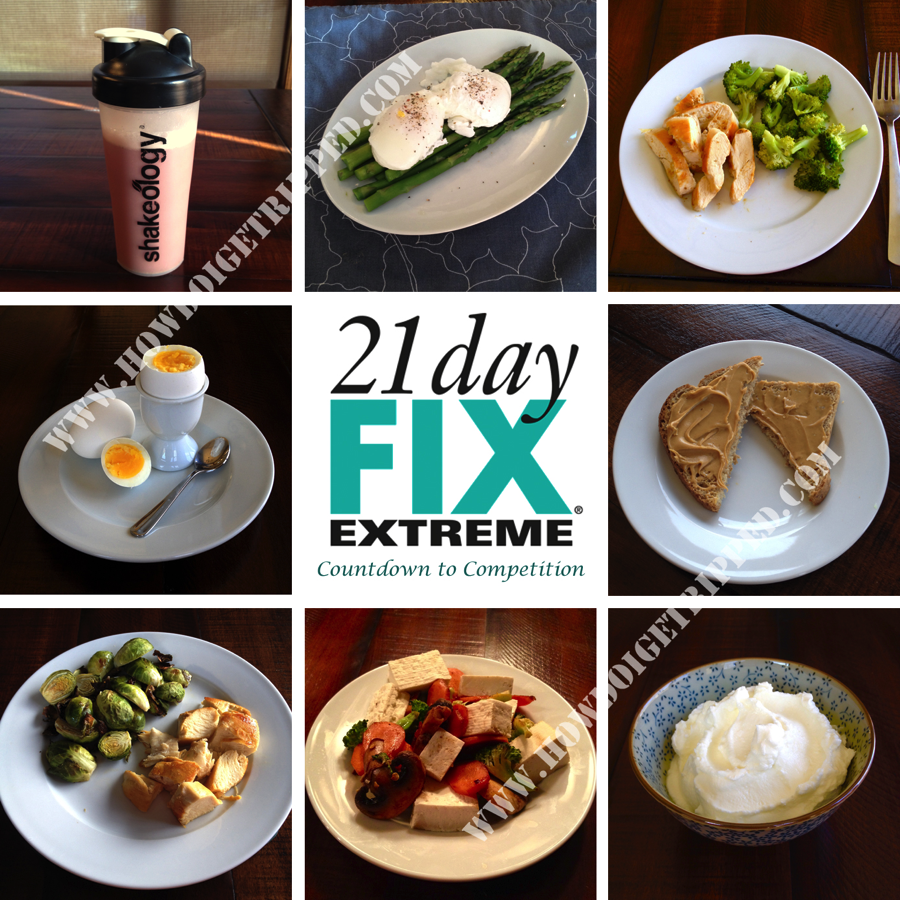 As you can see, I was eating 8 small meals/snacks per day—eating about every two hours. I missed fruit for 3 days, but I certainly wasn't starving! I also was eating with my family at their every meal. I had breakfast, lunch, and dinner with my husband and kids. They had additional sides, but otherwise it wasn't a big deal or any more work. The only tricky thing was our 2-year-old who always wants to eat off my plate, ha! 😉
How is it different from the Original 21DF?
There are two main differences between 21DF and 21DFX:
#1: The workouts get harder. They're tougher—almost every workout involves weights or bands, and there are fewer breaks. Also, the modifier is not as easy. Autumn uses a smaller range of motion and lighter weights, but generally doesn't modify the moves too much. She's still jumping, planking, and burpee-ing.
#2: The nutrition plan is cleaner. While the container counts for each calorie bracket are the same, it's not exactly the same diet. There are no cheats. No options to swap a yellow container for wine or chocolate or other treats like in 21DF. Also, the food lists aren't as forgiving. Particularly the yellow list—things like crackers, cereal, and whole grain waffles no longer make the cut. Forget whole grain bread, pita, bagels, English muffins…the only bread included is sprouted whole-grain. Same with some of the reds—sliced deli meat, turkey bacon, and veggie burgers are not on the list this time. Neither is sugar/honey in your coffee/tea. If you do this program you have to commit to the idea of eating CLEAN for 21 days.
The other difference to note is that the 21DF seems geared towards people who want to lose weight. Even the diet plan assumes you need a caloric deficit to drop lbs. 21DFX absolutely can be used for that, but it more clearly outlines how to use the program with the goal of maintaining your weight.
The Workouts:
The 21DFX program comes with a series of workouts that are designed to work every part of your body, and almost every workout uses weights or bands. The exceptions are Yoga, the Challenge and Power Strength Extreme, which are all body-weight workouts; they're great if you're on the road. (We were out of town for Easter weekend during my 21 days, and I brought these.) The workouts in the Basic Kit include Yoga, Plyo, Upper, Lower, Pilates, Cardio, Abs, and the "Dirty 30 Extreme"—a full-body workout that earns its name. The two extra workouts in the "Ultimate Upgrade" are Power Strength and ABC (Abs, Butt, & Cardio)—these can be switched out for Plyo and Dirty 30 for variety. There is also a bonus workout, "The Challenge", that is free if you order 21DFX through your Coach at Team Beachbody. I wasn't let down by the intensity of any of the workouts, but these two were definitely my favorites:
The Challenge:
This body-weight pyramid-style workout is actually a bonus workout that you'll receive for free if you order 21DFX through your Coach at Team Beachbody. It can be used in place of Cardio Extreme, and after trying both workouts, I definitely prefer the Challenge. It's a great full-body workout and I personally love the psychological challenge! The workout consists of 13 rounds. The first round has one move—Surrenders. The second round has two moves—Surrenders + Inchworms. The third round has three moves—Surrenders + Inchworms + DownDownUpUps. You get the idea. By the 13th round you're doing 13 moves and definitely sweating…and then there's a bonus 14th round. I loved it!
Pilates:
Before this program I had never done a Pilates workout using a resistance band. I'm definitely a fan. It gets just a little more out of the time you're putting in, especially on the leg moves. If you think Pilates will be an "active rest" day, I think you'll be let down by this one—Autumn makes you work.
What I Learned:
If you follow it, this program works. Unquestionably. I loved the workouts and will definitely be doing them in the future. I won't be continuing with the containers. Ultimately they don't fit into my daily life, but I'd definitely consider another 21 days if I feel my nutrition needs some work or if I want to prep for a big event. For many people, the container system is EXACTLY what they need for healthy nutrition habits on a daily basis.
That said, this program has taught me a few things about how I'd like to change our eating habits. Most importantly: it's SO much easier to eat more vegetables if they're readily available. We eat lots of veggies in our house, but I tend to buy them based on recipes I'd like to make. During my 21 days I cut up lots of extra vegetables to keep in the fridge and I found that EVERYONE ate more veggies during the past 3 weeks. Also, I need to stop eating the foods my kids decided they didn't want. I'm sure other parents do this too. I hate wasting food, but me eating the handful of goldfish crackers my 2-year-old asked for and then pushed around on her tray is not the answer. I keep what I can and we'll compost the rest. Sabotaging my own goals isn't worth it.
Another lesson I learned: there's no shame in modifying. The elderly and obese don't have a monopoly on following the modifier—an injury (or being particularly susceptible to one) is a more than valid reason to modify your workout. I made great progress doing push-ups on my knees and using 5-lb weights where I would have used 10/15s before. Part of me (a big part—I'm a competitive person!) really wanted to push harder, lift more, and keep up with the toughest chick in the video. BUT, if I re-injure myself I won't be doing anything at all…the ego needed to take a seat!
My Results (drum roll, please):
I lost 6 lbs, 3.5 inches in my waist, and 5% body fat. And I GAINED a body I'm proud of! I think the photos speak for themselves: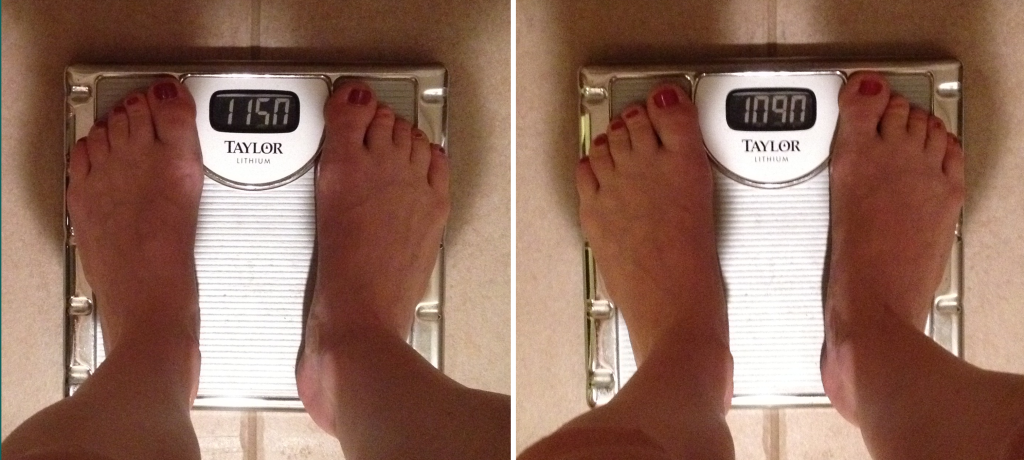 YOUR turn!!

The following two tabs change content below.
Premiere 5 Star Diamond Independent Beachbody Coach, CEO and Founder of TEAM RAGE, Mike Nowak Fitness, HowDoIGetRipped.com and How Do I Get Ripped, LLC. You are about to learn how I went from out-of-shape busy dad with significant travel, 2 kids and a wife to losing 20 pounds, 16% body fat and 7" off my waist while getting paid more income from home than my Ph.D. in Science & Engineering. Retired my Ph.D. career to focus on FAMILY & FITNESS!
Latest posts by Mike Nowak (see all)
Comments