First Try at Peg Boards in Home Gym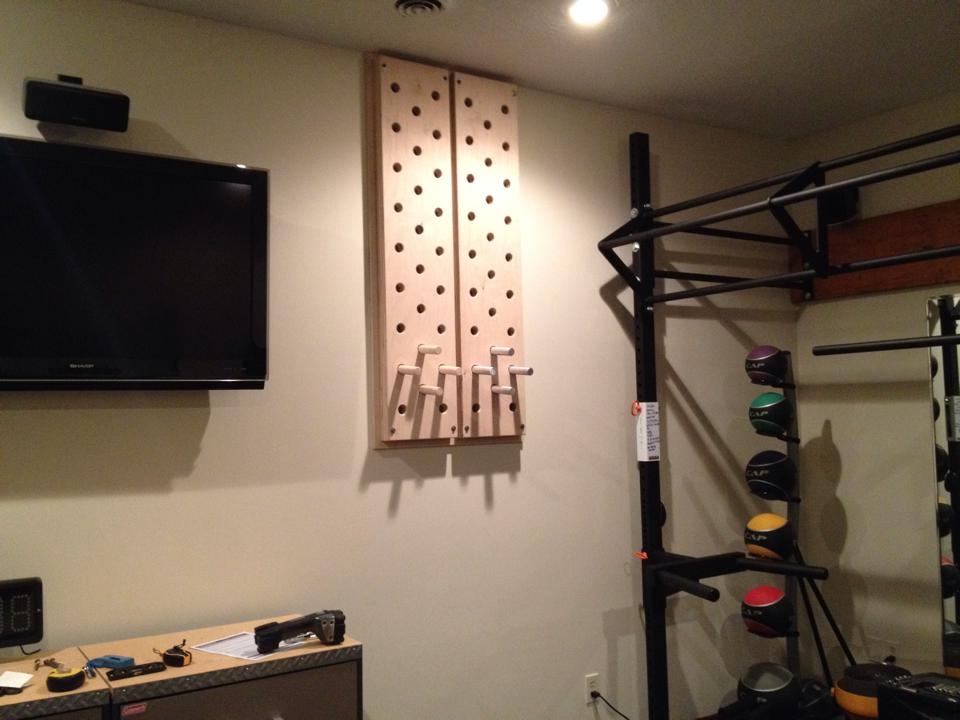 Inspired by the success of American Ninja Warrior, we decided that it was time to add Peg Boards to our TEAM RAGE home gym!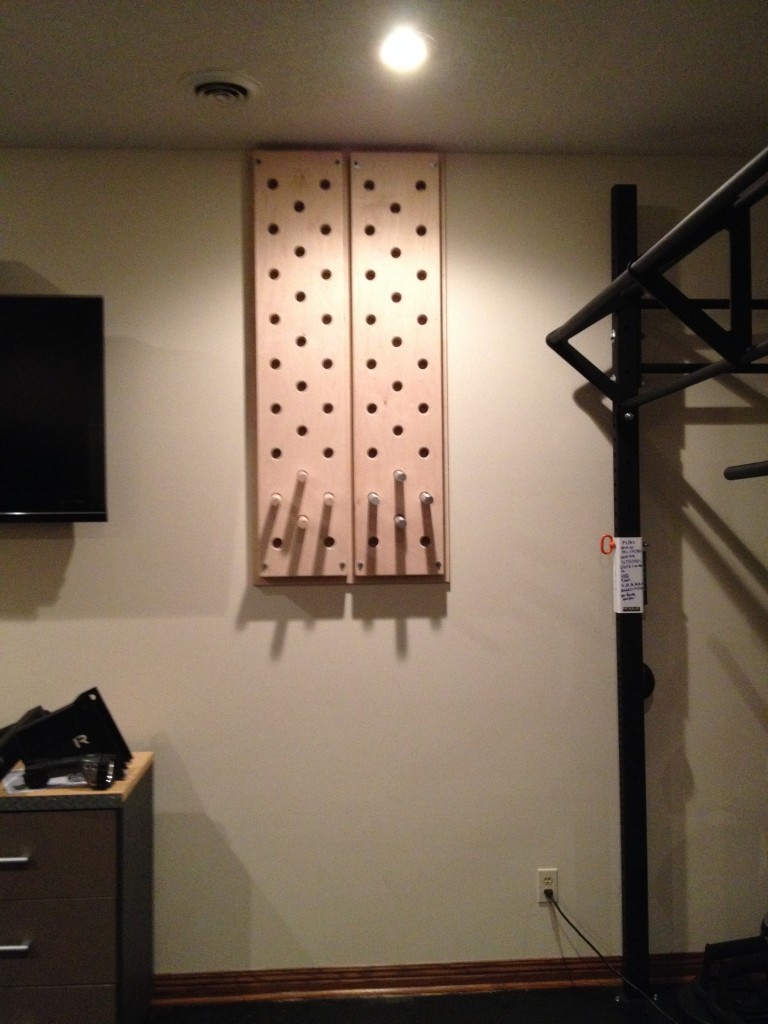 I had never tried Peg Boards before, but they certainly look VERY challenging and require significant strength to lift your total body weight. I always felt that pull-ups were the ultimate upper body exercise, however, after experiencing Peg Boards, I now feel Peg Boards are the ultimate upper body exercise. To climb Peg Boards you must be able to hold and lift your ENTIRE body weight, ONE ARM AT A TIME ! You can also add pull-ups during your engagement on the Peg Board and climb the board in different patterns working muscle groups in different ways.
The Peg Boards that we invested in for the TEAM RAGE Home Gym are the Advanced Climbing Peg Boards from Executive Manufacturing. After much research I felt that these Peg Boards were the highest quality that met our needs. The company was also very helpful as a bonus (thanks Bobby!). We have wood and aluminum pegs. The Peg Boards are 12″ x 57″ each for a total of approx. 2 feet wide x 5 feet in vertical length. We decided to install these boards side-by-side, vertical with the top of the boards almost flush with the ceiling at around 10 feet off the ground. The Peg Boards were mounted as recommended where 3/4″ plywood was attached to the studs and Peg Boards mounted to the plywood with lag bolts. The boards appear to be rock solid to the wall!
Here is a short video of me trying the Peg Boards on the first day ever of Peg Board work! I had underestimated how difficult Peg Boards are to climb and especially descend as you obviously need the strength to hold and lift your body weight, but also grip strength and strong hand-eye coordination to get the 1-1/4″ pegs in the holes.
Clearly I need some practice, but I am very pleased with our new Peg Boards and my first attempts at the new challenge. I am well aware of some of the strategies to conserve energy and improve performance on a Peg Board, such as keeping arms at 90 degrees, but easier said than done in practice! What a workout… I did about 5 sets on the Peg Boards and my upper body was COMPLETELY exhausted. We are also investing in a MadRock foam pad for the floor beneath the Peg Boards, which is a popular choice for rock climbers. I did fall from near the ceiling at one point and survived, but it will be good to have the extra safety mat below!
I challenge you to try Peg Boards for the ULTIMATE upper body workout experience !!
The following two tabs change content below.
Premiere 5 Star Diamond Independent Beachbody Coach, CEO and Founder of TEAM RAGE, Mike Nowak Fitness, HowDoIGetRipped.com and How Do I Get Ripped, LLC. You are about to learn how I went from out-of-shape busy dad with significant travel, 2 kids and a wife to losing 20 pounds, 16% body fat and 7" off my waist while getting paid more income from home than my Ph.D. in Science & Engineering. Retired my Ph.D. career to focus on FAMILY & FITNESS!
Latest posts by Mike Nowak (see all)
Comments