22 Minute Hard Corps Worksheets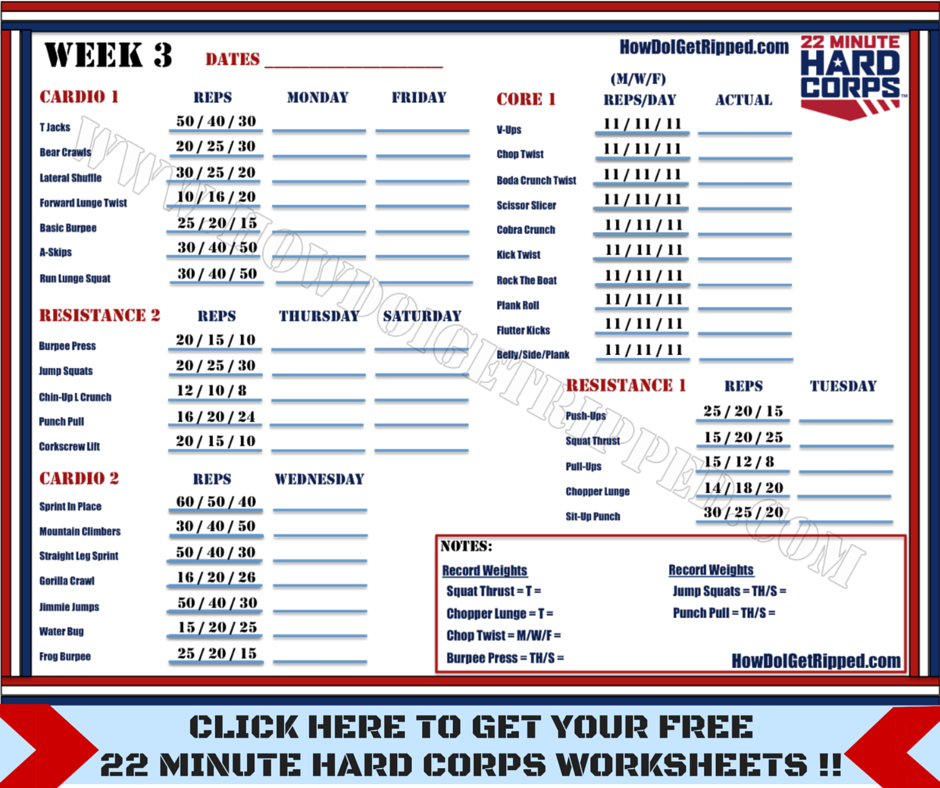 Free 22 Minute Hard Corps Worksheets !!
Tony Horton's newest program 22 Minute Hard Corps is now here!! The concept is awesome and was created as a THANK YOU to the military service members and families for their service. The workouts are bootcamp-inspired performed in cadence with the Veterans in the cast. There is even an optional sandbag to take the workouts to the next level. I have had a chance to review all 13 of the 22 Minute Hard Corps workouts in the program including extensive heart rate analysis and deconstruction of each workout. The program is AWESOME!
As I pressed play on each of the workouts I couldn't help but feel that I could use some 22 Minute Hard Corps Worksheets to track my progress with the program. As of this post, Beachbody has not yet published worksheets for this program. Regardless, I feel like I had some good ideas on how to best create worksheets for this program after going through it. As such, by way of this post and many hours of preparation, please find my FREE 22 Minute Hard Corps Worksheets… Click the image below to view and download!
I developed these with the recommended 8-week 22 Minute Hard Corps schedule in mind. You will find I was able to find a way to give you just one worksheet each week of the program to track your progress. The Worksheets include the exercises and reps for each day of the week. I included a "Notes" section at the bottom of each Worksheet that gives you the ability to record weight used for any movements that required resistance. I also added Worksheets for the extra DELUXE Spec Ops workouts if you decide to substitute those into the schedule!
Please do me a favor though… if you appreciate the hard work I put into these 22 Minute Hard Corps Worksheets please pay it forward by sharing with others doing this program. Please also help support my Team!!
1) Click the image below to LIKE my Facebook Fan Page !!

2) If you are not actively working with a Free Team Beachbody Coach, let TEAM RAGE support your success with health and fitness! Click to get me as your free Coach…

Or, click the CONTACT button below to message me to GET STARTED!!
3) If you do not yet have 22 Minute Hard Corps, check out the kits available here and to get added to my private test group!
And now, your free 22 Minute Hard Corps Worksheets !!(click the image below to view and download)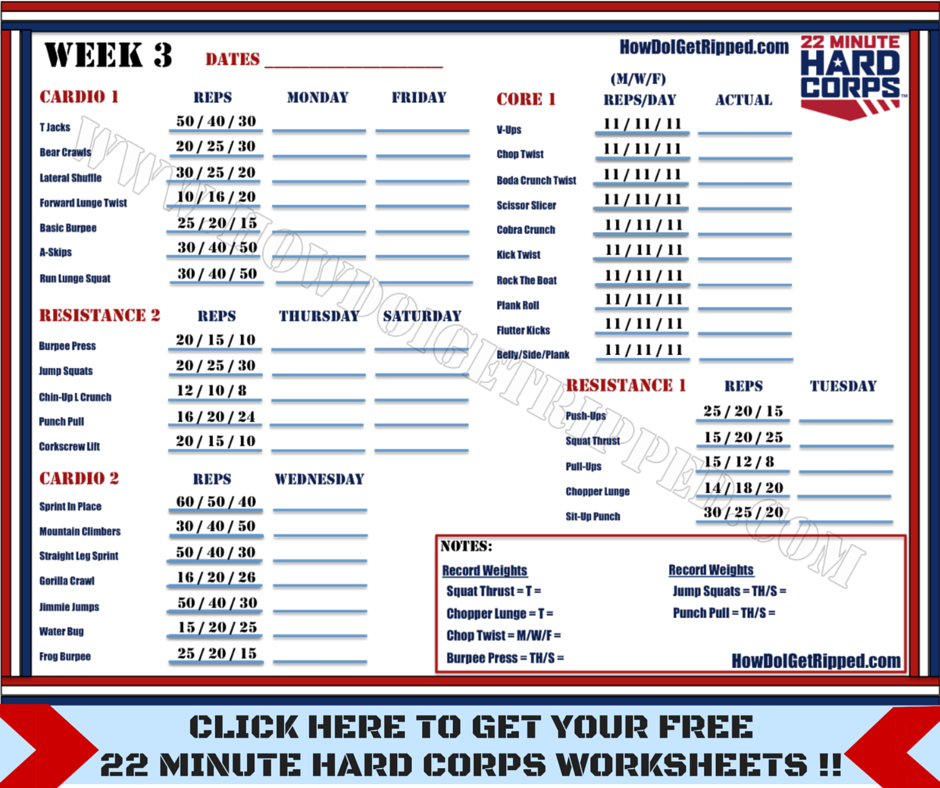 I hope you enjoy my 22 Minute Hard Corps Worksheets!
The following two tabs change content below.
Premiere 5 Star Diamond Independent Beachbody Coach, CEO and Founder of TEAM RAGE, Mike Nowak Fitness, HowDoIGetRipped.com and How Do I Get Ripped, LLC. You are about to learn how I went from out-of-shape busy dad with significant travel, 2 kids and a wife to losing 20 pounds, 16% body fat and 7" off my waist while getting paid more income from home than my Ph.D. in Science & Engineering. Retired my Ph.D. career to focus on FAMILY & FITNESS!
Latest posts by Mike Nowak (see all)
Comments