Wondering How To Make It Through the Holidays Without Guilt?
(My Answer Might Surprise You!)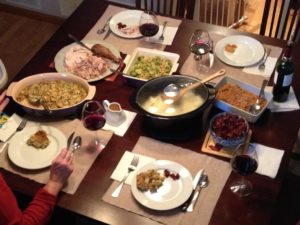 You've got at least two big holiday meals coming up:  Christmas and New Year's Day (with the possible additions of Christmas Eve and New Year's Eve).  What's a person to do who wants to enjoy the holidays without regretting it on January 2nd?  My suggestion:  eat exactly what you want for your holiday meals, and make sure you eat clean clean clean all the meals in between.  Why deprive yourself?  Life is all about (or should be all about) balance, and two treat meals are not going to somehow disrupt some carefully calibrated food/workout equation and throw everything you've worked for all of year out of whack.  It doesn't work like that.
So enjoy your holiday meals.  And here are a couple of suggestions to help you enjoy your in-between meals as well, dishes that are clean and healthy without sacrificing flavor.
All recipes courtesy of Food Network:
Spicy turkey and Green Bean Stir-Fry
Active:  30 minutes  Total:  30 minutes.  Serves 4
1 ½ cups basmati rice (substitute brown rice if you'd like or no rice at all if you're counting carbs)
1/1/2 pounds green beans, trimmed
3 tablespoons vegetable oil
½ teaspoon sugar
¾ pound 99% lean ground turkey
1 clove garlic minced
1 small half-sour pickle, finely chopped
2 teaspoons Asian chile paste, like sambal oelek
1 cup fat-free low-sodium chicken broth
2 tablespoons low-sodium soy sauce
1 tablespoon dry sherry or rice vinegar (not seasoned)
2 teaspoons cornstarch
How?
1.  Bring a large pot of water to boil.  Stir in the rice, cover and boil until tender, about 18 minutes; drain well and keep warm.
2.  Meanwhile, preheat the broiler.  Toss the green beans, 1 ½ tablespoons vegetable oil and the sugar on a rimmed baking sheet.  Broil, stirring once, until the beans are tender and charred, about 8 minutes.
3.  Heat the remaining 1 ½ tablespoons vegetable oil in a large skillet over high heat.  Add the turkey and cook, breaking it up with a wooden spoon, until browned.  Add the garlic, pickle, and chili paste and cook until the garlic is slightly golden, about 3 minutes.
4.  Whisk the chicken broth, soy sauce, sherry and cornstarch in a bowl.  Add the green beans to the skillet with the turkey mixture and cook, stirring, 1 minute.  Add the soy sauce mixture and cook, stirring occasionally, until the sauce thickens slightly, about 3 minutes.  Serve with the rice.
Per Serving (with rice):  Calories 480; Fat 13 g; Carbs 65 g; Protein 30 g.
On a cold winter's night, after a long day at work…wouldn't it be nice to come home to this?
Slow-CookerCaribbeanBeef Stew
Active:  15 minutes   Total:  15 minutes ( plus 7 hours slow cooking)  Serves 4
3 springs thyme
1/3 cup all-purpose flour
¼ teaspoon ground allspice
Kosher salt and freshly ground white pepper
2 pounds beef stew meat, cut into 1 ½ inch cubes
1 pound Yukongold potatoes, peeled and quartered (would be good with ½Yukongold and ½ sweet potatoes, or all sweets)
3 medium carrots, cut crosswise into thirds
1 1-inch piece ginger, peeled and finely chopped (Personally, I never bother peeling)
1 clove garlic, finely chopped
2 teaspoons Worcestershire sauce
1 10 ounce can Mexican style diced tomatoes with green chilies
4 scallions, sliced (optional)
Hot sauce, for serving (optional)
How? 
1.  Strip the leaves from 1 sprig thyme and chop; combine with the flour, allspice, ½ teaspoon salt and ¼ teaspoon white pepper in a large bowl.  Add the beef and toss to coat.  Put the potatoes, carrots, the remaining two thyme sprigs, the ginger and garlic in a 5-to-6 quart slow cooker.  Add the beef, reserving any excess seasoned flour in the bowl.  Whisk ½ cup water and the Worcestershire sauce into the reserved seasoned flour, and add to the slow cooker.  Pour the tomatoes on top.  Cover and cook on low for 7 hours or on high 4 hours.
2.  Add the scallions to the stew and season as needed with salt.  Divide among bowls and serve with hot sauce.
Per Serving:  Calories 487; Fat 12 g; Carbs 37 g (with Yukon golds); Protein 55 g.
And finally, for the vegetarians…(this would also make a very nice dish on anyone's holiday table)…
Tofu-Stuffed Acorn Squash
Active:  30 min.  Total:  35 min.  Serves:  4
2 small acorn squash, halved, stemmed and seeded
¼ cup chopped fresh dill
Kosher salt and freshly ground pepper
3 tablespoons extra virgin olive oil
1 small red onion, cut into ½ inch pieces
3 cloves garlic, minced
1 14-ounce package firm tofu, drained and coarsely crumbled
1 pint cherry tomatoes, halved
1 5-ounce package baby spinach (around 8 cups)
2 tablespoons shredded parmesan cheese
1 tablespoon fresh lemon juice
2 whole wheat pitas, toasted and torn into 1 inch pieces
How?
1.  Put the squash in a large microwave-safe bowl.  Add 1 tablespoon dill, a splash of water, and salt and pepper to salt.  (Squash needs a good amount of salt to bring out the flavor.)   Cover with plastic wrap, pierce the plastic and microwave until tender, 15 minutes.
2.  Meanwhile, heat 1 tablespoon olive oil in a large nonstick skillet over medium-high heat.  Add the onion and garlic; cook, stirring, until soft, three minutes.  Stir in the tofu and ¼ teaspoon salt; cook, undisturbed, 2 minutes, then cook, stirring, until browned, 3 more minutes.
3.  Push the tofu and onion to one side of the pan; add half of the tomatoes to the other side and season with salt.  Cook, stirring the tomatoes, 3 minutes, then stir into the tofu and onion mixture.  Add half the spinach and a splash of the water and stir until the spinach wilts.  Stir in 1 tablespoon parmesan and 1 teaspoon lemon juice.
4.  Toss the pitas, the remaining spinach, tomatoes, 3 tablespoons dill, 1 tablespoon parmesan, 2 tablespoons olive oil, 2 teaspoons lemon juice, and salt to taste in a bowl. Spoon the tofu mixture into the squash.  Serve with the salad.
Per Serving:  Calories 396; Fat 19 g; Carbs 45 g; Protein 18 g
Happy eating!
By: Dennis Abrams – TEAM RAGE
The following two tabs change content below.
Premiere 5 Star Diamond Independent Beachbody Coach, CEO and Founder of TEAM RAGE, Mike Nowak Fitness, HowDoIGetRipped.com and How Do I Get Ripped, LLC. You are about to learn how I went from out-of-shape busy dad with significant travel, 2 kids and a wife to losing 20 pounds, 16% body fat and 7" off my waist while getting paid more income from home than my Ph.D. in Science & Engineering. Retired my Ph.D. career to focus on FAMILY & FITNESS!
Latest posts by Mike Nowak (see all)
Comments