What to Eat When It's NOT a Holiday Meal
It's the holiday season, and with it comes holiday meals.  And given how hard you've been working out and watching your nutrition all year, right?,  this is definitely not the time to deprive yourself.  Do you REALLY want to hurt your grandmother's feelings by turning down a piece of her special Xmas pie?  Or insult Aunt Tessie by saying lasagna is not on your "diet?"  Of course not.  Eat it (a reasonable sized portion of course) and enjoy it, and enjoy keeping your family's holiday traditions alive.
But, even though it is the holidays, you do want to keep your diet on a relatively even keel.  So on the days when you're not with family and friends, here are a couple of recipes that will let you have a quick nutritious and guilt-free meal, freeing you up to have just ONE more Xmas cookie.
Chicken-Lentil Curry Soup
Active:  20 minutes  Total:  40 min.  Serves 4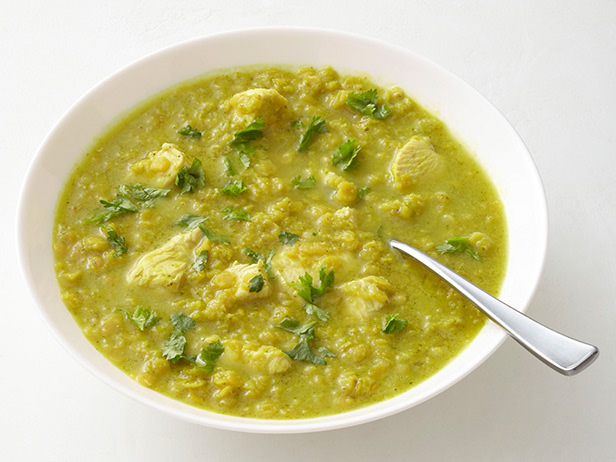 1 bunch scallions (white and light green parts only), chopped
1 jalapeno pepper, seeded and roughly chopped (if you want even less heat, remove the ribs as well)
2 ¼ inch thick slices ginger, peeled
¼ cup cilantro, plus more for topping
4 cloves garlic
3 cooking apples (such as Macintosh or Fuji), peeled and roughly chopped
2 teaspoons curry powder
1 13.5 ounce can light coconut milk
Kosher salt
4 cups low-sodium chicken broth
1 cup red lentils, picked over and rinsed
½ pound skinless, boneless chicken breasts, cut into ¾ inch pieces
Freshly ground pepper
1.  Pulse the scallions, jalapeno, ginger, cilantro and garlic in a food processor until chopped. (Or chop by hand if you don't have a processor)
2.  Cook the curry powder in a Dutch oven or large pot over medium-high heat, stirring until lightly toasted (or until you smell the spice cooking) about 1 minute.  Whisk in the coconut milk until smooth; cook until reduced by half, around five minutes. Add the apple-scallion mixture and ½ teaspoon salt. Cook, stirring until thickened about 5 more minutes.
3.  Stir in the chicken broth and lentils. Bring to a boil, then reduce the heat to medium low and simmer until the lentils are tender and broken down, about 15 minutes. Add the chicken and simmer until cooked through, around six minutes. Season with salt and pepper to taste, top with cilantro if you so desire.
Per Serving:  Calories:  399; Carbohydrate 50g; Protein 34g
Slow-Cooker Turkey Mole Tacos
Active:  15 min  Total:  15 min (plus 8 hour slow cooking) Serves:  6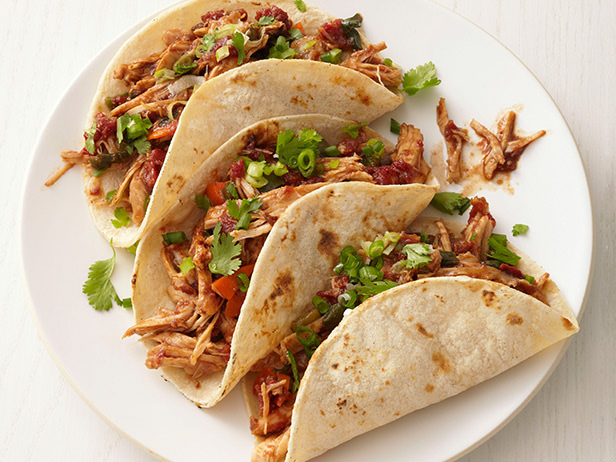 1  15 ounce can no-salt-added diced tomatoes, drained
2  large carrots, cut into ½-inch pieces
1  green bell pepper, finely chopped
¼ cup roughly chopped fresh cilantro, plus more for topping
4 scallions chopped, plus more for topping
2 tablespoons peanut butter
1 ½ tablespoons low-sodium soy sauce
1 tablespoon ancho chile powder
½ teaspoon Chinese five-spice power OR ground cinnamon
1 skinless bone-in turkey breast (about 2 ½ pounds)
18 corn tortillas (or wheat, or whole wheat if you prefer)
1.  Combine the tomatoes, carrots, bell pepper, cilantro, scallions, peanut butter, soy sauce, chile powder, cocoa powder and Chinese five-spice powder (or cinnamon) in a 6-quart slow cooker and stir to combine. Add the turkey and turn to coat. Cover and cook on low, 8 hours.
2.  Remove the turkey and transfer to a large plate; shred the meat with 2 forks, discarding the bone. Return the shredded turkey to the slow cooker and stir to coat.
3.  Warm the tortillas in a dry skillet or in the microwave. Serve the turkey in the tortillas and top with more cilantro and scallions.
Per serving: Calories 362; Carbohydrate 26g; Protein 51g
Enjoy! Also check out the HowDoIGetRipped.com Holiday Fitness and Nutrition Strategies!
By: Dennis Abrams – TEAM RAGE Contributing Author
The following two tabs change content below.
Premiere 5 Star Diamond Independent Beachbody Coach, CEO and Founder of TEAM RAGE, Mike Nowak Fitness, HowDoIGetRipped.com and How Do I Get Ripped, LLC. You are about to learn how I went from out-of-shape busy dad with significant travel, 2 kids and a wife to losing 20 pounds, 16% body fat and 7" off my waist while getting paid more income from home than my Ph.D. in Science & Engineering. Retired my Ph.D. career to focus on FAMILY & FITNESS!
Latest posts by Mike Nowak (see all)
Comments