Vegetarian AND Satisfying!
While being a full-time vegetarian may not be for everybody, many people have come to realize that giving up meat one day a week – a "meatless Monday" perhaps – is a good way to help eat healthier.  And while some vegetarian meals can leave you feeling dissatisfied, like there's something "missing" – these pasta ideas are guaranteed to please, even without a single bit of meat. Feel free to substitute spaghetti squash for the spaghetti for another healthy alternative.
Spaghetti with Chickpeas in Lemon Tahini Sauce
Serves Four
Recipe by Rebekah Peppler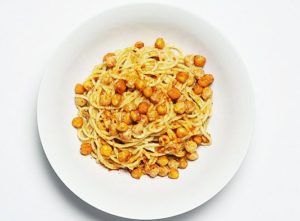 Ingredients
For Chickpeas:
1 15 oz can chickpeas, rinsed and drained
2 tablespoons olive oil
1 teaspoon smoked paprika
½ teaspoon salt
For Pasta:
1 lb spaghetti (whole wheat is fine)
2 tablespoons olive oil
¼ cup tahini
Juice of 2 lemons (or more if you'd like)
Kosher salt and freshly ground pepper to taste
½ teaspoon smoke paprika, to serve
Preparation
For Chickpeas:
Preheat oven to 400F. In a medium mixing bowl, toss chickpeas, olive oil, smoked paprika, and salt, until chickpeas are evenly coated. Spread the chickpeas evenly on a rimmed baking sheet. Roast in 400F oven until browned and crisp, about 15 minutes. Let cool completely and set aside. (Do not make the chickpeas more than a day in advance.
Put on water to boil for pasta, add salt, cook pasta until al dente, reserve one cup of the cooking water before draining.
While that's going on, in a large skillet over low heat, heat olive oil, then add tahini. Vigorously whisk the mixture until smooth, and make sure the heat is low or the tahini will scorch and burn. When pasta is done, add it to the skillet with ¼ cup of the cooking water, and toss to coat the pasta with the sauce. Season with salt and pepper, add half the chickpeas, and continue to toss the pasta for around 30 seconds, adding more pasta water as needed. Remove from heat add the juice from the two (or more if you like it lemony) lemons and serve, sprinkled with the remaining chickpeas and ½ teaspoon smoked paprika.
Spaghetti with Red Curry, Green Beans and Peanuts
Serves 4
Recipe by Rebekah Peppler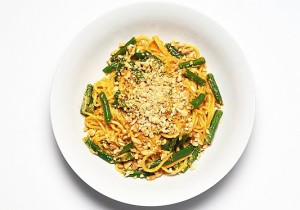 Ingredients
1 pound spaghetti
1 cup dry roasted peanuts (lightly salted work best)
1 lb green beans
2 tablespoons neutral oil (such as canola)
2 tablespoons red curry paste
1 15 can coconut milk
Juice of one lime
Kosher salt and freshly ground pepper to taste
Preparation
In a food processor, pulse peanuts 3-4 times, until crushed but not paste like. (If you don't have a food processor or don't feel like using it, you can just chop the peanuts with your knife.)
In a large sauté pan with a lid, add enough water to come ½ inch up the side of the pan. Bring the water to a boil, then reduce to a simmer. Add the green beans, cover and steam until al dente (about 2 minutes). Drain the green beans and transfer to a bowl.
Put up the pot of water for the pasta to boil, cook until just al dente.
Meanwhile, wipe out the sauté pan and return to medium heat, then add neutral oil and red curry paste. Toast the curry paste for 30 seconds (until you can smell the spices) then add the coconut milk and whisk gently to combine. Simmer for about two minutes, until the sauce has thickened. Season with salt and pepper and lime juice, keep warm until pasta is ready.
Trim the ends of the green beans and cut them into roughly one inch pieces, then add them to the sauce along with the cooked spaghetti and toss to coat.
To serve, serve with the crushed peanuts.
Spaghetti with Olives, Capers, and Roasted Red Peppers
Serves 4
Recipe by Rebekah Peppler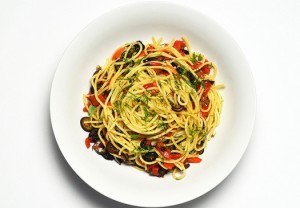 Ingredients
1 pound spaghetti
3 tablespoons olive oil
½ cup black olives, thinly sliced
1 cup roasted red peppers, thinly sliced
2 tablespoons capers, drained
Juice of 2 lemons
1 bunch of parsley, chopped, divided
Preparation
Cook spaghetti according to package directions. Drain, reserving about 1 cup of the pasta water.
While the pasta is cooking, heat olive oil in a large skillet over medium heat. Add capers, sliced olives, and sliced red peppers. Cook until the olives are softened and the peppers warmed through. Add the cooked pasta, about ½ cup of the reserved pasta water, and the chopped parsley (saving 1 tablespoon or so for garnish). Toss to coat, add more pasta water if needed, sprinkle with lemon juice, and serve.
Enjoy!
By: Dennis Abrams – TEAM RAGE Contributing Author
The following two tabs change content below.
Premiere 5 Star Diamond Independent Beachbody Coach, CEO and Founder of TEAM RAGE, Mike Nowak Fitness, HowDoIGetRipped.com and How Do I Get Ripped, LLC. You are about to learn how I went from out-of-shape busy dad with significant travel, 2 kids and a wife to losing 20 pounds, 16% body fat and 7" off my waist while getting paid more income from home than my Ph.D. in Science & Engineering. Retired my Ph.D. career to focus on FAMILY & FITNESS!
Latest posts by Mike Nowak (see all)
Comments