Time to Recharge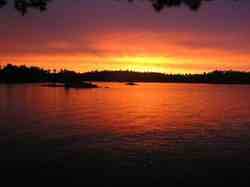 It has been a busy year, including this past week where I was down in Atlanta for business. I have been burning the candle on both ends – working long hours and also trying to spend as much time with family as possible. Simply stated, it is TIME TO RECHARGE!
Tomorrow we head up to Northern Minnesota for some rest and relaxation. It has been a long-standing family tradition to drive up to a remote lake near the Canadian border and rent a cabin for the week. Focus is on spending time together, enjoying the peaceful nature of the wilderness, and fishing for Walleye and Northern Pike. In recent years it has been very rewarding to have our kids join us to begin our new traditions with the growing family. Life is good!
This year on the trip I commit to trying to "unplug" from technology and the Internet, for the most part. This will be easy, but also very hard. You see, unfortunately, I am one of those people that has their cell phone by the bed at night and constantly read and respond to emails throughout the day. Work-like balance today is out of control for many people, including myself. People spend far too much time on the phone, computer or video games and actually miss part of life. Like most people that demonstrate some of these tendencies in their lifestyle, I feel tense a lot of the time as I am constantly processing information. We all need a break! Time to unplug…
I have a lot to be thankful for this year and I am excited to begin a new chapter in my life as I transition to a full-time Independent Beachbody Coach in February. I can then focus more on what is important and limit the tendency to over work. Although I have been busy, I have been getting results. I am also committed to keeping my fitness and nutrition dialed in even with my busy schedule. Focus T25 has been a great program the past few weeks at only 25 min per day. I will try to get in some workouts on the trip.
I know I will likely go back to my old ways next week with regard to staying plugged in with technology, but this is my week to focus on family and relaxation… see you soon, and, as always, I am here to help my friends. Contact me at coachragebeachbody@gmail.com – I want to hear from YOU! See you in a week…
TIME TO RECHARGE!
The following two tabs change content below.
Premiere 5 Star Diamond Independent Beachbody Coach, CEO and Founder of TEAM RAGE, Mike Nowak Fitness, HowDoIGetRipped.com and How Do I Get Ripped, LLC. You are about to learn how I went from out-of-shape busy dad with significant travel, 2 kids and a wife to losing 20 pounds, 16% body fat and 7" off my waist while getting paid more income from home than my Ph.D. in Science & Engineering. Retired my Ph.D. career to focus on FAMILY & FITNESS!
Latest posts by Mike Nowak (see all)
Comments