The NEW Team Challenge!!
The NEW Team Challenge !!!
As many of you know, my team and I have run challenges in the past and they have been SUCCESSFUL, however, I feel that, in some ways, because of the large number of participants in the challenges, people have been slipping through the cracks… It's been a little TOO EASY for people to go back to their old ways and go unnoticed… and as a coach, THAT KILLS ME! I want to see you guys CHANGE… not just physically, but I want to see your confidence levels rise, I want to see you start to believe in what is possible for yourself again… and I want to see you become STRONGER, inside & out!
SO, I have decided to run a NEW kind of challenge heading into the New Year… and you have been selected, this email is going out to few TEAM RAGE members.
This challenge group will only have 5 MEMBERS plus me… They would ALL be doing the SAME WORKOUT PROGRAM (P90X for this first group), STARTING ON THE SAME DAY… THEY WOULD ALL BE REPLACING ONE MEAL A DAY WITH SHAKEOLOGY (& yes, if you do not have Shakeology, that would mean you would have to be willing to invest in it… I need to know that you are willing to invest in max results for your own health first!
Because each member will have a different starting weight and goals, we will also be using the Beachbody Club membership to customize a meal plan specific to YOUR goals to get you the BEST possible results! Even better… By being a CLUB member you will actually SAVE 10% on ALL of your Beachbody purchases!!!
TOGETHER, all 6 of us will BEGIN OUR 35 DAY modified P90X JOURNEY leading up to Christmas… anyone is eligible to join regardless of current workouts or experience. Checking in EVERY DAY, without exception!  I will create a secret Facebook group for us to stay accountable on a daily basis. I will be giving the 5 Team members my cell phone number for support!
This IS a commitment… ON MY PART and YOURS… Hence why I said that the people selected would NEED TO BE READY to SERIOUSLY change their lives! But I do believe it could be something that will not only make me a better coach for having gone through it… but will leave 5 more people COMPLETELY TRANSFORMED at the end!!!
This first new group will be focused on a modified, 35-day P90X challenge with graduation the week prior to Christmas. What a way to end the year feeling good about ourselves! This will get all of us ready for P90X2 or other program initiative in January… The workout schedule is at the end of this message and will be a rocker!
The new Beachbody challenge packs will help save for those motivated to join the group…
Now Available!!!!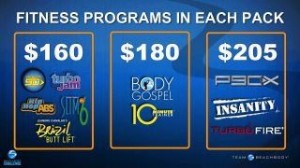 When you sign as a COACH or a club member you get 3 months of Club membership, Shakeology and your workout for one great price with these Challenge packs. Simply click the link and select TAKE THE CHALLENGE button to get you started. The Coach or Club member price is included in the cost. That's right, sign as a coach or a club member, no price difference as the coach sign-up fee is waived! Once you sign please respond to this message expressing your interest in the 35-day TEAM Challenge to get started. The challenge starts November 21st so please order your challenge packs soon and reserve your spot in the group. BRING IT!
Now, if you've been considering becoming a Coach, this is the time! Where else can you start a business for yourself with unlimited potential, and is built on helping people get fit and healthy that doesn't cost much to get started? Great potential for second income with the holidays fast approaching. Star Diamond coaches averaged $94,122 in 2010. I am proud to say that I am making enough to consider this my primary job. Plus, you get a 25% discount on products and can get focused with a Team challenge! Sign as a coach and then order your challenge pack. Let's do this!
So… If you would like to be considered for the P90X Team challenge and are willing to make ALL the commitments above, then… what are you waiting for?!?! Write me back, RIGHT NOW and tell me that you want in this group!!! Space is limited. Additional groups may be added based on response.
Make it COUNT!  … As always, please let me know how I can help.
***Coach Mike***
Forward this to a friend to be eligible to win a T-shirt!
5-Week P90X Challenge!
Start Date: Monday November 21st
Graduation: Saturday December 24th (Last workout Dec 23rd)
Week 1 & 2
Chest & Back / ARX
Plyometrics
Shoulders & Arms / ARX
Yoga X
Legs & Back / ARX
Kenpo X
X-Stretch or Rest or 1-mile interval run
Week 3 & 4
Chest, Shoulders & Tri / ARX
Plyometrics
Back & Biceps / ARX
Yoga X
Legs & Back / ARX
Kenpo X
X-Stretch or Rest or 1-mile interval run
Week 5
Yoga X
Core Synergistics
Kenpo X
X Stretch or 1-mile interval run
Core Synergistics
Yoga X
Rest and GRADUATION – Enjoy Christmas Eve in shape, for those that celebrate!
———————————–
———————————–
The following two tabs change content below.
Premiere 5 Star Diamond Independent Beachbody Coach, CEO and Founder of TEAM RAGE, Mike Nowak Fitness, HowDoIGetRipped.com and How Do I Get Ripped, LLC. You are about to learn how I went from out-of-shape busy dad with significant travel, 2 kids and a wife to losing 20 pounds, 16% body fat and 7" off my waist while getting paid more income from home than my Ph.D. in Science & Engineering. Retired my Ph.D. career to focus on FAMILY & FITNESS!
Latest posts by Mike Nowak (see all)
Comments