The Holidays Are Past – Let's Eat!
You made it through the holiday season, the parties are over – it's time to get serious about healthy eating.  To help you do so, here are a couple of recipes, both highly nutritious, both easy to prepare, and both under 500 calories per serving.  (Courtesy of Food Network Magazine)
Soy-Maple Salmon
Active:  20 min.  Total:  35 min.  Serves 4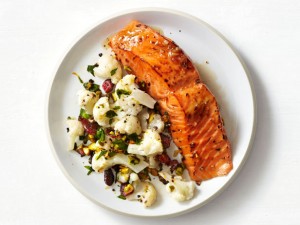 2 tablespoons low-sodium soy sauce
2 tablespoons maple syrup
1 tablespoon fresh orange juice
3 cloves garlic, smashed
4 5-oz skinless center-cut salmon filets (preferably wild)
4 cups cauliflower florets (from one small head)
¼ cup fat-free low-sodium chicken broth (or use water)
Cooking spray
Kosher salt and freshly ground pepper
1 tablespoon extra-virgin olive oil
2 tablespoons dried cranberries
2 tablespoons chopped pistachios or almonds (or walnuts, or…)
1 teaspoon grated orange zest
2 tablespoons chopped fresh parsley
1.  Preheat the oven to 400.  Mix the soy sauce, maple syrup, orange juice, 2 of the garlic cloves and 2 tablespoons water in a large bowl; add the salmon and turn to coat.  Cover and refrigerate for 20 minutes.
2.  Meanwhile, put the cauliflower and broth (or water) in a microwave-safe bowl; cover loosely with plastic wrap and microwave until tender, 6 minutes.
3.  Coat a rimmed baking sheet with cooking spray.  Drain the fish, season with salt and pepper and place on the prepared baking sheet.  Bake until slightly golden around the edges (don't overcook), 8-10 minutes.
4.  Meanwhile, heat the olive oil and remaining garlic clove in a large skillet over medium-high heat; cook, breaking up the garlic with a spoon until softened, about 2 minutes.  Add the cauliflower and broth, the cranberries, pistachios, orange zest, parsley, ¼ teaspoon salt (or to taste), and pepper to taste, and stir to heat through.  Serve with the fish.
Per serving:  Calories 392; Fat 21 g; Carbs 18 g; Protein 32 g
Chili-Stuffed Sweet Potatoes
Active: 25 min, Total: 30 min. Serves 4
4 medium sweet potatoes (about 8 ounces each)
1 14 oz package shredded cole-slaw mix
½ cup pico de gallo or fresh salsa
1 tablespoon (or more to taste) chopped pickled jalapeno peppers
1 ½ tablespoons extra-virgin olive oil
1 tablespoon tomato paste
2 teaspoons chili powder (or more to taste)
1 teaspoon ground cumin
12 ounces 93% lean ground beef (or turkey if you prefer)
Kosher salt
¾ cup shredded low-fat cheddar cheese
2 scallions, thinly sliced
1.  Pierce the sweet potatoes several times with a fork and microwave, turning halfway through, until soft, 15 to 20 minutes.  Meanwhile, toss the coleslaw mix, pico de gallo, pickled jalapenos and ½ tablespoon in a medium bowl and set aside.  (This can be done ahead of time and kept in the fridge.)
2.  Heat the remaining 1 tablespoon olive oil in a large nonstick skillet over medium heat.  Add the tomato paste, chili powder and cumin and cook, stirring until toasted (you'll smell the spices) about 1 minute.  Add the beef and ½ teaspoon salt (or to taste) and cook, breaking up the meat with a wooden spoon, until browned, about 4 minutes.  Remove from the heat.
3.  One at a time, hold the sweet potatoes in a kitchen towel (they'll be hot), cut open and scoop out a few spoonfuls of flesh; add to the skillet with the beef mixture along with the cheese and scallions.  Season with salt and pepper to taste.  Return the skillet to medium heat and stir until the cheese melts, about a minute.  Spoon into the sweet potatoes and top with the cool crunchy slaw.
Per serving:  Calories 444; Fat 14 g; Carbs 52 g; Protein 29 g
Let's Eat!
By: Dennis Abrams – TEAM RAGE
The following two tabs change content below.
Premiere 5 Star Diamond Independent Beachbody Coach, CEO and Founder of TEAM RAGE, Mike Nowak Fitness, HowDoIGetRipped.com and How Do I Get Ripped, LLC. You are about to learn how I went from out-of-shape busy dad with significant travel, 2 kids and a wife to losing 20 pounds, 16% body fat and 7" off my waist while getting paid more income from home than my Ph.D. in Science & Engineering. Retired my Ph.D. career to focus on FAMILY & FITNESS!
Latest posts by Mike Nowak (see all)
Comments