The END of Exercize is HERE with Shaun T CIZE !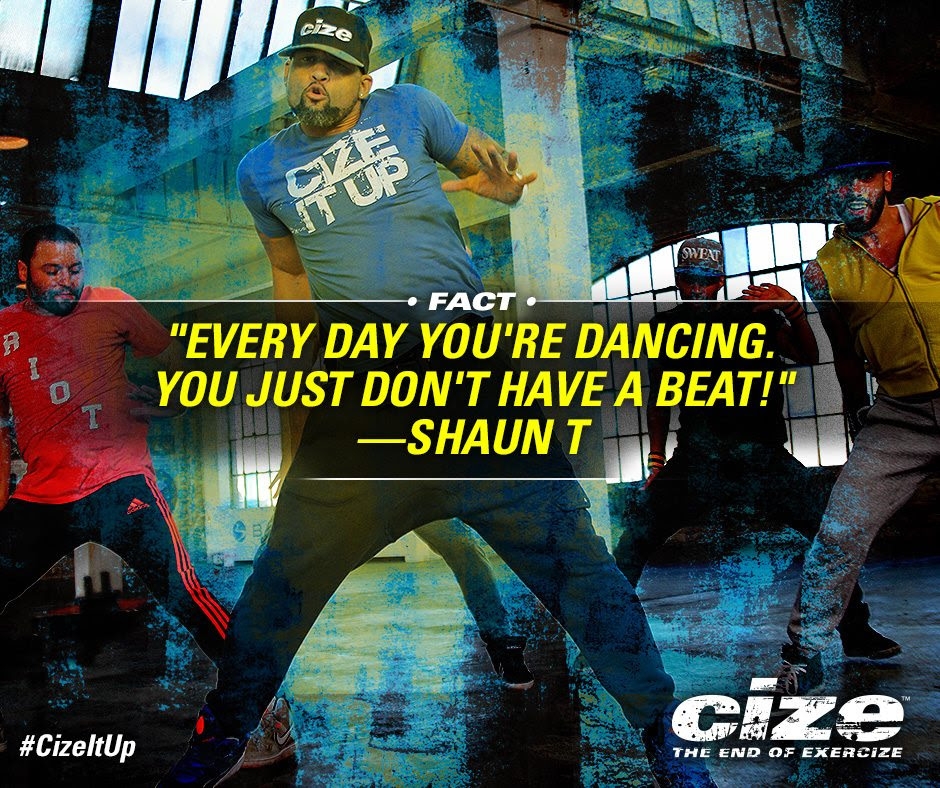 The next big thing from celebrity trainer Shaun T is HERE – introducing CIZE!
The End of Exercize™ is here. Forget treadmills, squats, burpees, and barbells. We may not call it a workout. But dancing, the way we designed it, is hard work! You WILL drip sweat. And you WON'T stop moving. Performing these pulse-pounding routines is serious cardiovascular conditioning, core strengthening, and overall muscle toning—all at once. CIZE IT UP for 4 weeks and you will shape the dancer's body you've always dreamed of. This isn't your typical "dance-lite" workout. You'll challenge yourself to learn professional dance choreography, step-by-step, move-by-move. At the end of each course, you'll be able to bust out a full dance routine to songs from the CIZE playlist!
You might think that CIZE is only for people with a dance background, but it couldn't be further from the truth. Shaun breaks down each dance move. He starts with a move you're familiar with from every day life (like throwing a ball or stepping aside to let someone pass) and gradually builds on it. Before you know it, those "daily" movements are turning into choreographed dance moves…and you're sweating and getting an incredible workout. Plus, there are two CIZE schedules—one for beginners and one for people who are a little more advanced. You can tailor the program based on your skills and how quickly you pick up the moves. CIZE would also be a great option to hybrid as a fun, cardio-source in combination with resistance workouts!
Cize brings together the fun of a Zumba-like dance workout with the intensity and passion of Shaun T.

Check out a pics and video I captured from the first ever live CIZE workout with Shaun T at the annual Beachbody Coach Summit in Nashville, TN…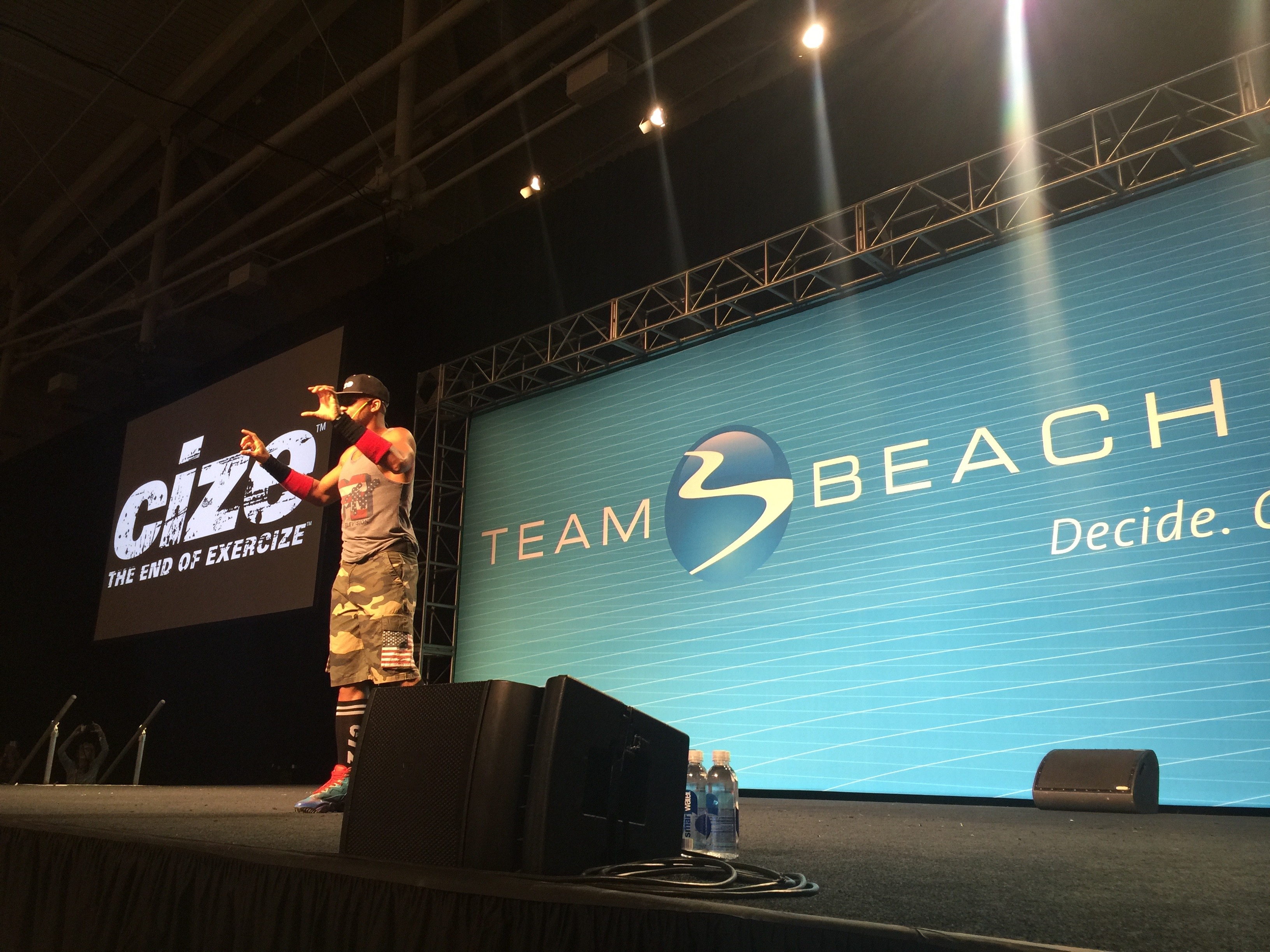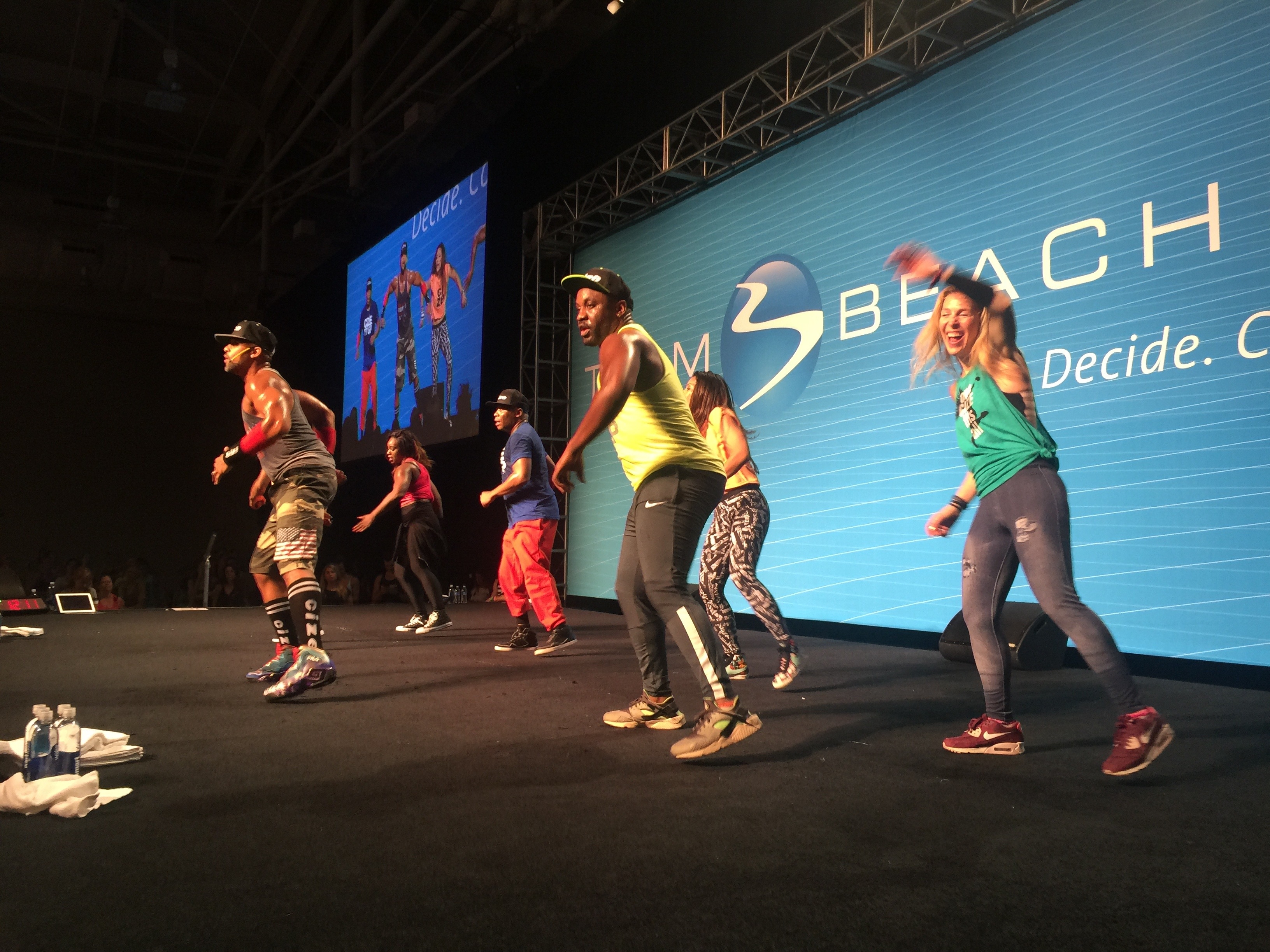 Live footage from the workout!!
I was surprised and excited to see how fun, but challenging the live CIZE workout was at the event. Shaun T pushed us very hard. The workout was representative of moves found in the different workouts throughout the program. Before you knew it, the workout was over and you were drenched in sweat. Coach Summit was buzzing with excitement with this new program!

Kits Available
There are several kits available for CIZE while supplies last including the Base Kit, Deluxe Kit and Challenge Pack! There is BIG demand for this product so please get in your order TODAY to be guaranteed YOUR CIZE program. Exclusive bonus workout HOLD YOUR OWN from ordering here today with other bonuses !!
Once you order from my Team you will also have access to my exclusive, private online support test group for daily motivation and success with CIZE. Please contact me at MikeNowakFitness@gmail.com for any questions on kit selection.
CIZE BASE KIT
Base kit includes 6 dance coursed on 3 DVDs,  Get Started Guide, Beginner Calendar, Advanced Calendar, Eat Up! Meal Plan, 8 Count Abs, Weekend Survival Guide and bonus workout – HOLD YOUR OWN – for ordering here today!
Pricing USD:
Retail: $59.85
Club Member: $53.87
Preferred Customer/Coach: $44.89

CIZE DELUXE KIT
This kit comes with everything included in the BASE KIT, plus these weights loss series extras…
– 2 NEXT-LEVEL DANCE COURSES help incinerate fat faster while you further develop your dance skills; GET INTO IT and TURN IT ON
– 1-LB. WEIGHTED WRISTBANDS
– DELUXE CALENDAR
– LOSE IT GUIDE
– PORTION CONTROL CONTAINERS – This CIZE Weight Loss Series also includes seven color-coded containers that take the guesswork out of eating healthy. Designed to work with your CIZE EAT UP! Meal Plan, the containers deliver the right portions of food every time. That way you'll have the energy and stamina to dance your heart out—and butt off!
Pricing USD:
Retail: $119.70
Club Member: $107.73
Preferred Customer/Coach: $89.78

CIZE CHALLENGE PACK
You save over $70 with this special promotion bundle compared to buying each item separately. That means when you buy Shakeology and CIZE in this Challenge Pack, it's like getting CIZE for $10. Plus you'll get the limited-edition CIZE wristband and CIZE/Shakeology Shaker Cup! The Challenge Pack is the best value bundled with Shakeology nutrition to ACCELERATE results with deep discount.
You get everything you need to get your best results:
The CIZE DVD Package featuring 6 dance courses, Eat Up! Meal Plan, Get Started Guide, Weekend Survival Guide, 2 Wall Calendars, 8 Count Abs bonus workout, and Hold Your Own Network Exclusive DVD.
Your first 30-day supply of Shakeology—the superfood protein shake that helps give you energy, reduce cravings, and accelerate your fitness results—delivered on Home Direct, our monthly autoship program.
A FREE 30-Day Trial Membership in the Team Beachbody Club, so you can start streaming your CIZE workouts, and more than $3,000 in other proven Beachbody workouts, plus find all the support you need to succeed in your challenge. After your 30-Day Trial Membership is up, you will be billed quarterly for Club Membership, which you may cancel at any time.
Plus Super Discount shipping (and SAVE OVER $12) every month.
With the Challenge Pack, the option to sign as a new preferred customer/coach at Team Beachbody is available for FREE (gives 25% discount moving forward and opportunity to make money helping others while getting in the best shape of your life!)
Pricing USD:
INTRODUCTORY PROMO: $140 ($70 SAVINGS!)

Get your CIZE today while supplies last… Let's do this TOGETHER!!
The following two tabs change content below.
Premiere 5 Star Diamond Independent Beachbody Coach, CEO and Founder of TEAM RAGE, Mike Nowak Fitness, HowDoIGetRipped.com and How Do I Get Ripped, LLC. You are about to learn how I went from out-of-shape busy dad with significant travel, 2 kids and a wife to losing 20 pounds, 16% body fat and 7" off my waist while getting paid more income from home than my Ph.D. in Science & Engineering. Retired my Ph.D. career to focus on FAMILY & FITNESS!
Latest posts by Mike Nowak (see all)
Comments