Team Beachbody Coach Leadership Retreat!
I hope this post finds you well! Please let me know how you are doing with your workouts and nutrition. As always, I am here to help you achieve your goals. Let's get connected on Facebook at www.facebook.com/HowDoIGetRipped. Feel free to ask any questions, get your daily motivational quote, read wellness-related articles or follow my progress with the new Body Beast program (Day 60 this week and I am up approx. 12 pounds already!)
I am excited to let you know about my experience this past weekend at the Team Beachbody Coach Leadership Summit in Dana Point, California. This is an exclusive event for the top coaches (approx 200 qualified out of current 90,000+). The event focuses on leadership training, past/present/future state of the company, product and opportunity announcements as well as live workouts with the celebrity trainers. What an experience, thank you Team Beachbody! Below is a picture from the Retreat location.

 With CEO Carl Daikeler at the Welcome Reception!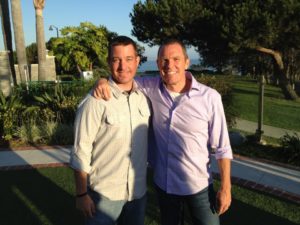 Below I have highlighted some of the major breaking announcements that may help you achieve your goals and lifestyle. As always, please let me know if you have any questions.
The Skinny on LES MILLS COMBAT Pre-Order!
Are. You. Ready. To. RUMBLE? In less than two weeks, our latest workout, LES MILLS COMBAT is going to hit pre-order—exclusively within the Team Beachbody Network. And like PUMP, this workout is going to revolutionize in-home fitness once again.
If you're not yet familiar, WATCH THIS Bruce Lee-like teaser trailer.
I had the incredible opportunity to work out live with the Les Mills Combat trainers at the Leadership Retreat and these workouts are awesome. Here are some pictures from one of the Team workouts!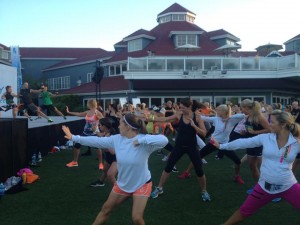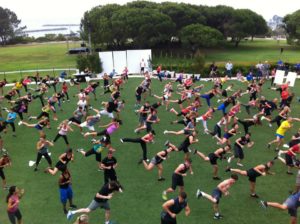 Check out a video below of the live workout from one of my upline Team members! In "Where's Waldo" fashion, see if you can find me in the workout! (Hint: Bottom left:)
Here I am after the workout hanging with one of the lead trainers Dan. The trainers are SO nice and passionate about this program. I will be all over this one when the pre-orders open. Limited quantities are available so get your pre-order so we can support each other with a January New Year start date! (I will create a private group for daily support and motivation.)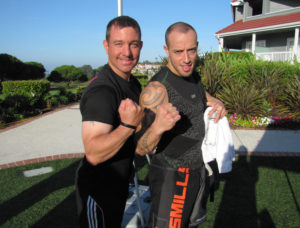 What does "pre-order" actually mean?
Between October 1st and October 31st, customers can ONLY pre-order COMBAT from a Team Beachbody Coach or at www.teambeachbody.com. That means YOU get first dibs at this new program when it become available in December.
Not only will you get it first, but when you buy from your Team Beachbody Coach, you'll also get FREE shipping (when it ships) and an exclusive LES MILLS COMBAT bonus workout—created specifically for the Coach Network. Exclusive sales window. Free shipping. Bonus DVD. Olé!
What makes LES MILLS COMBAT so awesome?
Never thought you'd ask!
LES MILLS COMBAT is the first home-based mixed martial arts–inspired workout program designed to get you a lean, chiseled body—in just 60 days! LES MILLS' trainers Dan Cohen and Rachael Newsham are fearless leaders! As experts in a great number of martial arts disciplines, they will teach you, challenge you, inspire you, and keep you accountable in your quest to unleash your inner warrior—and build an outrageously strong, sexy body. All of these fat-burning, strength-building martial arts sequences have been carefully choreographed to some of today's most popular, energizing music—motivating you through the highs and lows of the workout, and driving you to achieve your absolute best results!
FREE P90X Phone App – Limited Time
The P90X App for iPhone is now available as a FREE download on Apple's App Store for a limited time ONLY. The download includes just the "Tracker" app—"Guided Workouts" are sold separately within the app, but you can try the Ab Ripper X workout for free.
Since the free launch just weeks ago, P90X is already the second most downloaded free App second only to YouTube. Wow. Go get it.
Team Beachbody Coaching is Coming to Canada!
This is HUGE news and many of you have been asking for this opportunity for years. Team members in Canada will have a chance to be a founding coach in Canada. This is a very rare opportunity for this type of business that is heading into the growth stages of success. You can be a coach and earn a substantial income sharing the products and solutions that you use or simply enjoy the 25% discount and other coach benefits. Very rewarding opportunity.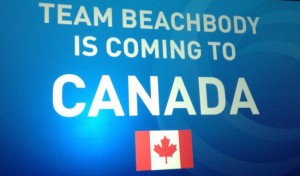 With that said, there are some details to understand. Here we go – On October 1st, 2012 you can sign to be a coach in Canada following the link below. This is a pre-launch, which is typical for similar expansions. This means that in October a person in Canada that is 18 years or older has the chance to open a Team Beachbody business in the US. The business will be based in the US and run with US Dollars. The business will then transition to a Canada based business projected mid-2013 and will be run in Canada dollars. There will be no major changes during the transition in terms of the business operation. Also, during pre-launch all sales for coaches in Canada must be filtered through their coach online Team Beachbody store. Any questions or specifics please let me know. Follow the link below on October 1st.
Let me know if you are interested or know anyone that is interested in coaching in Canada. Let's do this!
NEW! Brazil Butt Lift® 30-Day Graduate Program
Get ready to shake your bum-bum all over again! Leandro's BACK with his 30-day graduate program to Brazil Butt Lift! The Master Series stands alone, and is a comprehensive workout that will tighten your core, develop long/lean muscles, and perfect your booty. More details below!
Ultimate Reset Group with Beachbody CEO Carl Daikeler!
Beachbody CEO Carl Daikeler is providing a very unique opportunity to join him personally in support of the Ultimate Reset. This 21-day cleanse has been driving some amazing results for enhancing wellness. A benefit for many is weight loss and I have seen 10 to 40 pounds loss from Team members in only 21 days. Insane. Below is a link to request to join Carl's daily accountability group beginning October 10th.
Get everything you need for your Ultimate Reset here!
Body Beast Support Group
As I mentioned, I am very pleased with my results thus far with Body Beast. If you are interested in joining my Body Beast support Group (new people joining every week), follow the link below for your Challenge Pack and I will then send you an invite to the Team! This program is getting great reviews. I will post my 60 Day results on my website and Facebook later this week. BEAST UP!
As always, please let me know how I can help. I am here for you. Have an amazing day…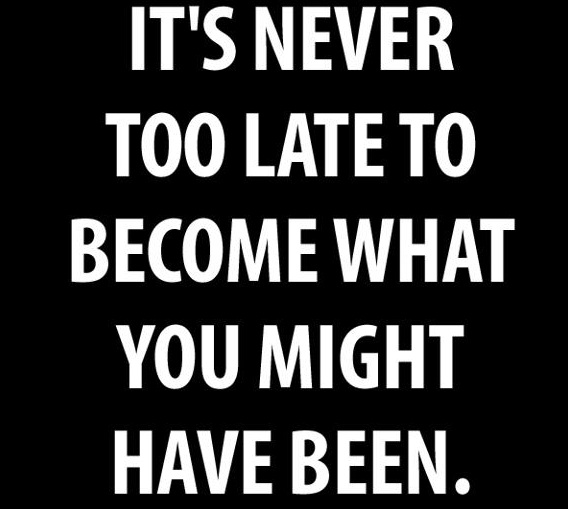 Cheers!
Mike N.
P90X Qualified and Star Diamond Team Beachbody Coach
The following two tabs change content below.
Premiere 5 Star Diamond Independent Beachbody Coach, CEO and Founder of TEAM RAGE, Mike Nowak Fitness, HowDoIGetRipped.com and How Do I Get Ripped, LLC. You are about to learn how I went from out-of-shape busy dad with significant travel, 2 kids and a wife to losing 20 pounds, 16% body fat and 7" off my waist while getting paid more income from home than my Ph.D. in Science & Engineering. Retired my Ph.D. career to focus on FAMILY & FITNESS!
Latest posts by Mike Nowak (see all)
Comments