Success Stories – Dennis Abrams
Too Old?  No Way.
By TEAM RAGE member – Dennis Abrams
I've been doing Beachbody workout programs for a little over four  years.  I've done rounds of P90X.  RevAbs.  Insanity.  Asylum.  P90X2.  And now Body Beast.
Oh yeah, and I'm 52 years old.
When I started my journey, I wasn't in bad shape, I wasn't in good shape – I was basically in no shape at all.  Just kind of…there.  I'd done some working out on my own, I used a Bowflex, and some dumbbells, but I wasn't getting the results I wanted or that I thought I should be getting.  But then, like so many others, I saw P90X on TV and thought…why not.  So I did my first round.  It was tough at first, but with the help of my coach and the people on the message boards (many of whom have become good friends) I stuck with it and started seeing results.  Which made me want to keep going.  I did another round.  And then another.  And another.  Then Insanity came out, and I added that into the mix.  I set myself a goal – a six pack before my 50th birthday.   There were some who scoffed, who said I was too old to get my bf low enough to make that happen.  But again, with the invaluable help of my coach Mike Nowak and friends on the boards, I stuck to it, worked my butt off, and made my goal.  At the age of 50, I was, for the first time in my life, six-packed and properly and officially ripped.
But I wanted more.  Now I knew I could lean out and get ripped – it was time to start bulking up, to see how much muscle I could add to my 5"4 frame while still keeping the definition I'd worked so hard to obtain.  I started upping my weights, playing with my macros, and slowly but surely started to add the lean muscle I wanted.  And then came the introduction of Body Beast.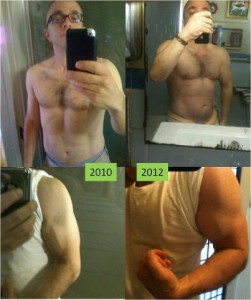 I'm now on my final week of the bulk phase, round two,  I've put on more than pounds of muscle, my bf has held steady, my abs are still there, definition is still there, and at 160 pounds (more than I've ever been in my life by a LONG shot), I look better and stronger and more muscled out than I've ever been in my life.   And I can only imagine how much better it's going to get.
Is it tough?  You bet.  Do I sometimes have to hit pause while doing the workouts?  Sure – I'm probably twice the age of the guys in the DVD, and I know it might take me a few seconds longer to recover between sets than it takes them.  Does it bother me?  Nope.  I'm getting to the same place they are, it might just take me a few extra minutes to get there.  Is it worth the hard work and sweat?  Absolutely.  Am I ever going to stop pushing myself to get in the best shape that I can possibly be in, age be damned?  No way.  Absolutely, positively, no way.
The following two tabs change content below.
Premiere 5 Star Diamond Independent Beachbody Coach, CEO and Founder of TEAM RAGE, Mike Nowak Fitness, HowDoIGetRipped.com and How Do I Get Ripped, LLC. You are about to learn how I went from out-of-shape busy dad with significant travel, 2 kids and a wife to losing 20 pounds, 16% body fat and 7" off my waist while getting paid more income from home than my Ph.D. in Science & Engineering. Retired my Ph.D. career to focus on FAMILY & FITNESS!
Latest posts by Mike Nowak (see all)
Comments