Stronger Every Day #1700 on 40th Birthday
Posted September 5, 2016
(Press play button below on the video image for a plyo move for old folks!!)
Woke up today 40 years old. Google search says 40 years old is considered "the single age most representative of midlife". Midlife? Well, I don't know about all that, after all, my Grandpa is almost 104! And, loved ones have sadly passed much, much sooner. What I do know is that on my 40th Birthday today I logged workout #1700 over the last 8 years. This number includes the 6-month break I took off last year with lower back disc herniation. So, even with that, over the last 8 years that averages consistent 4 workouts / week (likely closer to 5 in reality). I am not perfect and I have challenges, but even if I am entering the second half of my life, what I do know is that I MUST keep up with my health and fitness. For me. For my family. Controlling the controllable. This is what 40 looks like, STRONGER every day!! 
#NoMidlifeCrisisHere
#BringOn50
#JustKeepMoving
#HowIGotRipped
#YouOweYou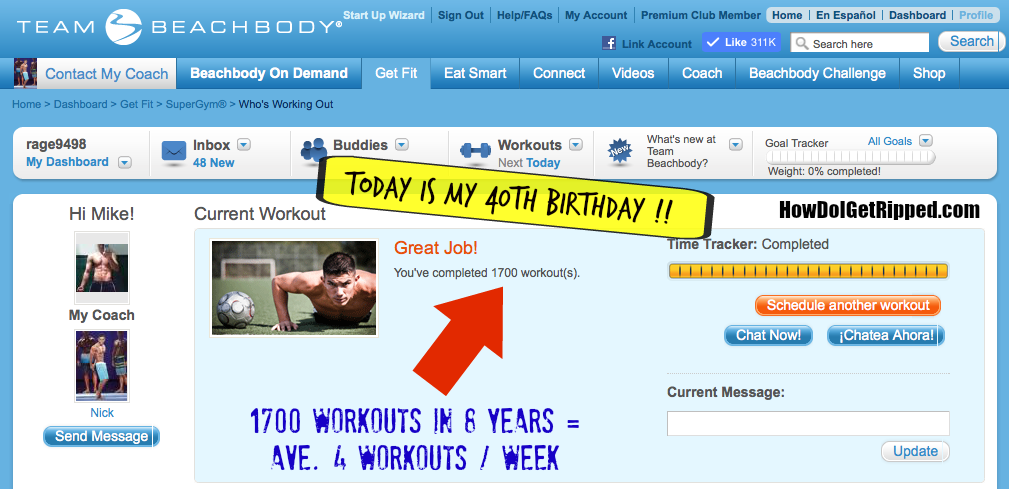 The following two tabs change content below.
Premiere 5 Star Diamond Independent Beachbody Coach, CEO and Founder of TEAM RAGE, Mike Nowak Fitness, HowDoIGetRipped.com and How Do I Get Ripped, LLC. You are about to learn how I went from out-of-shape busy dad with significant travel, 2 kids and a wife to losing 20 pounds, 16% body fat and 7" off my waist while getting paid more income from home than my Ph.D. in Science & Engineering. Retired my Ph.D. career to focus on FAMILY & FITNESS!
Latest posts by Mike Nowak (see all)
Comments