Sometimes You
Sometimes You've Got To Test Yourself
By Dennis Abrams – TEAM RAGE!
I love love love Beachbody products.  I've done multiple rounds of P90X, X2, Insanity, Asylum, RevAbs, and Body Beast both alone and in various combinations.  I've done exercises from Asylum 2 and Les Mills Combat.  They are the basis of my fitness regimen, and they are the workouts that I know I'll be doing as long as I'm working out.  (Plus, of course new ones as they appear…I know I'll be doing Shaun T's new workout program soon after it comes out in June…and when is Body Beast Two coming out again????)
But sometimes you've got to step out of your comfort zone, test yourself, and try something new.  Just to see.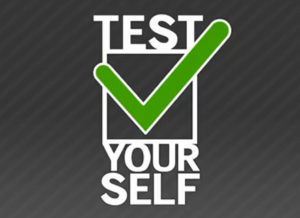 Right now, for example, I'm halfway through a 28 day workout program that is, quite literally, kicking my butt.  It's two workouts a day Monday through Friday – one body part per day.  So on Monday, for example, I do chest with lower reps and higher weights in the morning, then in the evening almost the same exercises, but with more reps and lower weights.  I do Back on Tuesday.  Shoulders on Wednesday.  Arms Thursday.  Legs Friday.  Abs everyday at the end of my second workout.  On Saturday I do 20 minutes of HIIT cardio.  Sunday is rest.
It is, I have to admit, probably tougher than anything I've ever done.  But it's a way of testing myself, to push myself completely out of my comfort zone, to see if I can actually do it, and not just survive the thing but hopefully thrive.  I'm 53 years old — if I don't do it now…when am I going to?
So what I'd like to suggest is that you do the same thing for yourself every once in a while.  It doesn't have to be the program I'm doing.  Sign up for a Tough Mudder and take a month to prepare for it.  Or a marathon.  Or a different Beachbody workout. Or CrossFit.  Or the Body Beast bodybuilding competition.  Do something different to test yourself.  To push yourself.  To see just what you're made of.
And then, when your mission is accomplished – get back to your bedrock workouts.  I know when I get back to Body Beast in two weeks, I'm going to have a completely new picture of what I'm capable of doing.  And I'm going to KILL that next round.
The following two tabs change content below.
Premiere 5 Star Diamond Independent Beachbody Coach, CEO and Founder of TEAM RAGE, Mike Nowak Fitness, HowDoIGetRipped.com and How Do I Get Ripped, LLC. You are about to learn how I went from out-of-shape busy dad with significant travel, 2 kids and a wife to losing 20 pounds, 16% body fat and 7" off my waist while getting paid more income from home than my Ph.D. in Science & Engineering. Retired my Ph.D. career to focus on FAMILY & FITNESS!
Latest posts by Mike Nowak (see all)
Comments