So you want to get in shape? JUST DO IT with 21 Day Fix!
How Do I Get Ripped?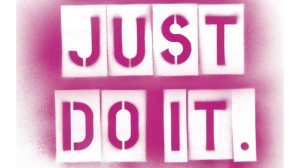 I just do it. That's right. No excuses. If you want to get fit and healthy you need to make exercise a part of your life (in addition to sensible nutrition). Of course this can be quite challenging with all of the competing priorities on a daily basis such as work, responsibilities at home, family activities and other hobbies. It takes 21 days to create a habit, or something like that. I have found that the best way to make exercise a habit is to try and schedule my workouts for the same time every day and JUST DO IT! This may apply to anyone, busy lifestyle or not. It is easy NOT to do it. One day of NOT doing may lead to two, three or even more days of missing your workouts and perhaps ultimately sabotaging your wellness initiative. JUST DO IT!
For me, the only way to make this happen is to get my workouts done early in the morning before the fast pace and uncertainty of the day begins. This also holds for when I travel since I often have long days when on the road for business or otherwise. Find a time that works for you and commit to making your workouts a priority. You will not be disappointed and your quality of life will improve. There are so many great workout programs available to help you get in the best shape of your life, even at home… As always, please let me know how I can help you achieve your goals. Let's get started on your customized plan by making me your free Team Beachbody Coach now. JUST DO IT!
One GREAT program NOW AVAILABLE is the 21 Day Fix. Here is a detailed review from TEAM RAGE guest author at www.moniquesfitness.com!
21 Day Fix Review
Does it ever seem like the world is awash in fitness programs? If you have watched late-night television, then there is absolutely no way that you have not seen advertisements for at least five separate exercise programs. If you are looking to lose weight, build muscle, or just be healthier, then it can be hard to find the perfect program. One exercise routine that you should consider is 21 Day Fix.
General information
21 Day Fix by Autumn Calabrese is a Beachbody product, the company that is also responsible for P90X, Body Beast, PiYo, and more. The company itself has scores of fans and their individual programs have leagues of faithful followers ready to testify to the results that are gained.
About the program
21 Day Fix was designed to help people lose weight in a simple way by combining 30 minutes daily exercises with a nutrition and portion-control plan that easy to follow.
The workouts
The 21 Day Fix set comes with six workouts on two DVDs:
Upper Fix: A workout that alternates opposing muscle groups to help tone and strengthen your chest, arms, shoulders, and back.
Pilates Fix: A mat workout that uses a resistance band to strengthen and tone the core.
Lower Fix: Develop stronger, leaner, and more defined hamstrings, calves, quads, and glutes with a tough resistance-based workout.
Cardio Fix: A combination of traditional metabolic training and weight cardio moves designed to keep the heart rate elevated.
Plyo Fix: A lower body workout using jumps and resistance exercise to burn fat and sculpt muscles.
Yoga Fix: Yoga gets turned up a notch with this fast-paced flow yoga class that combines power, strength, flexibility, and balance.
All of the workouts push the body to its limit; it is a workout that you can feel after you have completed it. After 21 days, results are clearly visible.
The nutrition plan
The 21 Day Fix's nutrition plan was designed for simplicity and promotes a balanced diet with portion control. It comes with seven different containers and one shaker cup (seen in the picture below). Each color corresponds to a different food group:
Red – proteins
Orange – dressings and seeds
Yellow – carbs
Green – vegetables
Blue – healthy fats
Purple – Fruits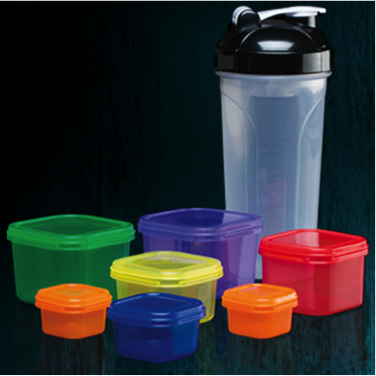 The containers are used to portion out meals—there is no calorie-counting or weighing. The booklet that comes with the program lays out every detail of the nutrition plan, including the type of food that can be eaten and the amounts that participants should take in daily. It even comes with tally sheets so that users can fill out and remember how much they have eaten of each food group. Additionally, there are a wide variety of foods that are available—this is not a restrictive diet. And for those who do not cook and wonder how to put the food together as a meal, the 21 Day Fix program comes with simple recipes that use the allowed ingredients.
However, in this reviewer's personal opinion, the best part of the nutrition plan is that it offers a sustainable diet for the foreseeable future, not just 21 days. There are so many diets that one cannot constantly follow and not die of malnutrition. Juicing cleanses, weird diets where you eat paper and cheese (for example), or just celery are not eating plans that you can consistently use, but the nutrition plan for 21 Day Fix is something that can be followed for as long as you want. (Just an FYI—those fad diet and juice cleanses can often cause you to lose weight during the week or so that you are on them, but the results typically do not last and often, participants end up weighing more than they did before they started the diet.)
Advantages
21 Day Fix is Dick-and-Jane simple. The only way that this program could be simpler is if the food magically appeared in the containers. It is well-laid out and fully explained, it is easy to follow, and is the definition of uncomplicated.
It actually gets results. If you follow the program (no cheating!) all the way to the 21 day mark (and there is no need to stop there), you will be in better shape than you were at the beginning.
The diet plan is reasonable and includes normal foods. So many diets require oddly specific and/or expensive foods, but you can find everything in 21 Day Fix's nutrition program at your normal grocery store.
The trainer is encouraging, obviously knows what she is doing, and does not act like a drill sergeant-cheerleader hybrid. This is more of a matter of taste; some may like the more high-energy and excited trainers, but this reviewer has always found them a little too exuberant. Autumn Calabrese is pretty calm and mellow, sufficiently encouraging, and easy to follow.
The workouts themselves bring something new to the usual fitness routine. There are a number of original and creative moods and twists on fitness classics that keep the routines fresh and fun. Also, with six different workouts, it is hard to become bored.
Final Word
This is a product that is great for beginners who want to get into shape but do not know how to do it. It will teach you about portion control and proper diet and give you simple workouts that set you up for success.
The following two tabs change content below.
Premiere 5 Star Diamond Independent Beachbody Coach, CEO and Founder of TEAM RAGE, Mike Nowak Fitness, HowDoIGetRipped.com and How Do I Get Ripped, LLC. You are about to learn how I went from out-of-shape busy dad with significant travel, 2 kids and a wife to losing 20 pounds, 16% body fat and 7" off my waist while getting paid more income from home than my Ph.D. in Science & Engineering. Retired my Ph.D. career to focus on FAMILY & FITNESS!
Latest posts by Mike Nowak (see all)
Comments