Road Warrior Discipline
How Do I Get Ripped?
Maintain your discipline while on the road!

I get a lot of questions with regards to recommendations for staying on track while on the road. It is a great question, actually. Road warriors MUST be disciplined.  It is hard enough to maintain fitness and nutrition in a relatively controlled setting at home, however, travel for business or pleasure may result in significant loss of control over your program. Trust me. Furthermore, loss of control for even a short period of time can have consequences on your progression toward identified fitness and well-being goals. Long days may impact your ability to workout or even get sufficient rest required for proper muscle repair and growth (typically 6 – 8 hrs). Catered events or family visits may limit your nutrition options. Resistance to dessert or alcohol may be difficult. Nutrient timing may be compromised. Equipment resources may limit your fitness potential. These factors and many more may work against your personal transformation. Disruption of your routine for even one day can lead to a mindset that ultimately accepts failure.
How Do I Get Ripped on the road?
Regardless of the numerous (good) excuses for not maintaining discipline on the road, I believe that you can make it work for you with motivation and preparation. For example, Beachbody® programs such as P90X, INSANITY, One-on-One and TurboFire can be performed in hotel rooms typically even in small space. I usually get up early to complete my workouts before the uncertainty of the day begins. For travel you can bring resistance bands or water weights to provide a total body workout solution. Pull-ups for P90X are even possible using a door attachment for the resistance bands, or, I personally use the Power-Up Chin-up Handles from LifelineUSA. They are only $17, travel well and work awesome (no cheating allowed in the movement)!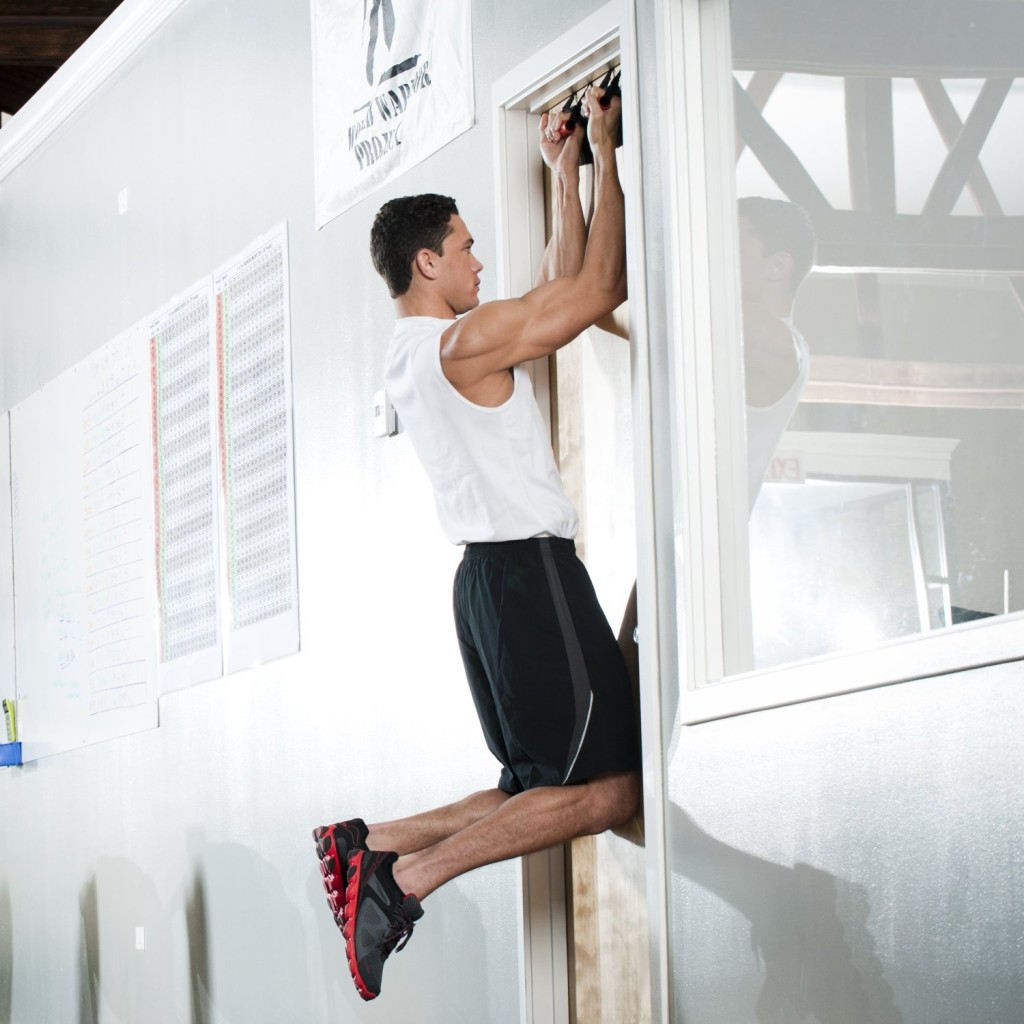 Of course you can also leverage fitness rooms in your hotel or local gym if available. No excuses, and remember to take your P90X Recovery Formula IMMEDIATELY after your workout for maximum impact!
From my perspective, the biggest issue on the road is nutrition. I usually focus on the basics and avoid dessert, breads and try to limit alcohol. Favorite meals include grilled chicken salad with oil dressing on the side, Subway grilled chicken or lean turkey sandwich (watch sodium with deli meat), grilled fish and complex carbohydrates such as sweet potato over baked. I like the book, "EAT THIS, NOT THAT," for restaurant recommendations. Also, you can check menus online in advance if you know where you are eating or simply ask at the restaurant. Taper carbs during the day. Drink a lot of water! Take your Shakeology nutrition as a snack or meal replacement. In addition, along with your daily vitamin schedule, healthy snacks such as P90X Peak Performance protein bars travel well for the Road Warrior.
I can help get you dialed in with a program that is consistent with your personal and professional lifestyle. Stay focused and you WILL succeed.  How bad do you want to get RIPPED??
The following two tabs change content below.
Premiere 5 Star Diamond Independent Beachbody Coach, CEO and Founder of TEAM RAGE, Mike Nowak Fitness, HowDoIGetRipped.com and How Do I Get Ripped, LLC. You are about to learn how I went from out-of-shape busy dad with significant travel, 2 kids and a wife to losing 20 pounds, 16% body fat and 7" off my waist while getting paid more income from home than my Ph.D. in Science & Engineering. Retired my Ph.D. career to focus on FAMILY & FITNESS!
Latest posts by Mike Nowak (see all)
Comments