Recipes for Springtime!
Finally…it's spring.  And the nicer weather calls for quick easy and healthy recipes that can be put together in under an hour.
Here's a couple of examples, courtesy of Food Network:
Chicken-Rice Soup
Active 30 min.  Total: 35 min. Serves 4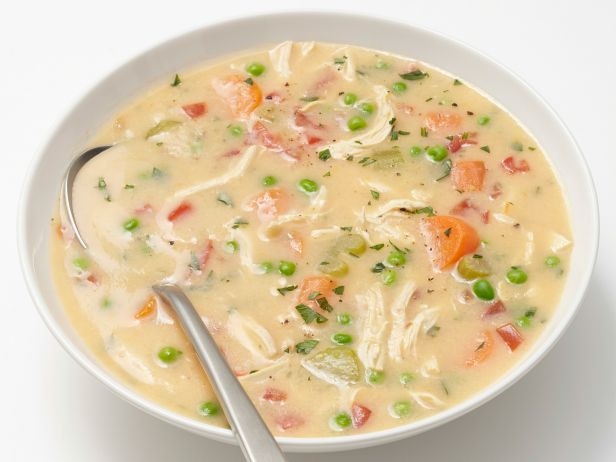 4 cups low-sodium chicken broth
3 stalks celery, cut into ½ inch pieces
5 carrots, cut into ½ inch pieces
1 ¼ pounds skinless, boneless chicken breast
Kosher salt and freshly ground pepper
½ cup white rice
1 tablespoon tomato paste
3 plum tomatoes, finely chopped
1 cup frozen peas
½ cup heavy cream
½ cup finely chopped fresh parsley
1 tablespoon fresh lemon juice
1.  Combine the chicken broth, celery, and all but ½ cup carrots in a large pot. Cover and bring to a simmer over medium-high heat. Reduce the heat to medium low and add the chicken, ¾ teaspoon salt, and pepper to taste. Cover and gently simmer, flipping the chicken once, until just cooked through, about 18 minutes. Remove the chicken to a cutting board; let cool slightly. Reserve the broth.
2. Meanwhile, combine 4 cups water, the rice, tomato paste, 1 chopped tomato and the remaining ½ cup chopped carrots in a saucepan. Cover and bring to a boil, then reduce heat to low; simmer, covered, until the rice and carrots are tender, 15 minutes.
3. Puree the rice mixture in a blender until smooth; whisk into the pot with the broth mixture. Add the peas, heavy cream and the remaining 2 chopped tomatoes. Bring to a simmer.
4. Shred the chicken and return it to the soup. Stir in the parsley and lemon juice; thin with water if needed. Season with salt and pepper.
Calories: 432; Fat 11 g; Carbs 38 g; Protein 44 g.
Cumin Pork with Beans
Active: 40 min.  Total: 40 min. Serves: 4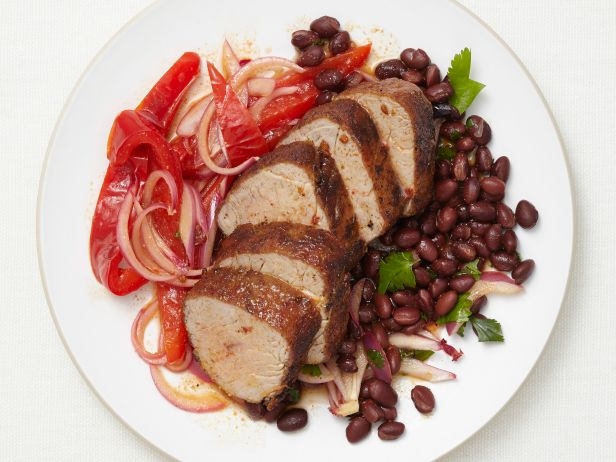 1 red onion, thinly sliced
Juice of 3 limes
1 teaspoon chopped chipotle chile in adobo sauce, plus 2 teaspoons sauce from the can
2 teaspoons ground cumin
Kosher salt
1 ½ pounds pork tenderloin (1 large or 2 small) trimmed
2 tablespoons extra virgin olive oil
3 small red or orange bell peppers, cut into thick strips
1 15.5 ounce can black beans, drained and rinsed
1 teaspoon honey
½ cup roughly chopped fresh cilantro
1. Preheat the oven to 425. Combine half of the red onion with the juice of 2 limes, the chopped chipotle, ½ teaspoon cumin and a pinch of salt in a bowl; set aside while you cook the pork.
2. Sprinkle the pork with the remaining 1 ½ teaspoons cumin; season with salt. Heat a large skillet over medium-high heat. Add 1 tablespoon olive oil, then add the pork and brown on all sides, 8 minutes. Remove to a rimmed baking sheet; roast until a thermometer inserted into the center registers 145, 12-15 minutes. Transfer to a cutting board.
3. Add the bell peppers and the remaining 1 tablespoon olive oil to the skillet, Cook over medium-high heat until slightly softened, 4 minutes. Add ½ cup water and ¼ teaspoon salt. Cook until the water evaporates, 4 more minutes. Remove from the heat, add the onion mixture.
4. Toss the beans with the remaining red onion, the juice of the remaining lime, 2 teaspoons adobo sauce, the honey, cilantro, and a pinch of salt. Slice the pork and serve with the beans and peppers.
Calories 380 Fat 13 g  Carbs 24g Protein 41g
Enjoy!
By: Dennis Abrams – TEAM RAGE Contributing Author
The following two tabs change content below.
Premiere 5 Star Diamond Independent Beachbody Coach, CEO and Founder of TEAM RAGE, Mike Nowak Fitness, HowDoIGetRipped.com and How Do I Get Ripped, LLC. You are about to learn how I went from out-of-shape busy dad with significant travel, 2 kids and a wife to losing 20 pounds, 16% body fat and 7" off my waist while getting paid more income from home than my Ph.D. in Science & Engineering. Retired my Ph.D. career to focus on FAMILY & FITNESS!
Latest posts by Mike Nowak (see all)
Comments