Powerblock Adjustable Dumbbells or Not?
I have witnessed the debate for years on adjustable dumbbells. The value of having numerous weight options for dumbbells in ONE SET primarily comes from smaller footprint for dumbbell storage and cost. For example, a set that provides up to 50 pounds weight per hand in 5 pound increments consolidates 10 sets of dumbbells to only one set at a lower cost of the total weight available per dumbbell. Pretty innovative if you ask me. However, reports of drawbacks of this type of system are mostly around safety (pin/dial failure while lifting), robustness of the adjustment mechanism and feel that often does not quite match that of a hex dumbbell during lifts. I have been on the sidelines for this debate, until now…
I am a big fan of the old school hex iron dumbbell. I purchased a complete set over the years, mostly when busy in graduate school, as they allowed me to get in a killer workout from home at all hours since I had a crazy schedule with limited time for the gym. I have a hex dumbbell set from 3 pounds all the way up to 80+ pounds with options to go higher. I really like the hex dumbbells since it is FAST to change weights between sets vs. adjustable type or barbells with weight plates. However, over the years I have been frustrated by my workouts when on the road. Most of the people I visit do not have weights that challenge me and I can't bring my entire dumbbell set on the road. As such, I felt that an adjustable set would provide me greater flexibility to bring it hard in my workouts while on the road (when I don't have access to gym).
After much research over the years it was easy for me to decide on the Powerblock adjustable dumbbells. Although I know people that have had success with Bowflex adjustable dumbbells or other brand, I have heard very mixed reviews on the dial-type system for adjusting weight. Further, it seemed every time I saw a dial-based adjustable dumbbell at the store the actual dial was broke. Did not seem very robust to me. Alternatively, the feedback on Powerblocks has been largely positive with the exception of the "block" style limiting range of motion for some movements. Since this set would be used pretty much exclusively when on road trips I decided to be patient and stalk Craigslist to get a killer deal. I focused on the 50-pound range and found a great deal for a set of older Powerblock Personal "The Block" adjustable dumbbells. The stickers that showed the color-weight correlation were missing on this set and one of the pins had the plastic damaged (did not interfere with function/safety). As such, I made an offer and we settled at $140 for the pair. This appeared to be a great deal given that these sets are going for $250-$350 used otherwise. I called Powerblock and was able to get two stickers and two pins for $15 to make this set near mint condition. Score! All of the pictures in this blog are from the actual set I purchased.
So what are my thoughts on Powerblock adjustable dumbbells??
Love them. I already used this set on the road for the Holidays this year and they were a life saver for me. I have many more road trips scheduled in the future where I will leverage the Powerblocks.  They travelled well over the Holidays and using the Powerblocks is very simple. The pins that are attached to the Powerblock frame easily slide into the the Powerblock handle slots shown below. Note: Changing weights is MUCH easier when the blocks are on a flat surface.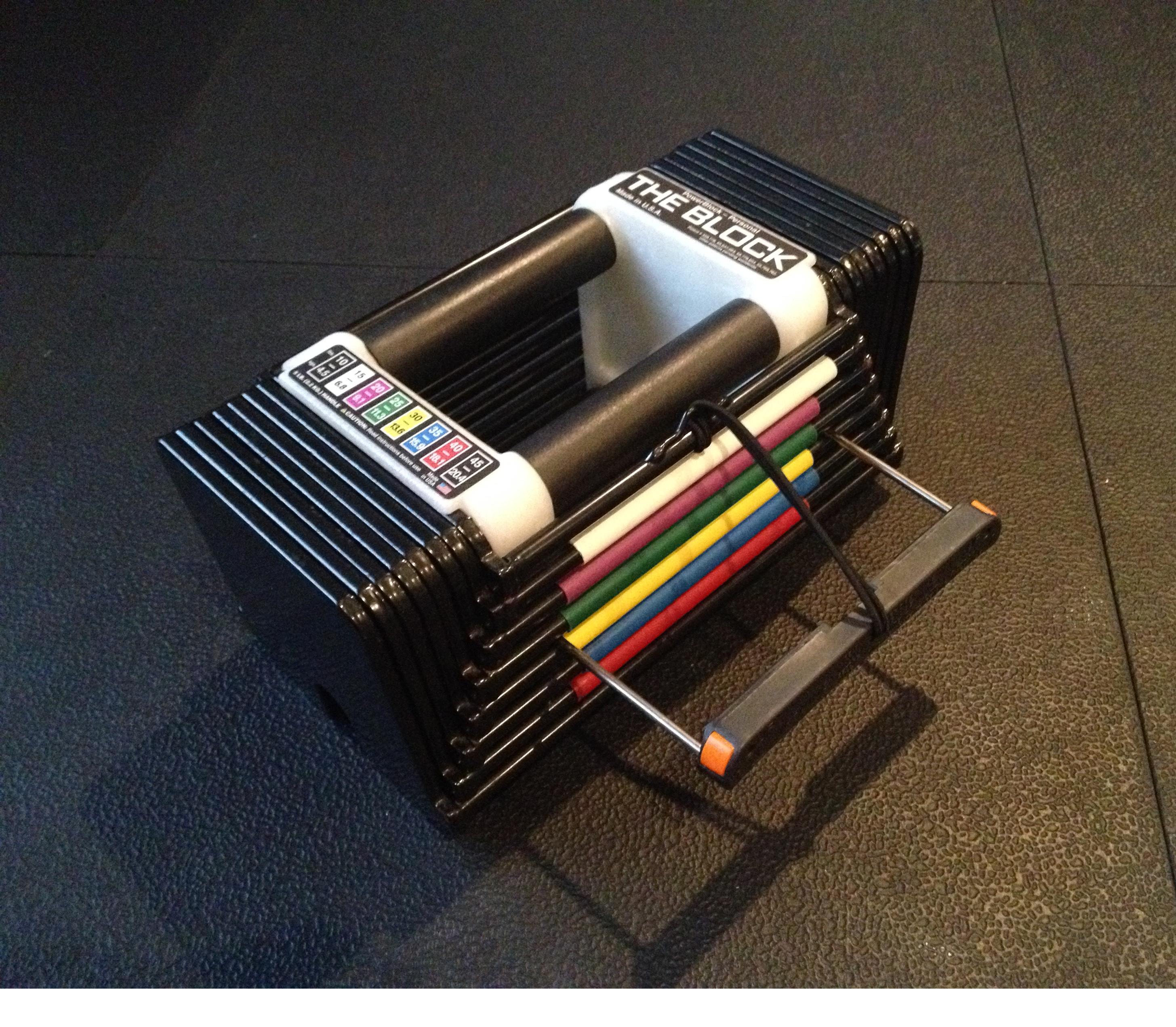 The weight you select is color-coded per the stickers on the dumbbells to make it easier. The process to change weights is fast. Below is the Powerblock dumbbell deconstructed showing the range of weight available. The range of colored block weights nest together into one simple dumbbell that is similar to the size of the corresponding 45-pound hex dumbbell (see pic at top of post). You then slide the pin in the slots in the handle for the weight you would like to select. The pins are held in via magnetism for safety, I believe. So cool.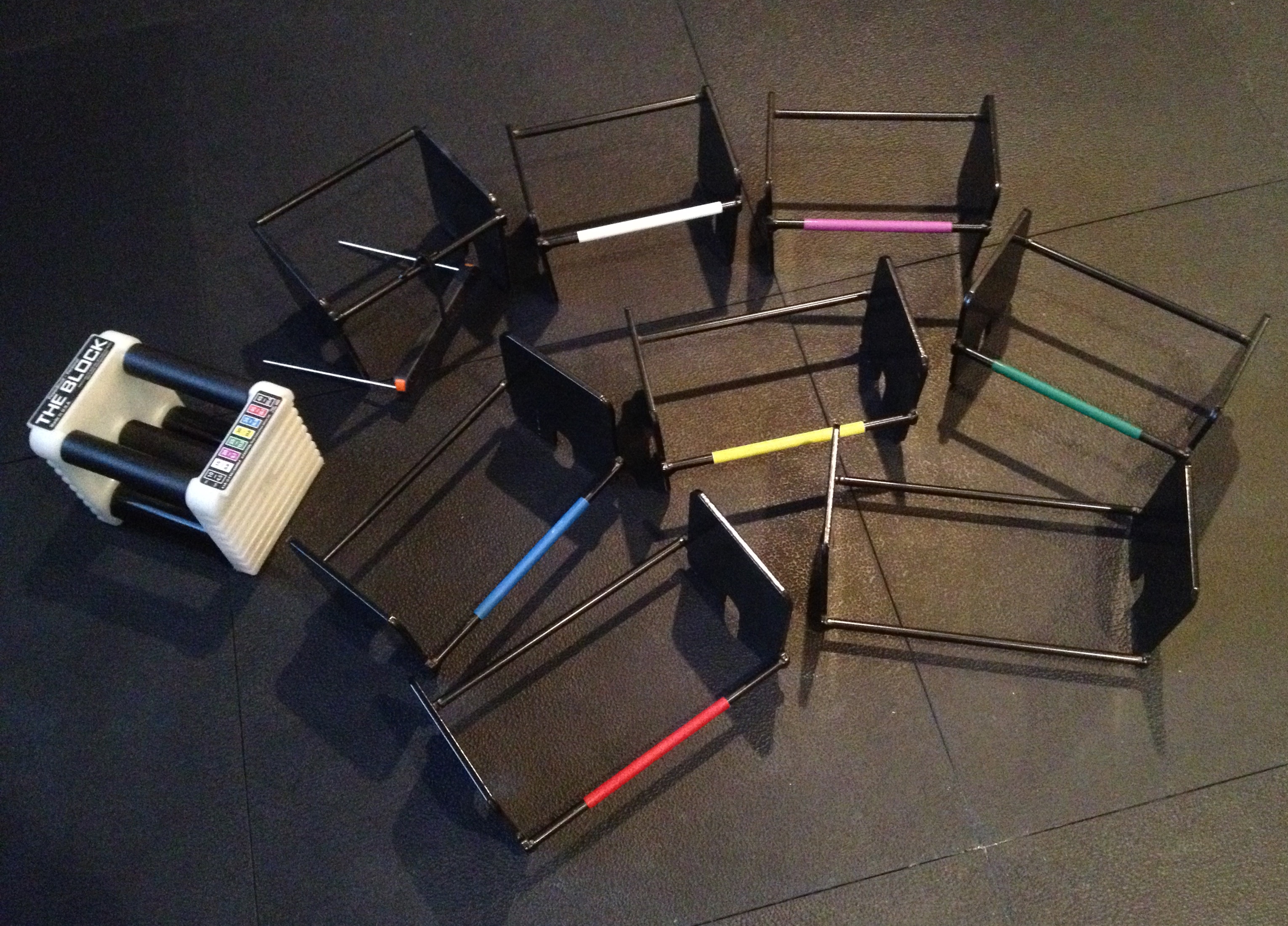 I have yet to experience any issues with the Powerblock dumbbells. While using Powerblocks I find that they are a little different from single hex dumbbells. You do get some interference from the handle during particular lifts since your hand is essentially in the middle of a cage (e.g., bicep curls), but you can still perform the movement. It is more of rubbing of the block cage against your arm during certain parts of lifts. No big deal. Also, with the Powerblocks you get some noise of plates hitting each other during exercise. Again, really not a big deal especially for those used to barbell plates. However, I was a bit concerned on the safety factor. In particular, I was very careful when first performing any lifts over my head such as bench press or shoulder press moves. I was worried the pins would slide out and weights would fall on my head. Again, no issues and the adjustment mechanism is very sound, from my experience. The warranty from Powerblock no longer applies to my set since I am not the original owner on record, but for those that buy a new set of Powerblocks be warned that the warranty is void if damage occurs from dropping the weights from greater than 6 inches. So, you have to be careful not to damage the pin and nesting system unlike old school hex dumbbells.
Overall I am very pleased with my Powerblocks! I am VERY interested in getting the expansion handle for this set. The handle is 20 pounds vs. the existing 5 pound handle. As such, the weight per hand can increase with the new handle from 45 pounds to 60 pounds without increasing the footprint of the dumbbell. Since this set is older it will take some time to locate the handles on the secondary market since Powerblock no longer carries them. I have time, but this set will be optimized once I get the expansion handle. For now, for movements where I need more than 45-lbs per hand I will perform negatives to enhance the impact of the load I do have available. Whether you get this 45 pound set or other options such as the 90 pound set with expansions, I highly recommend Powerblocks and highly recommend watching Craigslist for some great local deals!
The following two tabs change content below.
Premiere 5 Star Diamond Independent Beachbody Coach, CEO and Founder of TEAM RAGE, Mike Nowak Fitness, HowDoIGetRipped.com and How Do I Get Ripped, LLC. You are about to learn how I went from out-of-shape busy dad with significant travel, 2 kids and a wife to losing 20 pounds, 16% body fat and 7" off my waist while getting paid more income from home than my Ph.D. in Science & Engineering. Retired my Ph.D. career to focus on FAMILY & FITNESS!
Latest posts by Mike Nowak (see all)
Comments