P90X2 P.A.P. Lower Review
How Do I Get Ripped?
P90X2 P.A.P. Lower done. P.A.P. stands for post-activation potentiation. P.A.P. training specifically leverages weighted resistance exercise prior to explosive movements to increase the amount of power produced. In conditioned athletes, "loading " a muscle actually activates "muscle cell motor units" and typically allows you to lift more weight with more explosive power. You have a short window after the resistance exercise to maximize performance and P.A.P. Lower takes advantage of this performance acceleration!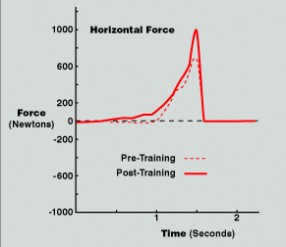 This workout was a great sub for Plyocide. Of course there are a lot of Plyo and core focused movements in combination with some dumbbell work. At a high level there are two complex sets consisting of several exercises (4) per complex repeated four successive rounds each. I ended up using 30-lb dumbbells for the resistance moves, which may have been a bit aggressive given the balance posture required for good form. The most challenging exercises for me included the Squat Cross Reach, Tony's Triangle and Side Bridge Lift. The last two specifically target your core and flexibility. Very difficult. Great workout overall! Shakeology accountability – Choc Cherry-Licious – 1 scoop Chocolate Shakeology, ½ cup black cherries (pitted), 1 cup vanilla almond milk and ice to taste. Rage. Become a Machine.
The following two tabs change content below.
Premiere 5 Star Diamond Independent Beachbody Coach, CEO and Founder of TEAM RAGE, Mike Nowak Fitness, HowDoIGetRipped.com and How Do I Get Ripped, LLC. You are about to learn how I went from out-of-shape busy dad with significant travel, 2 kids and a wife to losing 20 pounds, 16% body fat and 7" off my waist while getting paid more income from home than my Ph.D. in Science & Engineering. Retired my Ph.D. career to focus on FAMILY & FITNESS!
Latest posts by Mike Nowak (see all)
Comments