P90X2 IS COMING SOON… Details Behind P90X2!
P90X2 Update – Pre-orders are Available!!

How Do I Get Ripped?
P90X2! Seriously, I have had the opportunity to do all of the P90X One-on-One Volume 3 workouts, which are the pre-cursor workout experiments to P90X2. These workouts are insane, some of the most challenging and effective workouts I have ever done with a lot of focus on balance, power and stabilizing muscles. I have seen some amazing results. P90X2 will be a great program for those that have graduated from P90X, Insanity, TurboFire or other advanced Beachbody workout programs. Of course there will be variations for different skill levels, however, it is recommended that you have some experience with the Beachbody programs or general athletic background. There are even modifications of the moves in P90X2 for those that travel on the road with limited access to equipment! Also, the program is a 5-day program per week to facilitate recovery. P90X2 IS available for pre-order only through Team Beachbody Coaches beginning September  1, 2011.
Pre-orders are the only way to confirm that you will get P90X2 by the release date later this year (tentative mid-December before the holidays). Pre-orders through Team Beachbody Coaches will receive FREE shipping/handling ($40 value) and two bonus workouts (4 Legs and Upper Body Balance). Demand is expected to be high for this innovative program! More details below on P90X2. As always, please let me know how I can help you achieve your goals as your Free Team Beachbody Coach.
P90X2 Revealed
Last week P90X2 creator Tony Horton, Steve Edwards (Director Results) and other experts with Beachbody released more details surrounding the workouts, nutrition, science behind the results, equipment requirements, program packages available and pre-order information. Read on to learn more about P90X2 and how to get your pre-order confirmed!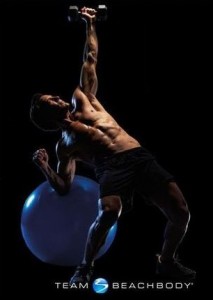 P90X2 Science
P90X2 is the next evolution in P90X muscle confusion with resistance workouts, cardio, yoga and core movements that challenge your strength, explosive power, mobility and balance via functionality, stabilizing muscles and neuro-integrated stretching. There was a lot of focus during development on how to leverage various aspects of the science behind fitness training and timing of movements to maximize results in a short window of time. The program was designed to develop athletic potential and peak performance attributes. Periodized evolution (muscle confusion) is leveraged to target your weaknesses and compartmentalize focus.
Post-Activation Potentiation training specifically leverages weighted resistance exercise prior to explosive movements to increase the amount of power produced by conditioned individuals.  In conditioned athletes, "loading " a muscle actually activates "muscle cell motor units" and typically allows you to lift more weight with more explosive power.  You have a short window after the resistance exercise to maximize performance and P90X2 takes advantage of this performance acceleration!
P90X2 Training and Results
The training schedule for P90X2 is more flexible based on your progress in each phase and program goals. You can determine the length of each phase and timing of your recovery week as needed.
Phase 1: Foundation Phase (3-5 week)
The first training phase is about your foundation, as in your base, or more specifically your attachment to the ground, not just your legs but your entire kinetic chain. There's a saying that goes, "You can't shoot a cannon from a canoe" that relates to your base, meaning that if it's not solid, you're going to wobble like the visual this saying evokes when you attempt to do anything explosive. The goal of the Foundation phase is to help you create a solid attachment to the earth so you do all other movements without compromising your form. When this happens, you'll look better, feel better, perform better, and be much more resistant to injuries.
Phase 2: Strength Phase (3-6 weeks)
Next, P90X2 takes your strong foundation and strengthens it big time. This training phase will be most familiar to P90Xers because it's similar in structure to what you're used to. However, the individual workouts have evolved. You'll continue to work from instability or athletic positions, because this will help you integrate your strength gains more seamlessly into your real-world movements.
Phase 3: Performance Phase (3-4 weeks)
Finally, P90X2 takes all the physiological changes we've been making with your body and focus them on pure performance. The key to this phase is Post-Activation Potentiation or P.A.P., and doing repeat series of movements called complexes. These workouts will destroy you in an oh-so-beautiful way. After a few weeks of P.A.P., your body can feel more springy, loose, and young.
Recovery week: You will be able to select when you need your recovery week

P90X2 Workouts!
How to Bring It Again: Introductory DVD that teaches you how to bring it while doing P90X2
X2 Core: This is a new version of Core Synergistics. Total body workout with balance and stability focus.
Plyocide: Plyometrics taken to the next level. Lateral movements have been added this time.
X2 Recovery + Mobility: Foam rolling and stretching to help aid recovery.
X2 Total Body: Total body workout that hit's every single body part. You will do a little bit of everything in this one.
X2 Yoga: 60 mins of Yoga this time. Emphasis on the moving exercises.
Balance + Power: This combines balance move with strength moves, very tough.
Chest & Back + Balance: Push and Pull workout. New pull-up moves and push ups on medicine balls!
X2 Shoulders + Arms: Brand new moves to take your shoulders and arm workout to the next level.
Base & Back: Combines plyometric leg exercises with pull-ups, two of the largest muscle groups in your body.
PAP Lower: The new scientific sports training that is designed to focus on performance. lower body strength moves followed by explosive moves.
PAP Upper: The new scientific sports training that is designed to focus on performance. Upper body strength moves followed by explosive moves.
X2 Ab Ripper: All new ab ripping moves. This one will hurt…in a good way. You might already "hate it, but love it"
V Sculpt*: Back/Biceps taken to a new level. Pull-ups like you have never seen. Bicep moves that will challenge every part of your fitness.
X2 Chest + Shoulders + Tris*: All push workout. New exercises for new muscle confusion.
*Only in the Deluxe and Ultimate Kits (see below)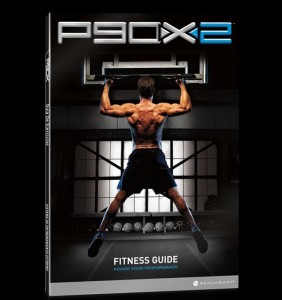 Equipment Available
All you need to do P90X2 is a couple of dumbbells or resistance bands, a place to do pull-ups, and about an hour a day. Additional equipment that is used optionally in P90X2 but strongly recommended is a foam roller or PRO-GRADE Foam Roller, a PREMIUM stability ball, and two medicine balls. All of the additional equipment is available for pre-order as part of the Deluxe and Ultimate kits. The equipment will also be available to be purchased separately in December after the pre-order period has ended.
Equipment options to get the most out of P90X2 including bands and dumbbells for resistance movements, chin-up bar and chin-up assist for getting the most out of pull-ups/chin-ups, stability ball and medicine balls to challenge core and stabilizing muscles, power stands for greater range of motion for pushups, foam roller for neuro-controlled muscle recovery in additon to floor mat and yoga block. We can work together to identify the best options for your goals!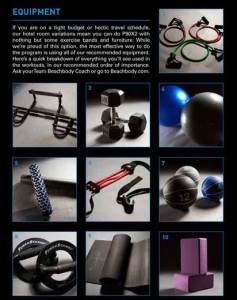 P90X2 Nutrition
The nutrition guide for P90X2 was developed for versatility including new Vegan, Vegetarian, Gluten-Free and Paleo options. There are 27 Diet Guides in one to fuel your performance and results for each phase during the program. I also have several tools that we can leverage to get you dialed in for max success.
P90X2 Program Kits Available
P90X2 Base Kit: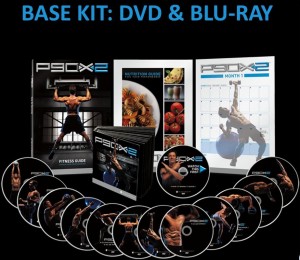 Fitness guide, nutrition guide, calendar, 12 workouts, 1 Bring It Again dvd. The two Deluxe workouts V-Sculpt and X2 Chest/Shoulders/Tris are expected to be sold separately at a later date for those interested.
DVD:  $119.95  
Blu-Ray: $149.85
P90X2 Deluxe Kit: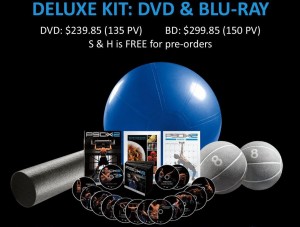 Fitness guide, nutrition guide, calendar, 12 workouts, 1 Bring It Again dvd, two 8-lb medicine balls, balance ball, foam roller, ALL 14 Workouts (V-Sculpt and X2 Chest/Shoulders/Tris)
DVD:  $239.85
Blu-Ray: $299.85
P90X2 Ultimate Kit: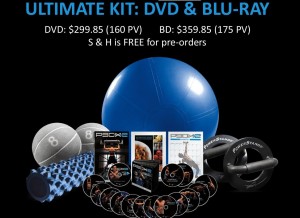 Fitness guide, nutrition guide, calendar, 12 workouts, 1 Bring It Again dvd, two 8-lb medicine balls, balance ball, extreme foam roller, ALL 14 Workouts (V-Sculpt and X2 Chest/Shoulders/Tris), power stands
DVD:  $299.85
Blu-Ray: $359.85
P90X2 ULTIMATE Kit Pre-order!!!
BRING IT AGAIN!!
"Indoor Training for the Outdoor World" – Tony Horton
Again, P90X2 will be available by the end of the year for those that get in their pre-order early enough beginning September 1st!! Credit card will not be charged until order is processed. Free shipping/handling ($40 value) on pre-orders and two free One-on-One workouts (4 legs and Upper Body Balance). There will be prizes awarded by Beachbody during the pre-order timeframe!!

The following two tabs change content below.
Premiere 5 Star Diamond Independent Beachbody Coach, CEO and Founder of TEAM RAGE, Mike Nowak Fitness, HowDoIGetRipped.com and How Do I Get Ripped, LLC. You are about to learn how I went from out-of-shape busy dad with significant travel, 2 kids and a wife to losing 20 pounds, 16% body fat and 7" off my waist while getting paid more income from home than my Ph.D. in Science & Engineering. Retired my Ph.D. career to focus on FAMILY & FITNESS!
Latest posts by Mike Nowak (see all)
Comments