Need Some Healthy Carbs In Your Diet? Try This!
By Dennis Abrams – TEAM RAGE
If you're doing Body Beast, you know how tough it can be to get as many carbs into your diet as Sagi suggests.  And if you're doing other workouts, P90X, Insanity, RevAbs, Asylum…you still need healthy carbs for balanced nutrition.  The recipe below, from the Food Network's Giada De Laurentiis, is quick, delicious, and very very healthy.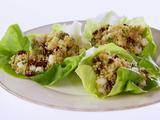 Quinoa with Black Beans and Hominy
Recipe courtesy Giada De Laurentiis
Prep Time: 10 min
Inactive Prep Time: 10 min
Cook Time: 20 min
Level: Easy
Serves: 4 to 6 servings
Ingredients
Quinoa:
1 1/2 cups quinoa
2 cups low-sodium chicken broth
1/2 teaspoon kosher salt
Zest of 1 large lemon
Dressing:
1/4 cup grapeseed oil
3 tablespoons agave nectar
2 tablespoons fresh lime juice (from about 2 large limes)
1 tablespoon apple cider vinegar
1 tablespoon ground cumin
1 teaspoon kosher salt
1/4 teaspoon freshly ground black pepper
Two 15-ounce cans hominy, rinsed and drained
One 15-ounce can black beans, rinsed and drained
1/4 cup chopped fresh cilantro
Kosher salt and freshly ground black pepper
1 head butter lettuce, leaves separated
Directions
For the quinoa: In a 2-quart saucepan, bring the quinoa, chicken broth, salt and lemon zest to a boil over medium-high heat. Reduce the heat, cover the pot and simmer until the liquid has been absorbed and the quinoa is tender, about 20 minutes. Remove the pan from the heat and allow to rest for 10 minutes.
For the dressing: In a small bowl, whisk together the grapeseed oil, agave, lime juice, vinegar, cumin, salt and pepper until smooth.
In a serving bowl, combine the quinoa, hominy, black beans and cilantro. Add the dressing and toss until coated. Season with salt and pepper. Spoon into the lettuce leaves and serve
High in fiber, healthy carbs, protein…it's got it all.  One thing I do to change it up is substitute extra virgin olive oil for the grapeseed oil – it's healthy, and I love the flavor. Another great thing about this recipe is that it keeps in the refrigerator for 3-5 days easy.
Try it.  And enjoy!
The following two tabs change content below.
Premiere 5 Star Diamond Independent Beachbody Coach, CEO and Founder of TEAM RAGE, Mike Nowak Fitness, HowDoIGetRipped.com and How Do I Get Ripped, LLC. You are about to learn how I went from out-of-shape busy dad with significant travel, 2 kids and a wife to losing 20 pounds, 16% body fat and 7" off my waist while getting paid more income from home than my Ph.D. in Science & Engineering. Retired my Ph.D. career to focus on FAMILY & FITNESS!
Latest posts by Mike Nowak (see all)
Comments