Let's Eat Healthy!
By: Dennis Abrams – TEAM RAGE Contributing Author
Now that the weather is getting nicer (at least in theory) I'm sure you want to spend less time in the kitchen, and more time enjoying your time outdoors.  But at the same time, you still want to eat healthy and delicious food, so…here are a couple of recipes that will do that, while getting you in and out of the kitchen in just over half an hour. (Courtesy of Food Network Magazine)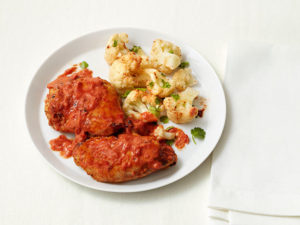 Chicken Tikka Masala
Active:  35 min.  Total:  40 min.  Serves:  4
Ingredients 
1 2-inch piece of ginger, peeled and roughly chopped (My tip:  If the ginger is young and tender, don't bother peeling it.  If it's older, the easiest way to peel is with the tip of a teaspoon)
4 cloves garlic
2 teaspoons garam masala
¼ teaspoon cayenne pepper
Kosher salt
1 large head cauliflower, cut into florets
2 tablespoons tomato paste
¾ cup low-fat plain yogurt
8 skinless, boneless chicken thighs (1/34 to 2 pounds), trimmed of excess fat
2 tablespoons extra-virgin olive oil
1 15 ounce no-salt added crushed tomatoes
¼ cup chopped fresh cilantro.
Directions 
1.  Pulse the ginger, garlic, garam masala and ¼ teaspoon each cayenne and salt in a food processor (or finely chop by hand) to make a paste. Toss the cauliflower, 1 tablespoon of the spice paste, 1 tablespoon water, and a pinch of salt in a microwave safe bowl; set aside. Add the tomato paste to the remaining spice paste, pulse (if in food processor), then transfer 1 tablespoon to a bowl.  Add ½ cup of the yogurt, a pinch of salt, and the chicken – toss to coat.
2.  Heat the olive oil in a skillet over medium-high heat. Add the remaining tomato-spice mixture and cook, stirring, 3 minutes. Add the tomatoes, 1 ¼ cups water and ½ teaspoon salt; bring to a simmer and cook until thickened, 15 to 20 minutes.
3.  Meanwhile, preheat the broiler. Put the chicken on a foil-lined baking sheet and broil until almost cooked through, 5 to 6 minutes per side.  (You could also do this on the grill, or on a grill pan.)  Microwave the cauliflower, 10 to 12 minutes.  Toss with the cilantro.
4.  Whisk the remaining ¼ cup yogurt into the skillet. Add the chicken, simmer until cooked through, around 4 minutes.  Serve with the cauliflower.
Per Serving:  Calories 408; Fat 16 g; Carbs 19 g.; Protein 47 g.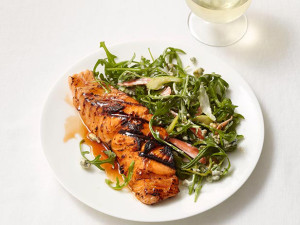 Buffalo-Style Salmon
Active:  25 min.  Total:  35 min.  Serves:  4
Ingredients
2 tablespoons unsalted butter
2 tablespoons hot sauce
1 tablespoon maple syrup
¼ teaspoon paprika
Kosher salt
3 tablespoons crumbled blue cheese
2 tablespoons low-fat plain yogurt
1 tablespoon fresh lemon juice
1 5-ounce package baby arugula
3 stalks celery, thinly sliced
Vegetable oil, for brushing
4 5-ounce skinless salmon fillets (about 1 inch thick)
Freshly ground pepper
Directions 
1. Make the sauce. Combine the butter, hot sauce, maple syrup, paprika and a pinch of salt in a small microwave-safe bowl; microwave until the butter melts, about 30 seconds. Whisk to combine. Preheat a grill or grill pan to medium.
2.  Whisk the blue cheese, yogurt, lemon juice, 1 tablespoon water, 2 teaspoons of the prepared sauce and ¼ teaspoon salt in a large bowl.  Add the arugula, celery and carrots and set aside (do not toss).
3.  Brush the grill with vegetable oil. Season the salmon with salt. Grill, brushing occasionally with the sauce, until marked and JUST cooked through, about 4 minutes per side.
4.  Toss the salad and add salt and pepper to taste. Serve with the salmon and the remaining sauce.
Per serving:  Calories 410; Fat 27 g; Carbs 10 g; Protein 32 g
The following two tabs change content below.
Premiere 5 Star Diamond Independent Beachbody Coach, CEO and Founder of TEAM RAGE, Mike Nowak Fitness, HowDoIGetRipped.com and How Do I Get Ripped, LLC. You are about to learn how I went from out-of-shape busy dad with significant travel, 2 kids and a wife to losing 20 pounds, 16% body fat and 7" off my waist while getting paid more income from home than my Ph.D. in Science & Engineering. Retired my Ph.D. career to focus on FAMILY & FITNESS!
Latest posts by Mike Nowak (see all)
Comments