Let's Celebrate the Fourth!
By: Dennis Abrams – TEAM RAGE Contributing Author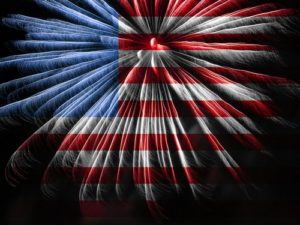 It's the Fourth of July.  Which means backyard BBQ.  And perhaps drinks.  And yes, it's possible to celebrate the 4th in style without guilt.  Here's a few suggestions:
1.  You know you're going to want a cold beer or two (the Founding Fathers would want it that way).  But let's face it, light beer is kind of boring.  Amp it up by turning it into a michalada:
2/3 glass beer (a dark Mexican lager would be ideal, but light beer is just fine)
1/3 glass tomato juice
1/4 lime
2 dashes of Tapatia or Cholula hot sauce
1/2 teaspoon celery salt
1/2 teaspoon pepper
3 Ice cubes
2 dashes of Worcestershire sauce
Spicy and refreshing.
2.  Grilled meat is always a good thing, and suitable for almost every nutrition plan. But sometimes the BBQ sauce that comes with that meat can be way too sweet, with added sugar that you may be trying to avoid.  Here's a sauce that's good on almost everything – just lightly brush it on whatever you're grilling, and have extra on the side for your guests to enjoy.
Vinegar BBQ sauce:
2 cups apple cider vinegar
3 cloves garlic, smashed and finely chopped
1 teaspoon crushed red pepper flakes
1/2 cup tomato paste
2 tablespoons Creole mustard
1/4 cup brown sugar
Combine all of the ingredients in a saucepan and bring to a boil over medium heat. Reduce the heat and simmer for 15 minutes. The sauce will not be thick but it should be a homogeneous mixture and very well flavored. Turn off the heat and let cool.
3.  For desserts, keep it simple.  Maybe do deconstructed berry shortcakes.  Toss berries with a little bit of sugar and vanilla in the morning to let the flavors meld.  Bake biscuits (or buy pound cake and slice it up). Make some lightly sweetened whipped cream.  Set everything out and let your guests make their own shortcakes.  You can enjoy the berries with just a bit of the whipped cream, safe in the knowledge that you've celebrated the 4th in style.  And totally guilt free to boot.
The following two tabs change content below.
Premiere 5 Star Diamond Independent Beachbody Coach, CEO and Founder of TEAM RAGE, Mike Nowak Fitness, HowDoIGetRipped.com and How Do I Get Ripped, LLC. You are about to learn how I went from out-of-shape busy dad with significant travel, 2 kids and a wife to losing 20 pounds, 16% body fat and 7" off my waist while getting paid more income from home than my Ph.D. in Science & Engineering. Retired my Ph.D. career to focus on FAMILY & FITNESS!
Latest posts by Mike Nowak (see all)
Comments