Let The Fall Cooking Begin
By: Dennis Abrams – TEAM RAGE Contributing Author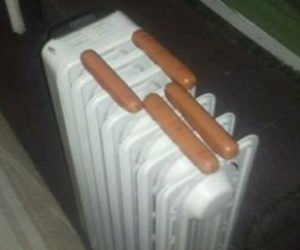 The holidays are (gulp) fast approaching.  But before we start thinking about THAT, how about a couple of healthy under 500 calorie complete meals perfect for fall weather? Recipes courtesy of Food Network!
Chipotle Steak With Collard Greens
Active time:  25 min.  Total:  35 min.  Serves:  4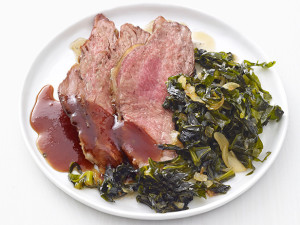 1 teaspoon chipotle chile powder
Kosher salt and freshly ground pepper
3 tablespoons vegetable oil
1 ¼ to 1/12 pounds beef tri-tip steak, fat trimmed
1 small onion, diced
2 cloves garlic, thinly sliced
1 pound frozen chopped collard greens, thawed and drained
¼ cup apple cider vinegar
¼ cup ketchup
2 tablespoons honey
1 tablespoon Worcestershire sauce
1 tablespoon Dijon mustard
1. Preheat the oven to 400.  Mix the chile powder, ½ teaspoon salt and ¼ teaspoon pepper; rub on the steak (this can be done as much as 24 hours ahead). Heat a large cast-iron skillet over medium-high heat. Add 1 tablespoon vegetable oil, then add the steak, sear 3 minutes per side. Transfer the skillet to the oven and cook until a meat thermometer inserted sideways into the steak registers 135 for medium rare, 15-20 minutes. Transfer the steak to a cutting board and let it rest.
2.  Meanwhile, heat the remaining 2 tablespoons vegetable oil in a medium skillet over medium heat. Add the onion and garlic and cook stirring, until soft, 5 minutes. Add the collard greens and ½ cup water and cook, stirring occasionally, until warmed through, 10 minutes. Add 1 tablespoon vinegar, and salt and pepper to taste.
3.  Whisk the ketchup, remaining 3 tablespoons vinegar, the honey, Worcestershire sauce, mustard, and ½ cup water in a bowl. Return the cast-iron skillet to medium-high heat, add the ketchup mixture and cook until thickened, 3 to 5 minutes. Slice the steak against the grain (it will be more tender that way), serve with the sauce and collard greens.
Calories per serving: 407 Fat: 20g  Carbohydrate 27 g  Protein 33 g
Pork Tenderloin with Apples
Active 20 min; Total 40 min; Serves 4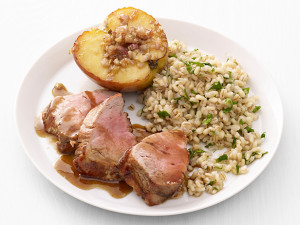 1 large pork tenderloin (about 1 ¼ pounds)
¼ teaspoon pumpkin pie spice
Kosher salt and freshly ground pepper
1 tablespoon extra-virgin olive oil
2 baking apples (such as McIntosh)
1 ½ tablespoons unsalted butter
1 medium shallot, finely chopped
1 cup quick-cooking barley
1 tablespoon finely chopped fresh parsley
¼ cup apple cider
1 tablespoon apple cider vinegar
1. Preheat the oven to 400. Sprinkle the pork with the pumpkin pie spice, ½ teaspoon salt, and pepper to taste. Heat the olive oil in a large ovenproof skillet over medium-high heat. Add the pork and cook, turning, until browned on all sides, about 6 minutes.
2. Halve the apples and scoop out the cores. Cut ½ tablespoon into 4 pieces, put a piece in each apple half. Sprinkle with half of the shallot and a pinch of salt. Add the apples to the skillet with the pork, cut-side up, and transfer to the oven. Roast until a meat thermometer registers 145, about 25 minutes.
3. Meanwhile, combine 1 ¾ cups water, the remaining shallot and a pinch of salt in a saucepan, bring to a boil. Add the barley, cover and cook over low heat until the water is absorbed, 12 minutes. Add the parsley.
4. Transfer the pork and apples to a cutting board. Return the skillet to medium-high and add the cider, vinegar and ¼ cup water; simmer stirring, 2 minutes. Stir in the remaining 1 tablespoon butter. Slice the pork and serve with the pan sauce, apples and barley.
Per Serving: Calories 474; Fat 14 g; Carbs 53 g; Protein 35 g
The following two tabs change content below.
Premiere 5 Star Diamond Independent Beachbody Coach, CEO and Founder of TEAM RAGE, Mike Nowak Fitness, HowDoIGetRipped.com and How Do I Get Ripped, LLC. You are about to learn how I went from out-of-shape busy dad with significant travel, 2 kids and a wife to losing 20 pounds, 16% body fat and 7" off my waist while getting paid more income from home than my Ph.D. in Science & Engineering. Retired my Ph.D. career to focus on FAMILY & FITNESS!
Latest posts by Mike Nowak (see all)
Comments