Les Mills Combat vs. Body Beast and Insanity
I recently completed the Les Mills Combat:Combat 60 Live – Ultimate Warrior's Workout. This was an awesome workout! I think this is one of the workouts that we performed live with the Les Mills trainers at the Coach Leadership Retreat in California last Fall.
Combat Live 60 is, not surprising by the name, 60 minutes focused on a blend of Martial Arts featured in all of the other Combat workouts including intervals of Boxing, Karate, Tae Kwon Do, Capoeira, Muay Tai/Kickboxing and Jiu Jitsu. It was a rocker. I like the combinations of moves and sequence. The pushups and abs at the end are a great fit as well.
Similar to my RECENT POST ON CARDIO IMPACT CHALLENGE, I used my Polar H7 Bluetooth-enabled heart rate monitor synched to my iPhone 4s with Polar Beat app to track output in real time.
Below you will see my heart rate results on the far right of the image with Body Beast BUILD:Shoulders on the far left and Body Beast BEAST:Cardio/Insanity Fast & Furious in the middle.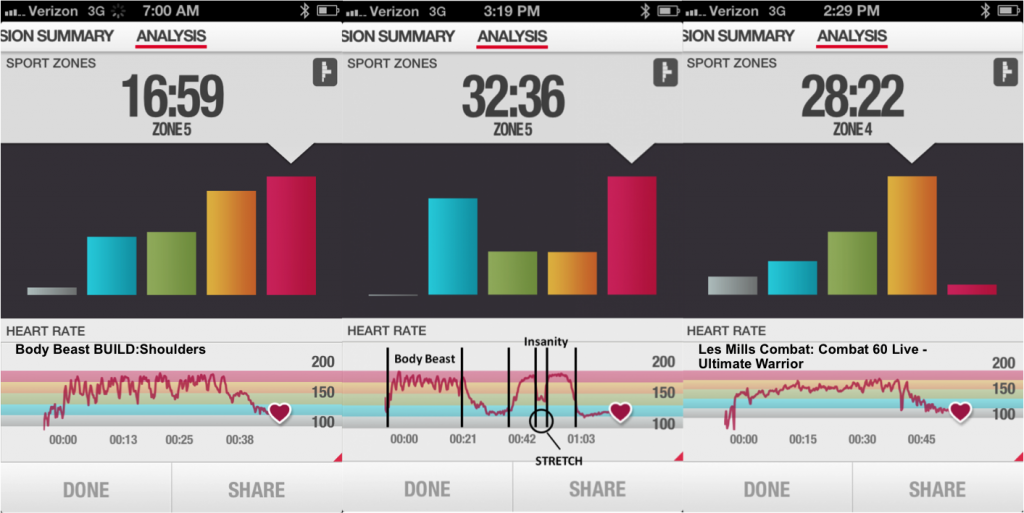 I ended up burning 656 calories with average heart rate of 142 for Combat 60 Live. The general calorie burn and average heart rate is well below what I measured for Body Beast and Insanity. In addition, with Combat I spent most of the time in Zone 4 (yellow zone in the image at 80-90% heart rate max) vs. Zone 5 (red zone in the image at 90-100% heart rate max) for Body Beast and Insanity. This supports my initial thoughts for Les Mills Combat where I get an awesome workout but the intensity is lower than some of the other Beachbody programs. Les Mills Combat is sure fun though and highly recommended! Rest day tomorrow. P90X Recovery Formula and Shakeology down. Everyone keep up the good work with the workouts and nutrition! Rage. Become a Machine.
The following two tabs change content below.
Premiere 5 Star Diamond Independent Beachbody Coach, CEO and Founder of TEAM RAGE, Mike Nowak Fitness, HowDoIGetRipped.com and How Do I Get Ripped, LLC. You are about to learn how I went from out-of-shape busy dad with significant travel, 2 kids and a wife to losing 20 pounds, 16% body fat and 7" off my waist while getting paid more income from home than my Ph.D. in Science & Engineering. Retired my Ph.D. career to focus on FAMILY & FITNESS!
Latest posts by Mike Nowak (see all)
Comments