Les Mills Combat Review – Power HIIT 1
Les Mills Combat Review – Power HIIT 1
So I was excited to try another one of the new Les Mills Combat workouts today to begin my Les Mills Combat Review. I wasn't too sure which one I wanted to try so I started flipping through the fitness guide that came with the program and found a picture of me in the background at the live workout in Dana Point, California (Coach Leadership Summit). How cool, Page 57! The live workout was awesome, by the way. Check me out in the green circle…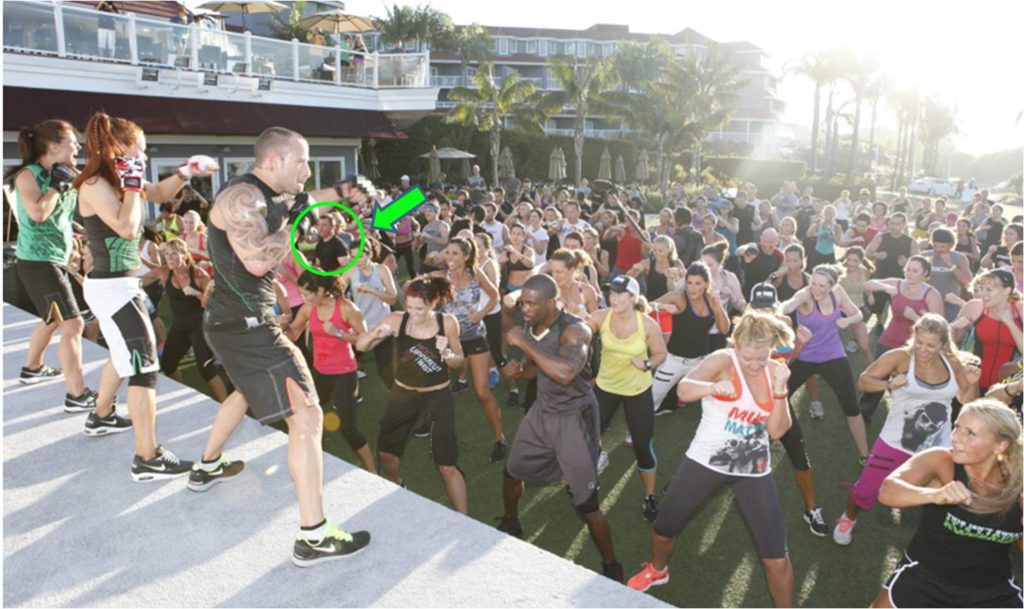 Les Mills Combat Review – Conclusions
I was not disappointed. This workout gave Insanity, Insanity Asylum and P90X Plyo a run for intensity. The moves were aligned in circuits and included dead row, clean, clean press, power press, plyo squat (narrow to wide), in/out squat, plyo lunge, sumo jump, plyo squat to lunge sequence, slow-mo sumo squat to press, burpee squat jump to power jump, forearm pushup to plank and spider pushups. I REALLY liked this workout. The music was awesome. I used 30-lb dumbbells for the moves with dumbbell requirements and it was a challenge, especially all of the shoulder press compound sets with squats. My favorite move was the burpee power jump circuit. Insane. My heat rate was elevated throughout and I defintely put in some work in only 30 minutes. Perfect approach to ramp metabolism with strength overload. I will absolutely be doing this workout many more times in the future. Great short workout for a busy schedule, but certainly challenging. I also think this would be a good workout for those on the road. I only needed a 4 foot by 6 foot workout space for this one. I look forward to additional Les Mills Combat workouts. P90X Results and Recovery Formula down and Chocolate Shakeology 1-hour post-workout. Life is good.
Les Mills Combat Review – Final Thoughts
This Les Mills Combat program is a rocker! More to come with my Les Mills Combat Review! Get your Les Mills Combat Challenge Pack HERE and join me in the New Year!!
The following two tabs change content below.
Premiere 5 Star Diamond Independent Beachbody Coach, CEO and Founder of TEAM RAGE, Mike Nowak Fitness, HowDoIGetRipped.com and How Do I Get Ripped, LLC. You are about to learn how I went from out-of-shape busy dad with significant travel, 2 kids and a wife to losing 20 pounds, 16% body fat and 7" off my waist while getting paid more income from home than my Ph.D. in Science & Engineering. Retired my Ph.D. career to focus on FAMILY & FITNESS!
Latest posts by Mike Nowak (see all)
Comments