It's Labor Day!

It's Labor Weekend – for some the official (or unofficial) end of summer; one last day to break out the grill and celebrate not only one's workplace labor, but also, the hard work you put into your workouts!
So with that in mind, here are three recipes: entrée, side, and dessert, that are easy, delicious, and healthy. (OK, the dessert isn't totally healthy, but who wants a totally healthy dessert anyway?)
Sweet and Spicy Beef Kebabs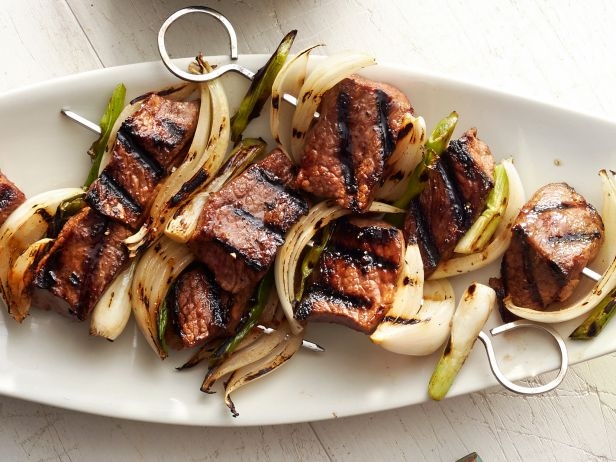 ½ cup soy sauce (low-sodium is fine)
¼ cup unseasoned rice vinegar
¼ cup packed light brown sugar
1 tablespoon Sriracha
3 cloves garlic, grated (use a microplane if you have one, otherwise, finely chop)
1 ½ pounds beef tri-tip, cut into 1-inch cubes
1 onion cut into 1-inch wedges
Vegetable oil, for brushing
4 scallions, cut into 1-inch pieces
1. Combine the soy, vinegar, brown sugar, Sriracha, and garlic in a large bowl. Add the beef and onion and toss to coat; cover and refrigerate for 1 to 4 hours.
2. Preheat a grill to medium high and brush the grates with vegetable oil. Thread the beef, onion and scallions onto eight 10-inch skewers and brush with more oil. Grill the kebabs, turning occasionally, until marked, around 7 minutes for medium rare.
And since you have the grill on already, why not use it for a grilled eggplant salad?
Grilled Eggplant Salad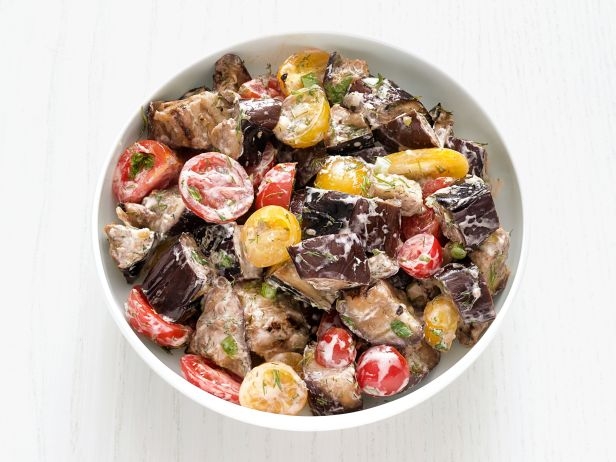 Halve two eggplants lengthwise and rub the cut sides with 1 smashed garlic clove; brush with olive oil and sprinkle with salt. Grill until charred, around eight minutes per side. Let cool, then chop. Whisk together 3 tablespoons plain yogurt, 2 tablespoons olive oil, 1 tablespoon white wine vinegar and 1 grated garlic clove, season with salt and pepper. Toss with the eggplant, 1 cup halved cherry tomatoes and ½ cup chopped mixed herbs of your choice.
And then for dessert…how about a nice blueberry-oatmeal crisp? Blueberries are healthy, right? Oatmeal's healthy right? So there you go…
Blueberry-Oatmeal Crisp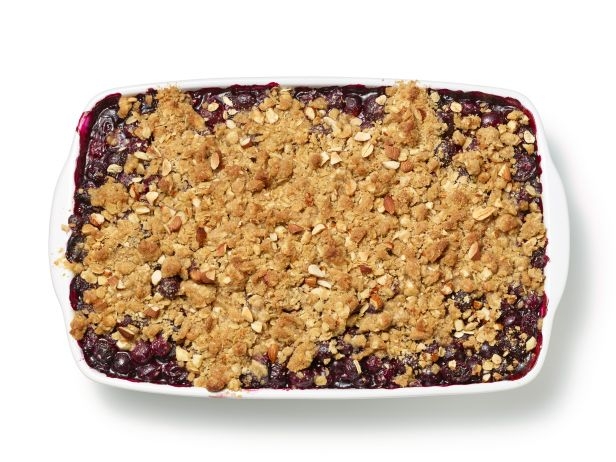 For the Filling:
Unsalted butter, for the baking dish
6 cups blueberries
½ cup granulated sugar
3 tablespoons all-purpose flour
2 tablespoons fresh lemon juice
Pinch of kosher salt
For the Topping:
¾ cup packed light brown sugar
¾ cup all-purpose flour
½ cup old-fashioned rolled oats
½ cup almonds or hazelnuts, chopped
½ teaspoon grated lemon zest
¼ cup ground cinnamon
½ teaspoon kosher salt
6 tablespoons cold unsalted butter, cut into ½ inch pieces
1. Preheat the oven to 375 and butter a 2-quart baking dish. Make the filling: Toss the blueberries, granulated sugar, flour, lemon juice and salt in a medium bowl. Transfer to the prepared baking dish.
2. Make the topping: Combine the brown sugar, flour, oats, nuts, lemon zest, cinnamon and salt in a separate bowl. Using your fingers (or a pastry blender if you'd like or your kid's fingers) work the butter into the flour mixture until coarse crumbs appear. Scatter the topping over the blueberry mixture.
3. Place the dish on a baking sheet and bake until the topping is golden brown and the filling is bubbling, 45-50 minutes. Let cool slightly before serving.
I'm thinking a small scoop of vanilla ice cream melting on the top of each serving would be just about perfect. It is a holiday, right?
Recipes courtesy of Food Network –
Enjoy!
By: Dennis Abrams – TEAM RAGE Contributing Author
The following two tabs change content below.
Premiere 5 Star Diamond Independent Beachbody Coach, CEO and Founder of TEAM RAGE, Mike Nowak Fitness, HowDoIGetRipped.com and How Do I Get Ripped, LLC. You are about to learn how I went from out-of-shape busy dad with significant travel, 2 kids and a wife to losing 20 pounds, 16% body fat and 7" off my waist while getting paid more income from home than my Ph.D. in Science & Engineering. Retired my Ph.D. career to focus on FAMILY & FITNESS!
Latest posts by Mike Nowak (see all)
Comments