Insanity Master's Class – Minnesota!!
How Do I Get Ripped?
I take every chance I get to workout live with INSANITY – INSANITY ASYLUM creator Shaun T!!!
Shaun T was in Minneapolis for the first time ever, I believe he said, for the Empower! Minnesota event at Lifetime Fitness on 9.22.2011. (I think he also wanted to visit Mall of Amercia, and he even said that he rode a roller coaster in the Mall. Ha.) The Empower! event included a S.T.R.I.D.E. certification class for his intense dance technique as well as the Insanity Master's Class that I attended. The Insanity Master's Class that Shaun developed is primarily a combination of INSANITY and INSANITY ASYLUM movements. For those that have not tried these at-home fitness programs from Beachbody, Insanity is considered intense interval cardio that drives max results in a short period of time. Most of the workouts are performance-focused to increase speed and agility, power and strength for real-world applications. Insanity is the most intense cardio program ever developed for DVD. Good stuff.
I arrived at Lifetime Fitness relatively early and was able to pick my spot on the basketball court for the workout. Of course I selected front row, center stage. Nothing better than having Shaun T just feet away for inspiration! I have only worked out live with Shaun T twice before, both at the Team Beachbody Coach Summit this past June. The only thing I remember from those experiences was the difficulty of the Insanity workouts live and the intensity that Shaun T brings to the workouts in person. He loves to get in your face and get you to DIG DEEPER!
Shaun T showed up before the workout and spent some time getting his computer and audio tracks synched for the workout. He actually composed a mix DVD of songs that get's you pumped and motivated to push beyond your limits.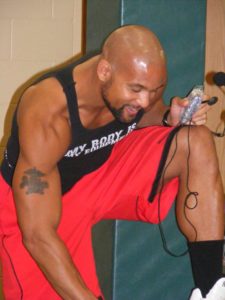 Just before the workout Shaun T stressed how important it would be to focus on control and form for the workout movements and try not to keep up with anyone in particular, just be safe and focus on your performance. He talked about the significance of DIGGING DEEPER and staying mentally strong. He also warned everyone that the workout would be challenging, especially for those that have never done Insanity before… yes, there were a few of those!!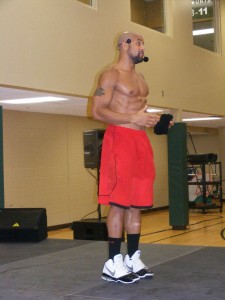 Then the INSANITY began, literally. I am a graduate of Insanity and Insanity Asylum, but honestly I thought I was not going to make it through the workout. It seems like forever since I last did Insanity or the Asylum and of course with those workouts if you even take a break for a week it's like starting over sometimes. I did okay though! The workout was 1-hr long and focused on a lot of Insanity and Insanity Asylum moves with some killer combos. The most difficult for me was the third set of moves where we did squat to jump scissor kick to squat and repeat on his count (he paused at the bottom, ouch) for a total of 10 followed by walking to pushup position while keeping feet planted and doing 5 v-pushups, then return to standing position again without moving feet. Repeat 3 more times. Crap. It was hard. Many other familiar moves were done including power jumps, moving pushups and in-and-out abs, to name a few. The end was cool. He had us get in groups of 4 and then each person in the group would do agility bear crawl in different directions for one minute (no looking at where your teammates went). After one minute of bear crawl there was one minute of tricep pushups and then you had to crawl back to find your group of 4 (there were 100 people in there so it was crazy). Once you got back to your group you would alternate sprinting in the middle of the group for 1-minute while the rest of the group was in the squat position. Repeat for each team member. Crap. Anyway, it was AWESOME! We did the workouts on a gym wood floor. That was my first time and I did not like it for two reasons… 1) I have bad knees, 2) Sweat was EVERYWHERE. It was still awesome though….
I took the opportunity to get a few pictures during cool down and stretch!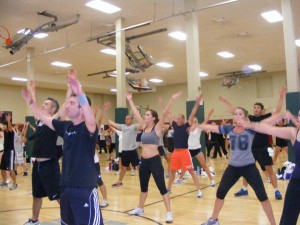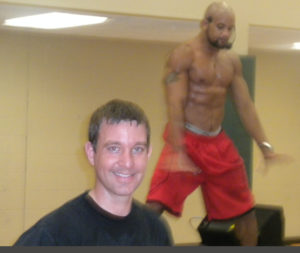 It is now 2 days later and I am REALLY sore still from this workout. Love it! At the end I got a chance to talk to Shaun T and he has been injured, but Volume 2 Asylum should be filming shortly! Here is a picture of me with Shaun T after the INSANITY!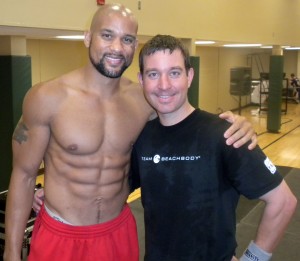 Yeah, Shaun T is R-I-P-P-E-D…. but many people are too after doing his programs!!! DIG DEEPER!!
The following two tabs change content below.
Premiere 5 Star Diamond Independent Beachbody Coach, CEO and Founder of TEAM RAGE, Mike Nowak Fitness, HowDoIGetRipped.com and How Do I Get Ripped, LLC. You are about to learn how I went from out-of-shape busy dad with significant travel, 2 kids and a wife to losing 20 pounds, 16% body fat and 7" off my waist while getting paid more income from home than my Ph.D. in Science & Engineering. Retired my Ph.D. career to focus on FAMILY & FITNESS!
Latest posts by Mike Nowak (see all)
Comments