Insanity Asylum Fit Test #1 Complete
How Do I Get Ripped?
Insanity Asylum Fit Test #1 Done!
Wow – This was challenging. As always, Insanity fit tests are difficult since you go all out in the time period available. Even when you are in good shape you are pushed to the limits. I struggled about half way through the fit test but I know my body will adjust and big improvements will come as I progress through the 30-day program. I am a big fan of the agility ladder that is used in the program. Enjoying much needed P90X Recovery Formula as I type…
The fit test is approximately 25 minutes long.
Warm up: approx 4 minutes
Each of the three moves below are executed for 1 minute followed by a 1.5 minute stretching sequence.
Jump Rope
High Knee Sprint
Forward & Back Agility – Stepping into a box of the agility ladder, back out, and into the next, back out, etc. making your way back and forth down the ladder.
Fit Test: Just like Insanity, maximum number of reps in one minute with a short break between moves.
Agility Heisman

: With the agility ladder out in front of you, you perform the Heisman with the center two steps inside one of the boxes, and move back and forth up the ladder.

In & Out Ab Progression

: With your hands at the third rung of the ladder you perform in & out abs with your feet entering the second box.

Pull Ups/Lat Push Ups

: You get your choice of performing EITHER wide grip pull ups, or lat pushups.

Mountain Climber Switch Kicks

: This is just as brutal as it sounds! Switch kicks with your arms above your head like mountain climbers.

Agility Shoulder Taps

: Starting at the side of the ladder in high plank position, you reach across and touch the opposite shoulder before moving your hand into the box. Then the other hand, reaches across and taps the opposite shoulder before entering the same box.

X jumps

: Starting in a low crouch, touching your toes, jump as high as you can extending your arms and legs so your body forms an X in the air. Be sure to touch your toes between each jump.

Moving Push Ups

: This one is just as it sounds, using the agility ladder as your guide for hand placement.

Agility Ladder Shuffle

: Running through the ladder one box at a time (sideways), and then back the other direction.

Agility Bear Crawl

: A low crawl to the end of the ladder, feet jump into the box, low crawl backward and hands into the box.
Cool Down: 1 Minute cool down & stretch
Exercise – Week 1 Performance
Agility Heisman – 10
In & Out Ab Progression – 56
Push-Ups – 34
Mountain Climber Switch Kicks – 90
Agility Shoulder Taps – 5
X Jumps – 30
Moving Push-Ups – 4.5
Agility Lateral Shuffle – 17
Agility Bear Crawl – 8
I can tell already that I am going to LOVE this program. Asylum Day 1 starts Monday – check back daily for workout reviews! JOIN ME in the Asylum…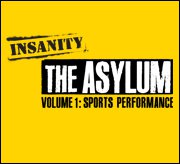 The following two tabs change content below.
Premiere 5 Star Diamond Independent Beachbody Coach, CEO and Founder of TEAM RAGE, Mike Nowak Fitness, HowDoIGetRipped.com and How Do I Get Ripped, LLC. You are about to learn how I went from out-of-shape busy dad with significant travel, 2 kids and a wife to losing 20 pounds, 16% body fat and 7" off my waist while getting paid more income from home than my Ph.D. in Science & Engineering. Retired my Ph.D. career to focus on FAMILY & FITNESS!
Latest posts by Mike Nowak (see all)
Comments