Insanity Asylum 2 Back & Six Pack Review
TEAM RAGE!!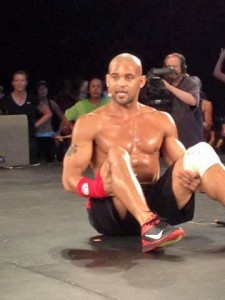 Insanity Asylum 2 Back & Six Pack done. Love this one. Relatively short workout at around 35 minutes but focused on engaging the back and core throughout. Very effective. Many of the moves leveraged slow, controlled motion mostly in the eccentric (negative) phase. Negatives have always worked well for me in promoting progress, which is why I enjoy the Body Beast TEMPO workouts so much. With the back moves in this workout you have the choice of pullups or dumbbell movements. Of course I chose pullups! A lot of challenging variations of pullups typically involving core work while at the peak of the pullup position. I was able to hit from 8 to 20 reps dependent on the exercise. The alternate dumbbell work for the back included controlled rows, flys and tricep kickback-type moves.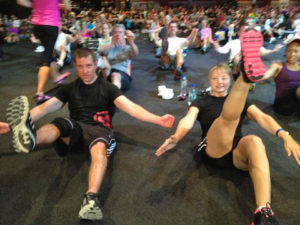 The rest of the workout was awesome too. The hardest series for me was the compound circuit of plank to mountain climber. The series requires you to lay on your stomach and then move to the superman position where your arms and legs are straight in front and behind you, respectively. You have a dumbbell in your hands. You have to lift the dumbbell up with straight arms and back down (while legs are also up), then move into the plank position to perform a mountain climber run stance, right and then left knee to chest. That is one rep. Rinse and repeat up to 16 reps, took around 3 minutes, I believe. The ab work in this workout was challenging but not too bad. There were 3 rounds of 5 count abs (5 modifications of ab positions, hold 5 seconds each), which was not as hard as I recall when doing this series at the Coach Summit in Las Vegas in June (see pic!) At the very end Shaun T tossed in some bonus flutter kicks for 30 seconds, just when you thought you were done. Haha. Good stuff.
P90X Results & Recovery Formula down. Mid-morning Shakeology accountability – Chocolate Vegan mixed in water with ice to taste. Everyone keep up the good work with the workouts and nutrition. Rage. Become a Machine.
The following two tabs change content below.
Premiere 5 Star Diamond Independent Beachbody Coach, CEO and Founder of TEAM RAGE, Mike Nowak Fitness, HowDoIGetRipped.com and How Do I Get Ripped, LLC. You are about to learn how I went from out-of-shape busy dad with significant travel, 2 kids and a wife to losing 20 pounds, 16% body fat and 7" off my waist while getting paid more income from home than my Ph.D. in Science & Engineering. Retired my Ph.D. career to focus on FAMILY & FITNESS!
Latest posts by Mike Nowak (see all)
Comments