Food to Keep You Warm
It's winter, it's cold, and there's nothing better to warm up you up on a blustery night than plateful of hot comfort food.  But contrary to popular belief, comfort food doesn't have to throw anyone off their nutrition plan, as these two recipes, both under 500 calories will show. Both recipes are courtesy of Food Network.
Kale-Turkey Rice Bowl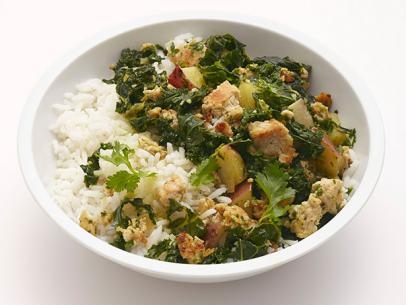 Active cooking time: 20 minutes   Total cooking time:  40 minutes  Serves 4
1 bunch cilantro, tough stems removed
1 jalapeno, (removes seeds and ribs if you want less heat)
3 tablespoons sliced almonds
Kosher salt
1 tablespoon vegetable oil
1 pound 93% lean ground turkey
1 onion finely chopped
2 cloves garlic finely chopped
1 teaspoon ground cumin
½ pound red skinned potatoes, cut into ½ inch pieces
1 5 ounce package chopped kale (around 6 cups packed)
2 ½ cups cooked white or brown rice
1.  Pure all but 3 tablespoons of the cilantro with ½ cup water, the jalapeno, almonds and ¼ teaspoon salt in a blender until smooth.
2.  Heat the vegetable oil in a large pot or Dutch oven over medium-high heat. Add the turkey and ½ teaspoon salt, coo, stirring and breaking up the meat with a wooden spoon, until browned, about 4 minutes.
3.  Add the onion, garlic and cumin and cook, stirring occasionally, until softened about 6 minutes. Stir in 1 ½ cups water, the pureed cilantro mixture, the potatoes and kale. Cover and bring to a boil and reduce the heat to medium. Simmer, stirring occasionally, until the potatoes are tender, about 15 minutes. Season with salt and pepper and serve over the rice. Top with reserved cilantro.
Calories per serving:  440; Carbs 51 g; Protein 30 g
Meatball-Tortellini Soup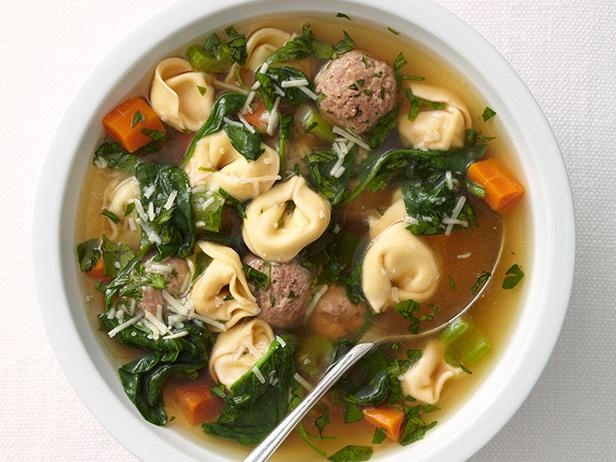 Active cooking time:  35 minutes  Total cooking time:  35 minutes
8 ounces ground beef chuck
¼ cup grated parmesan cheese (plus additional for topping)
¼ cup chopped fresh Italian parsley
1 large egg, lightly beaten
1 clove garlic, grated
Kosher salt and freshly ground pepper
2 tablespoons extra virgin olive oil
2 carrots, diced
2 stalks celery, diced
1 quart low-sodium chicken broth
1 9-ounces package refrigerated cheese tortellini
4 cups loosely packaged baby spinach (around 3 ounces)
1.  Combine the beef, parmesan, 2 tablespoons of the parsley, the egg, garlic, ½ teaspoon salt, and pepper to taste in a medium bowl, mix with your hands until just combined. Form into 1-inch meatballs, set aside.  (This can be done well ahead of time.)
2.  Heat the olive oil in a pot or Dutch Oven over medium-high heat. Add the meatballs and cook, turning, until golden, 3 to 4 minutes, remove to a plate. Add the carrots and celery to the pot, cook stirring, until just softened, around 5 minutes. Add the broth and 3 cups water, bring to a boil. Return the meatballs to the pot along with the remaining 2 tablespoons parsley, and ½ teaspoon salt. Simmer until the meatballs are cooked through about 2 minutes.
3.  Add the tortellini and cook until they float to the top, about 4 minutes. Add the spinach and cook, stirring just until wilted, 1 minute. Season with salt and pepper. Serve with more parmesan and maybe a drizzle of good extra virgin olive oil
Calories per serving:  474, Carbs 37 g, Protein 27 g
Enjoy and stay warm!
By: Dennis Abrams – TEAM RAGE Contributing Author
The following two tabs change content below.
Premiere 5 Star Diamond Independent Beachbody Coach, CEO and Founder of TEAM RAGE, Mike Nowak Fitness, HowDoIGetRipped.com and How Do I Get Ripped, LLC. You are about to learn how I went from out-of-shape busy dad with significant travel, 2 kids and a wife to losing 20 pounds, 16% body fat and 7" off my waist while getting paid more income from home than my Ph.D. in Science & Engineering. Retired my Ph.D. career to focus on FAMILY & FITNESS!
Latest posts by Mike Nowak (see all)
Comments