Focus T25 Gamma: Pyramid Review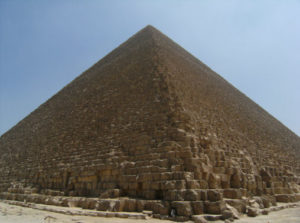 Focus T25 Gamma:Pyramid Review done. 25 minutes. Wanted to test drive one more from the Gamma phase before heading into the hybrid beginning Monday. Wow. Gamma:Pyramid is no joke. After the first 5 minutes I was thinking that this will be easy. That seems to be common for most of the workouts. However, then it is a challenge for the remaining 20 minutes with of course no breaks. Pyramid is a GREAT workout focused on pyramid sets, usually up to 6 to 10 reps dependent on movement. This is not easy for many of the moves and you get a good burn. For most dumbbell moves I used 15-lb dumbbells. Seems light but it is not:) So, the hardest for me was the pike press plank. With this move you start in plank position, bring your legs in toward your chest to do a pike press (no bending your legs), then back to downward dog then plank again. That is 1 rep. You then repeat doing 2 pike press each set, then 3 all the way up to 11. So, in essence that is 66 reps pike press, no breaks. Insane. There are also some great moves for triceps, pushups, curls and squats. I have to be honest, I am loving T25. P90X Results and Recovery Formula down and MAX Creatine. Morning Shakeology accoutability – Vanilla Shakeology with banana and natural peanut butter mixed in almond milk with ice to taste. Good stuff. Everyone keep up the good work with the workouts and nutrition! Life is good. As always, please let me know how I can help – join one of my Focus T25 challenge groups! Rage. Become a Machine.
The following two tabs change content below.
Premiere 5 Star Diamond Independent Beachbody Coach, CEO and Founder of TEAM RAGE, Mike Nowak Fitness, HowDoIGetRipped.com and How Do I Get Ripped, LLC. You are about to learn how I went from out-of-shape busy dad with significant travel, 2 kids and a wife to losing 20 pounds, 16% body fat and 7" off my waist while getting paid more income from home than my Ph.D. in Science & Engineering. Retired my Ph.D. career to focus on FAMILY & FITNESS!
Latest posts by Mike Nowak (see all)
Comments