FITNESS TIP – How to Extend Your Dumbbell Weight Collection
How Do I Get Ripped?
I make sure that I am using the correct weight. Seriously, there is nothing more frustrating than being limited by your dumbbell collection. This may ultimately limit your results and rate at which you achieve your goals. For example, last week I was performing alternating bicep curls with dumbbells. I was lifting heavy with 3 sets x 8, 6 and 4 reps.  I started with 50-lb dumbbells and achieved 8 reps, however, my next highest dumbbell set is 60-lbs. For me, this is a lot of weight for curls and I really needed some weight capability between 50 and 60-lbs…
Well, actually, there is an inexpensive and effective solution that I have been implementing for years… that is, leverage 5-lb ankle or wrist weights to extend your collection and bridge the gap between dumbbells! By simply strapping on 5-lb weights to each wrist you will have 55-lbs total per arm when using the 50-lb dumbbell. Using that approach, I was able to finish my workout using 50s for 8 reps, 55s for 6 reps and 60s for 4 reps (unfortunately, I only completed 2 at 60-lb). Similarly, the heaviest dumbbells I have are 80-lb hex, and I routinely use 5- and/or 10-lb weights to achieve 85-, 90- or 95-lb capability for bench press movements.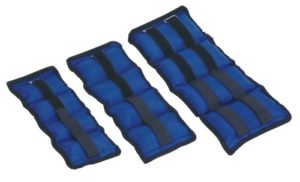 Considering that hex dumbbells are commonly sold new at franchise fitness stores in the $1.50/lb range (e.g., Sports Authority), clearly there are significant cost savings potential when compared to $5.77 for a set of 5-lb ankle weights or $7.77 for a set of 10-lb ankle weights (e.g., Walmart). Of course, it is possible to purchase dumbbells used for cheaper than $1.50/lb, but a new set of 55-lb dumbbells would have cost me approx. $165 vs. $6 for the 5-lb ankle weights. What a deal! I have been using this approach for years and have not experienced any impact on the mechanics of my lifts, however, I always recommend that you focus on proper, controlled form and immediately stop any movement where you experience pain (and consult a doctor if required). BRING IT!!
The following two tabs change content below.
Premiere 5 Star Diamond Independent Beachbody Coach, CEO and Founder of TEAM RAGE, Mike Nowak Fitness, HowDoIGetRipped.com and How Do I Get Ripped, LLC. You are about to learn how I went from out-of-shape busy dad with significant travel, 2 kids and a wife to losing 20 pounds, 16% body fat and 7" off my waist while getting paid more income from home than my Ph.D. in Science & Engineering. Retired my Ph.D. career to focus on FAMILY & FITNESS!
Latest posts by Mike Nowak (see all)
Comments