Eric Thomas LIVE Motivation for Change Cleveland ASPW Tour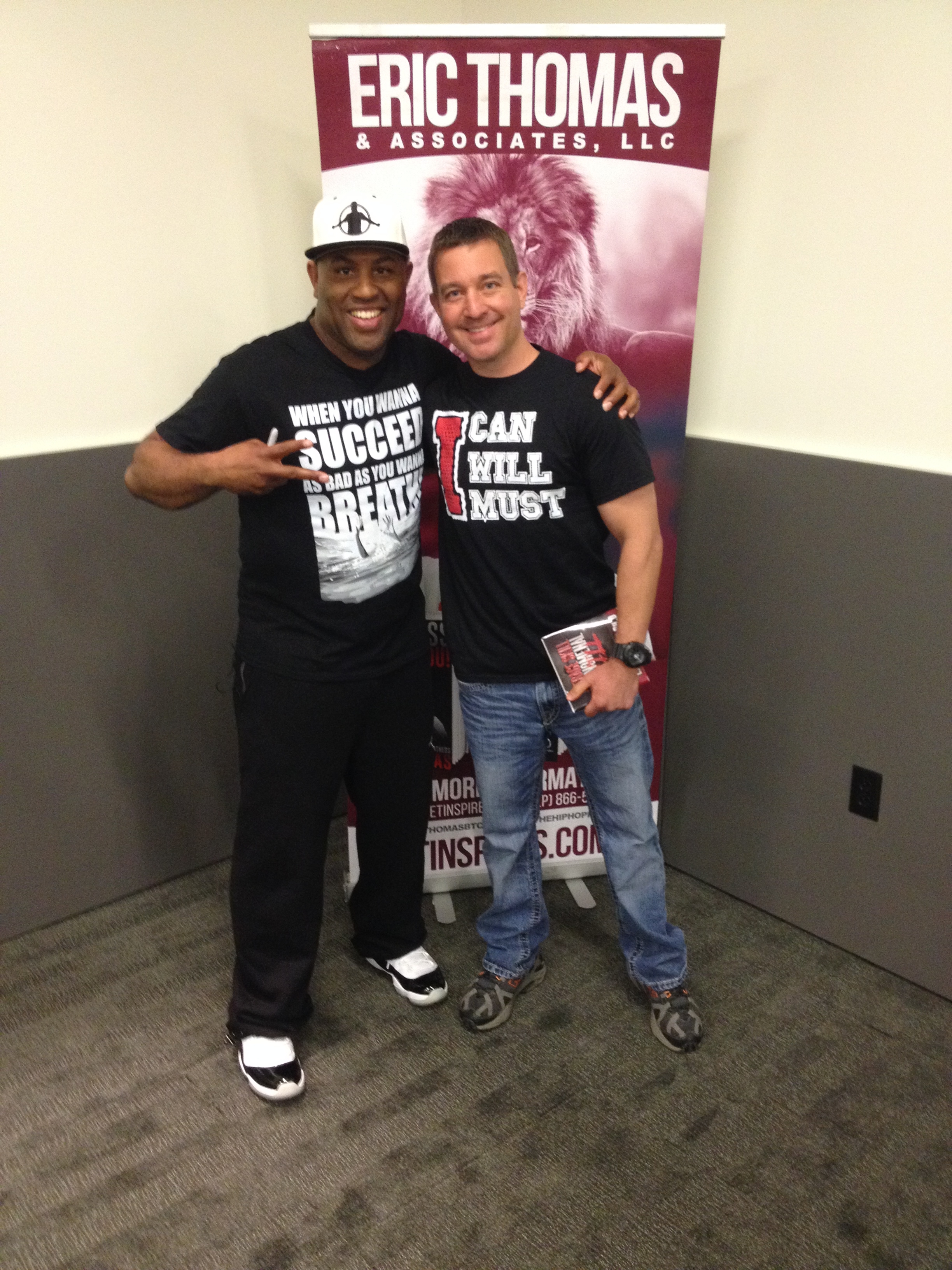 Would you drive 24 hours to hear some tough love and life-changing inspiration from one of the top motivational speakers in this World? Well, normally I would not, but a unique opportunity presented itself to see the World-famous Dr. Eric Thomas (your boy, ET) in Cleveland, Ohio for the AVERAGE SKILL PHENOMENAL WILL Tour in support of his new book. I just had to make the trip, even if it was on a Sunday!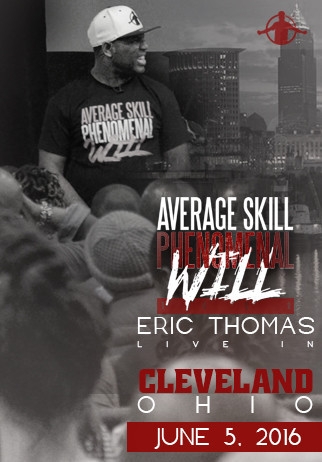 I have been following and motivated by ET for years during challenging times with his YouTube videos that have gone viral. He has given his tough love approach to disadvantaged city kids to professional corporations to professional sports teams. His work is in high demand around the World and he has helped many people change their lives with inspiration from his very own experiences from going from the bottom to the top in life. ET's messages are very real and direct in order to motivate you for change when it is needed most. He holds nothing back and is not interested in just motivating you, but rather helping to inspire your very own required change through action (embracing the daily GRIND). He first went viral for his, "Thank God It's Monday (TGIM)," free video series and his famous mantra, "When you want to succeed as bad as you want to breathe… then you will be successful." ET's messages are UNIVERSAL, meaning that they can be applied to anyone at any point of their journey in life. Yes, you too! For me, although I am proud of my accomplishments and successes to date, I have so much more to give and help others. Part of taking it to the next level is focusing on the right things at the right time with the right motivation. As such, with this trip I was specifically seeking confidence and actions that can help in this area of my life.
I was particularly excited to see ET live given my commitment each year to attend personal development training in addition to the corporate-sponsored events hosted by Beachbody (Success Club Reward Trip, Coach Summit, Leadership Retreat). Last year I attended a conference where Tony Robbins and many others provided experiential training while the year prior I attended a PSI Basic workshop that was geared toward working on myself (i.e., the inside stuff). Bottom line, I have learned to never stop working on yourself. I am not perfect, but progress is perfection!
As such, I committed to attend ET's exclusive VIP session in Cleveland for private meet-and-greet, book signing and hours of life lessons from ET in person. Given our schedules at home, this required that I make some sacrifices and drive the 24 hours from Minneapolis to Cleveland (stayed overnight in Chicago both heading out and coming back). After this trip I certainly respect truck drivers even more! That much road travel in a condensed period of time was NOT easy (hello, lower back disc herniation!). But, my motivation to make this happen kept me on track. It was worth it.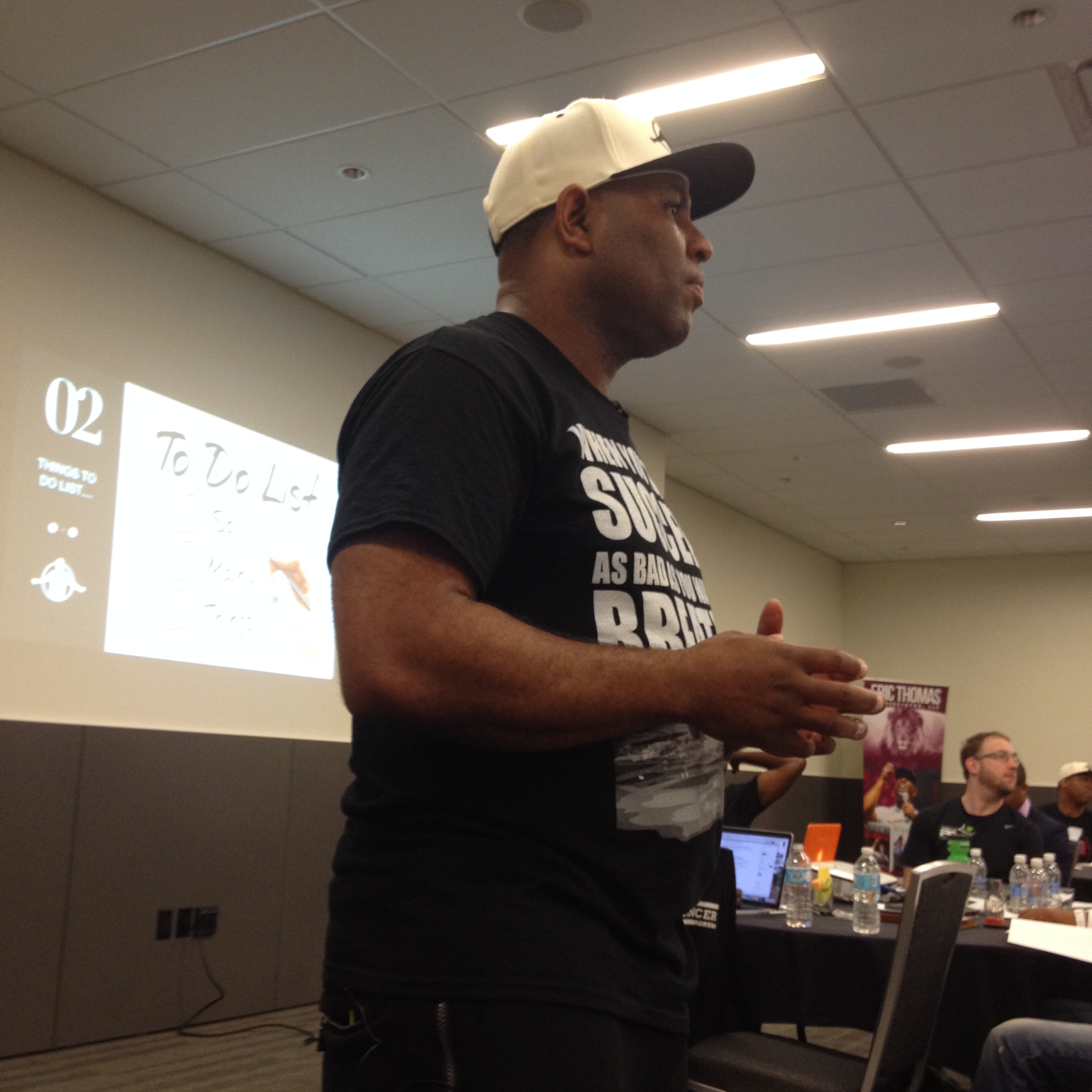 I arrived in Cleveland about one hour prior to the VIP event and was able to first meet ET in the hallway and thank him for all he has done. He actually came up to me and gave me a handshake and hug like we have been friends forever. Cool experience. He is such a nice guy and very appreciative of his supporters. He is already considered one of the top 5 motivational speakers in the World, the only one in the Top 5 with a Ph.D., and he has strong goals to earn the Nobel Peace Prize. ET also announced at the event that he is going back for a law degree to help with his complex thinking and communication. He has BIG MOTIVATION!
The VIP session was AMAZING. They had food and drinks available for us with tables setup in a casual setting to interact directly with ET. I was at one of the tables in the front so I was just feet away from ET during the session. With that said, WOW, ET's voice is L-O-U-D! No need for a microphone. Ha. He said he has an insurance policy on his voice. Insane! When you watch his videos online he speaks loudly with confidence, often shouting, to get his point across (i.e., tough love!). Even more-so in person, he commands attention and you can just feel how passionate he is about sharing his knowledge and stories to inspire the action for change. This was not surprising since a lot of his content comes from his live events and I have already seen footage from Cleveland in his promo videos. Cool stuff. (Side note: We were not allowed to video any of the event out of respect for ET and his Team to help change lives by getting their message to the public appropriately through their media and promotion.)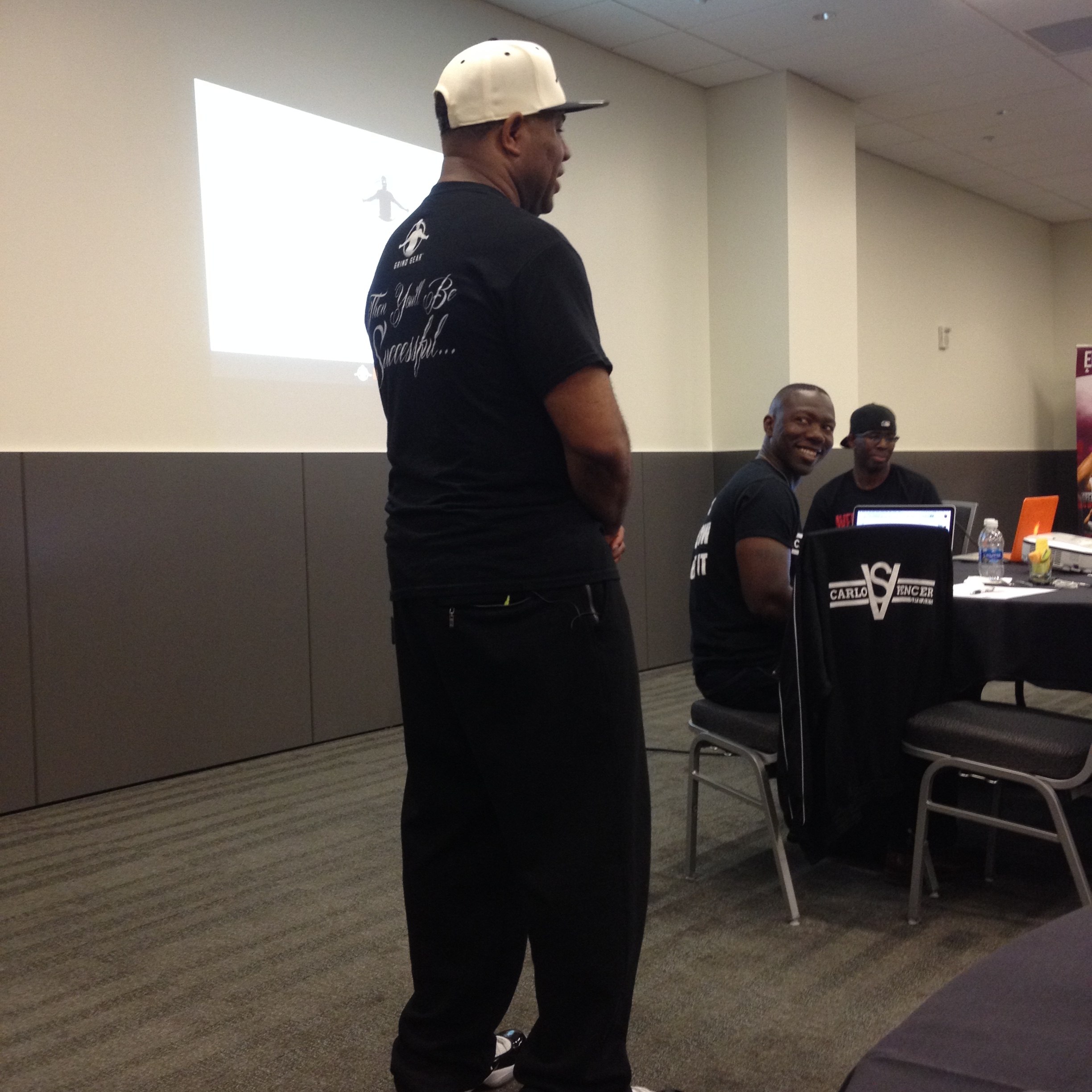 I heard the message loud and clear from the 6 hours with ET in Cleveland. Below I have captured some of my key takeaways from the event in bulletpoint format that will help drive my future motivation, action and ultimate success. Hope it helps you as well!!
Your GIFT will make room for you to do more things
Judge yourself based on your best you
What's your governor? You can't be your own governor, you need mentors. Could even be someone that has succeeded in your field that you study (don't have to talk to them).
Success does not come easy. A diamond is only made with pressure AND heat WHILE being cut.
You need a To-Do list for EACH goal and execute until complete.
You have to think you can win and change yourself to make it happen
Separate yourself. Stephen Curry is not good because he has a good shot in basketball, it is because he excels at creating SEPARATION to get an open shot.
There is not a lot of credibility in what you don't do, you have to earn credibility in what you do
Your gifts are strong
You need to go to places and situations where you are not the best in order to grow
Become a good student FIRST. Similar to the analogy of taking time to sharpen your axe to cut down a tree faster than more cuts with a dull axe.
Don't rush, take the steps necessary and mature for the opportunity
Try it, do it (get your reps in)
Give value away free to get return later
Deeply connect with your WHY for achieving your goals. For example, if you have kids and fail, see your kids saying that Mommy/Daddy did not get it done for us.
When you start losing, you need a reminder that someone is coming to get your spot
Keep a reminder daily on your WHY and use all 5 senses to think about it (e.g., picture of kids or something that smells like them)
GO 120!!!! Focus and give 120%. Every step calculated with efficiency and focus. Don't let tasks take 6 hours that should take minutes. Going 120% DOES NOT mean working more, just more efficiently.
Measure and write down everything
Don't be the weakest link on your team, associate with FINISHERS (ET strongly believes that has been the challenge for Lebron James in NBA Cleveland with limited supporting cast talent, besides being selfish)
Be a competitor and watch your environment closely
Consistency is key, any obstacle can be overcome with time
Show up each day
What do I lack for my goal to become a reality? Think about it every day and sprinkle key tasks in during the day that will help you get to your goal faster.
Get to the spot (place to achieve your goal) before anyone else to give you an open shot from creating space/separation against average people
Pay attention to your body language and what you give at work AND home. Don't work 120% at work and come home and be 60% to family.
Why are you satisfied and settling? Don't.
Why are you not giving your all?
Your attitude, passion and energy are everything. Give effort and outwork everyone else.
If you don't make your goals happen, who will be impacted? It will effect generations. Give them a blueprint of behaviors for success.
Don't be selfish by giving less than you are taking
Stop being selfish, it's not about YOU
You need a deeper WHY/purpose for success. You need phenomenal WILL.
What will you give in the next 6 months? Give 10% more and see your progress accelerate.
What will you do different to hit 120% (again, not necessarily more time)?
There are no discounts for success, work for it and you will have it forever
What sacrifices are you willing to make?
You can't be successful and do everything you want to do
You always still need to be "recruiting", whatever that means for you in your life
Effort comes from inside out
You need to get to the CORE of who you are. What are your CORE VALUES? Your anchor to those values? Can't give 120% until then.
Maintain your character and integrity at all times or you will be bought and sold
People look up to you when you lead based on a set of principles due to the anchor of your core values.
You are selling an experience, no matter what you do
Have something to believe in and stay consistent to go after it
What is YOUR "brand"? Find it and stick to it.
Declare to be PHENOMENAL — You cannot bring average into your future! The average things have been holding you back! Everything "average" must be left if you want to be phenomenal.
Know this, success is going to hurt. Nothing good, great or phenomenal comes from painless change. But, the rewards are sweet and the results are worth the pain! Find everything "average" that you can let go and never be average again. All it takes is PHENOMENAL WILL!


I Can. I Will. I Must.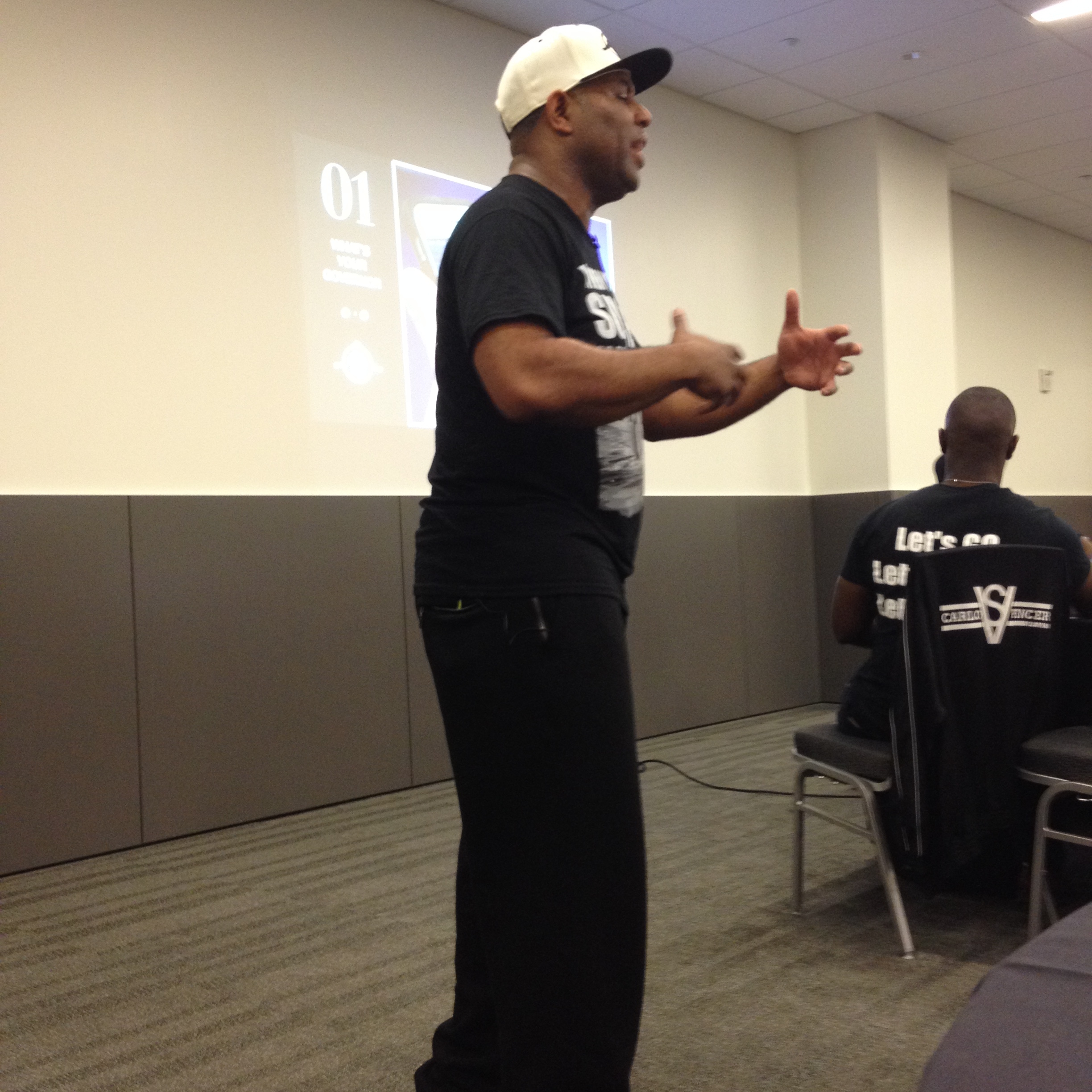 I know from my life that most of my successes came from significant sacrifices (e.g., earning my Ph.D. or even trying to build a side business to full-time income while busy with a demanding corporate career, global travel, wife, 2 kids, health/fitness focus and home responsibilities!) I also know at times my expectations have been far greater than what I have earned based on my effort and commitment levels. Reality check. This event with ET has grounded me with where I am at in my life and potential opportunities to course correct. Ideally, I will give 120% with more success while balancing work with even more time with family. With these principles I have the blueprint to make it happen based on having the WILL and fortitude to make it happen. Time to get to work!
We finished up the ASPW Tour in Cleveland with another meet-and-greet opportunity for ET's book signing and to take some final pictures and chat. What an experience…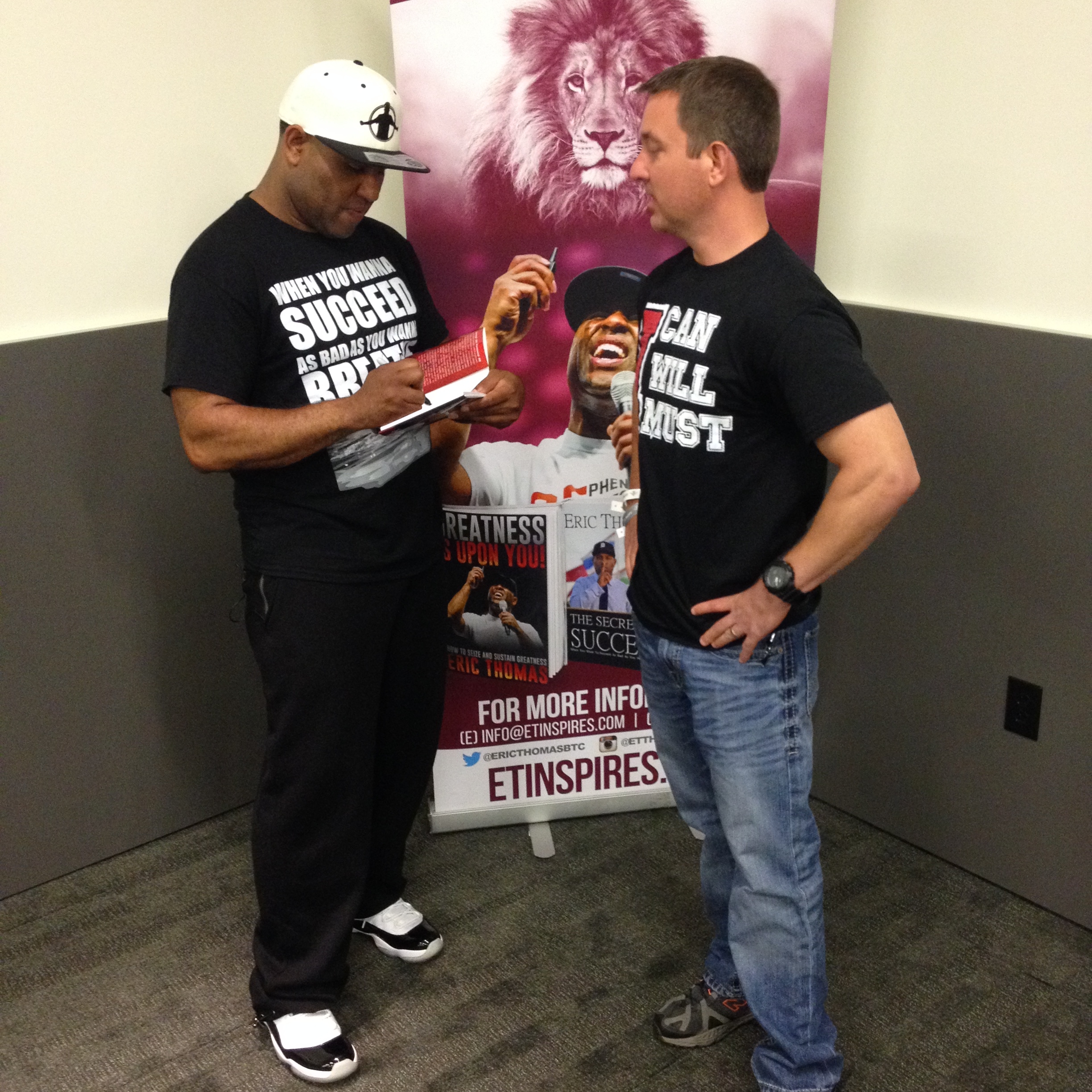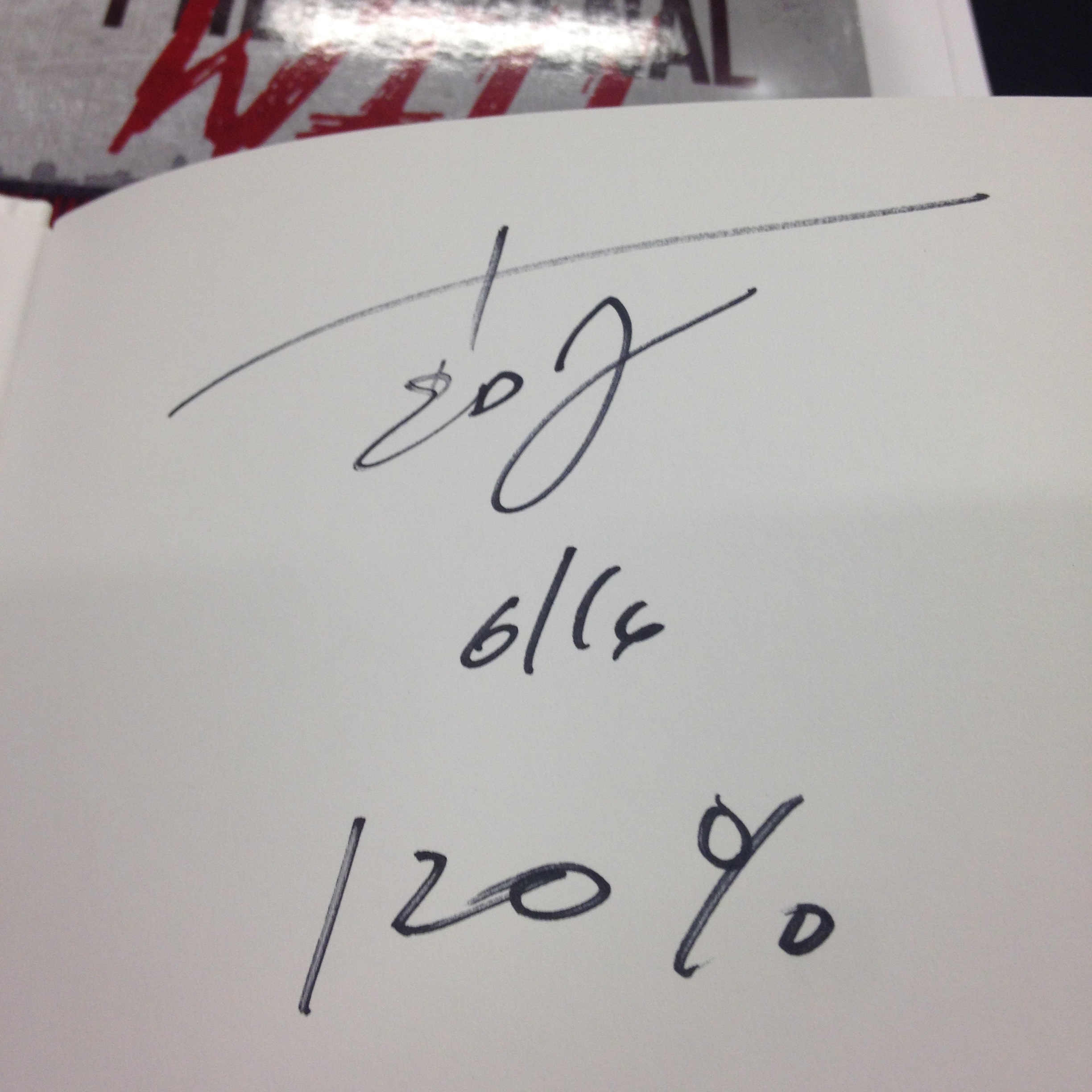 What an inspiring trip to Cleveland to hang out with ET for the day! I am excited to leverage much of the learnings from the event and continue to follow ET's message and success online. I know a lot of good things will come from my Sunday of personal development in Cleveland. I highly recommend checking out Eric Thomas on YouTube, his website and live in person if the opportunity presents. Game-changing experience!
What was also cool was to see filming that day in Downtown Cleveland for the upcoming movie "Fast 8" with Vin Diesel and Dwayne "The Rock" Johnson (aka, Fast and Furious series) coming 2017. They were filming a lot of car chase and crash scenes. I have never seen so many crushed BMWs and Mercedes! It was awesome to get up close to this super truck after a chase sequence that was apparently driven by "The Rock". Can't wait to see the movie!!
"WHEN YOU WANT TO SUCCEED AS BAD AS YOU WANT TO BREATHE… THEN YOU WILL BE SUCCESSFUL!!" – Dr. Eric Thomas (ET)
The following two tabs change content below.
Premiere 5 Star Diamond Independent Beachbody Coach, CEO and Founder of TEAM RAGE, Mike Nowak Fitness, HowDoIGetRipped.com and How Do I Get Ripped, LLC. You are about to learn how I went from out-of-shape busy dad with significant travel, 2 kids and a wife to losing 20 pounds, 16% body fat and 7" off my waist while getting paid more income from home than my Ph.D. in Science & Engineering. Retired my Ph.D. career to focus on FAMILY & FITNESS!
Latest posts by Mike Nowak (see all)
Comments