Eating for Fitness
By: Dennis Abrams – TEAM RAGE Contributing Author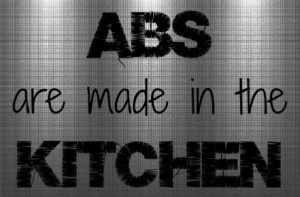 They say that abs are made in the kitchen.  But then so are biceps.  And quads.  And every muscle in your body.  Because if you're not eating right, you can workout all you want, but you're just going to be spinning your wheels – good nutrition is what's going to fuel the muscle growth you're trying so hard to achieve.
But what to eat and when?
Everybody's needs are different, but for most people, six meals (three "real" and three small), interspersed throughout the day will help keep their metabolism going (which burns fat) and keep their muscles supplied with the protein they need to recover from their workouts and grow.
For me, this is the schedule that seems to work:
I workout in the AM, so when I wake up I have a tall glass of water with BCAA's and my preworkout supplement plus, if I feel like I need it, one scoop of whey protein.  I walk the dog and by the time we get back home, it's time to workout.
Post workout I have a whey protein shake (two scoops) and either a bowl of oatmeal or a couple of slices of whole grain toast, plus something with "real" sugar – fruit, honey or maple syrup on the oatmeal – post workout is the ideal time to feed your body a quick fix of sugar.
Lunch is generally a sandwich, lean turkey (lots of it) or tuna salad (one can with two hard boiled eggs) on whole grain bread and a big salad.
A couple of hours after that I'll usually have my Shakeology.  A couple of hours after that, something like non-fat Greek yogurt with a little bit of natural granola.
Dinner is more protein (chicken, lean beef, lean pork, turkey, whatever) some carbs (whole grain pasta of some kind, brown rice, quinoa, etc.) and lots of green vegetables.
And then, an hour or so before bed, a casein protein shake.
This is what I've found, after years of  trial and error, works best for me.  Do I follow it religiously?  Of course not.  I go out for lunch with friends on occasion and have a jalapeno cheeseburger with onion rings.  I go out for dinner and eat whatever I want.  But 90% of the time…this is my nutrition plan.  Will it work for you?  Try it and see – I do strongly advise though, that each meal you eat during the day contains both protein and carbs.  It'll do your body good.
And here's a recipe I love.  It's whole grain, healthy, easy to make, and the longer it sits in the fridge the better it tastes.   And of course you can adapt it to your own tastes:  add more vegetables if you want, or make it a complete meal with the addition of something like grilled sliced chicken breast.
Quinoa with Black Beans and HominyRecipe
Courtesy Giada De Laurentiis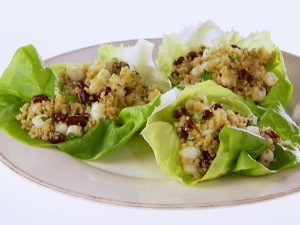 Prep Time:
10 min
Inactive Prep Time:
10 min
Cook Time:
20 min
Level:
Easy
Serves:
4 to 6 servings
Ingredients
Quinoa:
1 1/2 cups quinoa
2 cups low-sodium chicken broth
1/2 teaspoon kosher salt
Zest of 1 large lemon
Dressing:
1/4 cup olive oil
3 tablespoons agave nectar
2 tablespoons fresh lime juice (from about 2 large limes)
1 tablespoon apple cider vinegar
1 tablespoon ground cumin
1 teaspoon kosher salt
1/4 teaspoon freshly ground black pepper
Two 15-ounce cans hominy, rinsed and drained
One 15-ounce can black beans, rinsed and drained
1/4 cup chopped fresh cilantro
Kosher salt and freshly ground black pepper
1 head butter lettuce, leaves separated
Directions
For the quinoa: In a 2-quart saucepan, bring the quinoa, chicken broth, salt and lemon zest to a boil over medium-high heat. Reduce the heat, cover the pot and simmer until the liquid has been absorbed and the quinoa is tender, about 20 minutes. Remove the pan from the heat and allow to rest for 10 minutes.
For the dressing: In a small bowl, whisk together the grapeseed oil, agave, lime juice, vinegar, cumin, salt and pepper until smooth.
In a serving bowl, combine the quinoa, hominy, black beans and cilantro. Add the dressing and toss until coated. Season with salt and pepper. Spoon into the lettuce leaves and serve.
Per serving (based on 6 servings): Calories: 332; Total Fat: 13 grams; Saturated Fat: 1 gram; Protein: 9 grams; Total carbohydrates: 46 grams; Sugar: 12 grams; Fiber: 5 grams; Cholesterol: 0 milligrams; Sodium: 625 milligrams
ENJOY! 
The following two tabs change content below.
Premiere 5 Star Diamond Independent Beachbody Coach, CEO and Founder of TEAM RAGE, Mike Nowak Fitness, HowDoIGetRipped.com and How Do I Get Ripped, LLC. You are about to learn how I went from out-of-shape busy dad with significant travel, 2 kids and a wife to losing 20 pounds, 16% body fat and 7" off my waist while getting paid more income from home than my Ph.D. in Science & Engineering. Retired my Ph.D. career to focus on FAMILY & FITNESS!
Latest posts by Mike Nowak (see all)
Comments