Coach Summit Nashville New Products and Team Recognition
I just got back from an AMAZING trip to Nashville, TN for the annual Team Beachbody Coach Summit with 25,000+ coaches in attendance and thousands streaming the event live from home. The atmosphere was like nothing else I have experienced in person with new product announcements, training, live workouts with celebrity trainers, networking with other successful coaches, exclusive parties and multiple on-stage recognition for our Team, TEAM RAGE! This was my 5th Coach Summit and the event FAR exceeded past experiences and my personal expectations for this year. The opening and closing ceremonies were streamed live from Nissan Field, Home of the NFL Tennessee Titans, while the annual "Super Workout" with all of the trainers actually SHUT DOWN the famous Broadway Street downtown!
I was honored and proud to walk the stage this year on behalf of TEAM RAGE thanks to our team success helping others with their health, fitness and financial goals. This included 5 Star Diamond recognition as well as time on stage during the closing ceremony for recognition of Premiere Coach, putting our Team in the top one percent of the entire Coach Network. My recognition also included Success Club Legend, founding Board member Minnesota Market Council and Financial Independence. Amazing accomplishments for our team and this is just the beginning!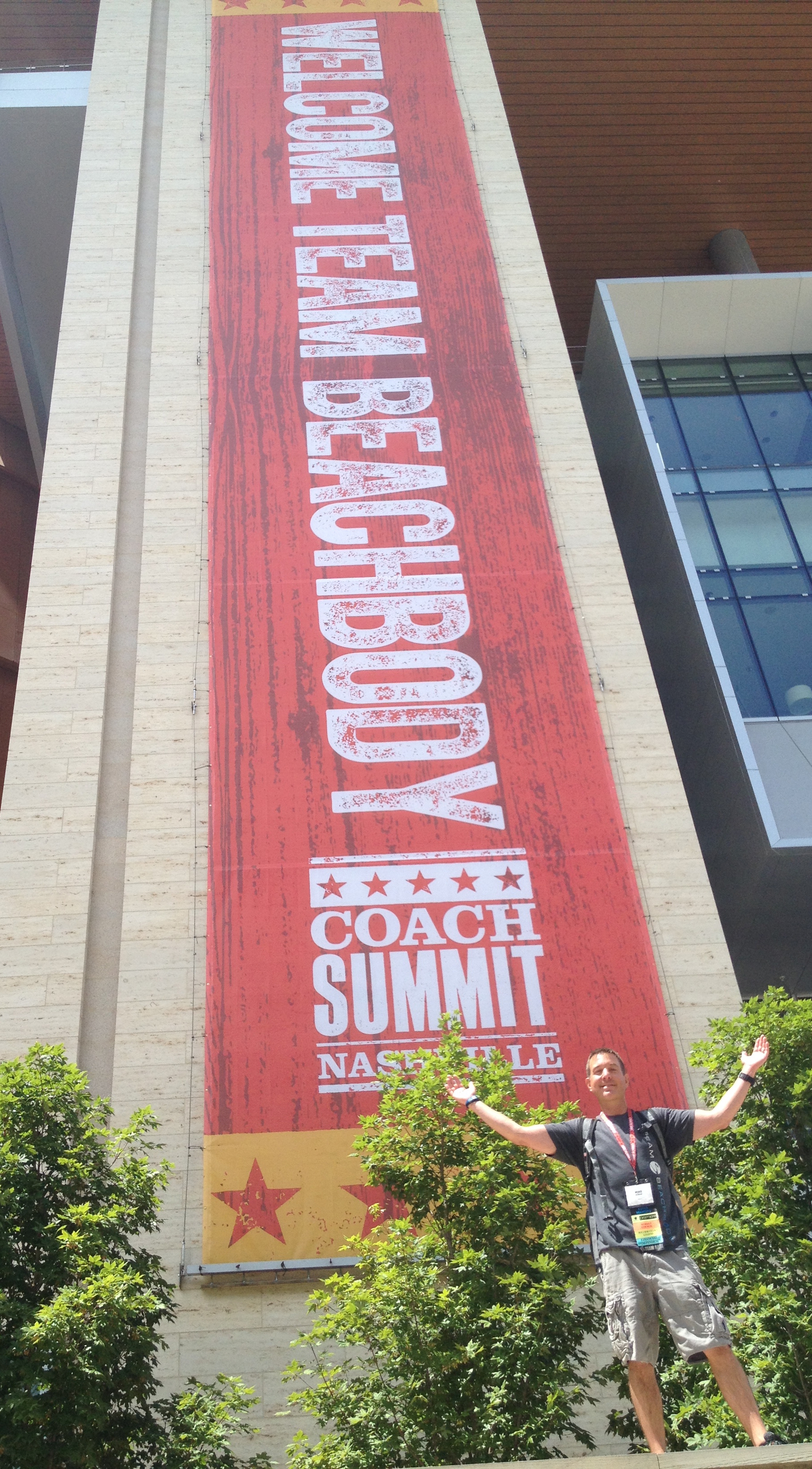 This blog captures some of the pictures and video from Coach Summit in addition to more information on the new products CIZE, Beachbody Performance Line of Supplements, Shakeology Boosts, 21 Day Fix FIXATE Cookbook and the new program coming this December, Hammer and Chisel!
Below is our Team recognition for 5 Star Diamond rank promotion and Premiere status!! The 5 Star Diamond recognition was great as I was congratulated on stage by CEO Carl Daikeler, President Jon Congdon as well as Executive VPs Michael Niemand and Jeff Hill. The Premiere award was very special to me as it supports that my team is changing A LOT of lives… only around 70 coaches in the entire Coach Network out of 300,000+ achieved Premiere Coach!
And a Bird's Eye perspective from the top of the football stadium !!
And the famous Beachbody Super Workout, 1.5 hours of training live with Sagi Kalev (Body Beast, Hammer & Chisel), Tony Horton (P90X series, 10 Minute Trainer), Shaun T (Insanity series, CIZE), Chalene Johnson (Turbo Fire, ChaLean Extreme) and Autumn Calabrese (21 Day Fix series, Hammer & Chisel). Amazing workout! Here are some video highlights…
Get into great shape at home with Shaun T's newest, intense dance fitness program. You'll have so much fun challenging yourself to master the dance choreography during this 4 week program that you won't even realize you are getting a great cardio workout. CIZE truly is "The end of exercize."
In each routine, Shaun breaks down challenging moves step-by-step, and builds them into a full dance sequence in just 35-40 minutes. So, while you are mastering the dance moves, you'll also be burning fat and calories.
MORE INFO ON KITS AVAILABLE HERE, BE ONE OF THE FIRST TO GET CIZE!!

BREAKING NEWS ANNOUNCED ==> HAMMER AND CHISEL!
Two of our celebrity trainers, Sagi Kalev and Autumn Calabrese, have joined forces to bring you The Master's Hammer and Chisel™ – Coming in December 2015.
What is The Master's Hammer and Chisel™? It's a 60-day total-body transformation program that helps you craft a defined, jaw-dropping physique using breakthrough resistance training. You will sculpt your body into a masterpiece with 14 brand-new workouts from celebrity trainers and winning fitness competitors, Sagi Kalev and Autumn Calabrese.
How does The Master's Hammer and Chisel work? You'll focus on building muscle, power, and strength with The Master's Hammer™ workouts and trainer Sagi Kalev, while you shed fat and sculpt definition with The Master's Chisel™ workouts and trainer Autumn Calabrese. Plus, it includes a dedicated modifier who demonstrates moves at a lower intensity and adapts exercises for those with limited access to equipment.
I am personally VERY excited to begin this program in December. Message me if you would like to join my private support group!
SHAKEOLOGY BOOSTS: Now Available !
Some days you need more energy, other days you may not be getting enough veggies. Thanks to NEW Shakeology® Boosts, you now have the power to customize your shakes to your specific needs. Introducing 3 unique Boosts: Focused Energy Boost, Power Greens Boost, and Digestive Health Boost.
Focused Energy Boost energizes your day the healthy way. If you're looking for an effective pick-me-up without compromising your health, then this boost is for you. Not only will you feel more energized, this amazing boost also supports mental clarity, alertness, and focus to help you be more productive.
Power Greens Boost fuels your body with a full serving of nutrient-dense vegetables and exotic greens. Contains veggies like kale and spinach that feed your body more of what it's not getting from the average vegetable-challenged diet, and it tastes great too! Plus, it helps support the body's acid/alkaline balance.
Digestive Health Boost is a quick and easy way to help support regularity and digestive health. Get over half of your daily recommended amount of fiber when you add this boost to Chocolate Shakeology. With a unique blend of 7 grams of both soluble AND insoluble fiber packed into every single scoop, this formula stands apart from typical fiber supplements that contain only soluble fiber. Plus, it helps improve irregularity, support digestive health, and helps keep you feeling full longer.
BEACHBODY PERFORMANCE: Available now with free shipping
The highly anticipated premium supplement system is here! And MORE great news! Everyone gets FREE shipping through August 31st.

What is Beachbody Performance?
An easy-to-use, complete supplement system that's guaranteed to boost your workout performance and help accelerate the results from any fitness program. It's designed by Harvard-trained scientists and combines the latest cutting-edge science with the most effective performance-boosting ingredients from nature. Every ingredient is thoroughly tested and scientifically shown to enhance performance and recovery. There are 5 unique formulas—Energize, Hydrate, Recover, Recharge, and Creatine—that can be used alone or easily customized depending on your fitness goals or needs. It will help you overcome any obstacle—from low energy to muscle soreness—so you can push yourself harder in every workout.
What's included in the Beachbody Performance line?
The system has four powder drinks formulated with key ingredients scientifically shown to be effective.
BEACHBODY PERFORMANCE ENERGIZE PRE-WORKOUT (Lemon Spark Flavor) – Improves intense exercise performance, increases energy and endurance, and sharpens focus, and reaction time.
BEACHBODY PERFORMANCE HYDRATE DURING-WORKOUT (Citrus Cooler Flavor) – Supports hydration during exercise, replaces electrolytes lost during exercise, fuels working muscles, and improves endurance.
BEACHBODY PERFORMANCE RECOVER POST-WORKOUT (Chocolate Chill Flavor) – Speeds muscle recovery, promotes lean muscle synthesis, combats exercise-induced muscle soreness, and improves muscle strength recovery.
BEACHBODY PERFORMANCE RECHARGE NIGHTTIME (Vanilla Dream Flavor) – Supports overnight muscle recovery, improves overnight adaptation to exercise, promotes lean muscle synthesis, and reduces muscle breakdown.
PLUS: BEACHBODY PERFORMANCE CREATINE – This add-on has no flavor and mixes well with the Post-Workout formula to improve high intensity exercise performance, increase muscle strength and power, and enhance the effects of resistance training.
There are also bundled stacks and samplers available to give even more options to take your performance to the next level!!
Ultimate Performance Stack: All 5 Beachbody Performance supplements designed to work together to help you get ultra-lean, ultra-strong, and ultra-defined—incredibly fast including Energize, Hydrate, Recover, Recharge and Creatine!
Advanced Performance Stack: 4 formulas so you can shatter your personal limits while helping you to charge harder, last longer, perform better, and recover sooner including Energize, Hydrate, Recover and Recharge.
Performance Stack: It includes two crucial formulas—Energize and Recover—to help give you a blast of energy, sharpen your focus, improve your performance, and speed recovery.
Performance Sampler: You'll get one single-serve packet of each Beachbody Performance product: Energize, Hydrate, Recover, Recharge, and Creatine. Experience the benefits, taste the delicious flavors, and see for yourself how much better your workouts can be!
Get your pots, pans, and kitchen essentials ready, because Autumn Calabrese's 21 Day Fix-based cookbook, FIXATE, is here! This all-new cookbook takes Autumn's simple color-coded container portion control system and applies it to 101 of her favorite family recipes. Each FIXATE recipe lists color-coded container equivalents and nutrition facts. Plus, FIXATE includes Paleo, gluten-free, vegan, and vegetarian recipes along with Autumn's personal tips for preparing meals quickly, and stocking your kitchen with absolute must-haves.
***And, finally, some more pictures from the exclusive Coach Summit parties with the celebrity trainers!!***
The following two tabs change content below.
Premiere 5 Star Diamond Independent Beachbody Coach, CEO and Founder of TEAM RAGE, Mike Nowak Fitness, HowDoIGetRipped.com and How Do I Get Ripped, LLC. You are about to learn how I went from out-of-shape busy dad with significant travel, 2 kids and a wife to losing 20 pounds, 16% body fat and 7" off my waist while getting paid more income from home than my Ph.D. in Science & Engineering. Retired my Ph.D. career to focus on FAMILY & FITNESS!
Latest posts by Mike Nowak (see all)
Comments