Body Beast:Cardio Review
How Do I Get Ripped?
Beast:Cardio done from Body Beast. I am not going to lie, this workout is NO JOKE and now one of my all-time favorites! Think P90X Plyo combined with weight training. The workout is only 30 minutes but I was completely exhausted by the end. Moves ranged from various squat movements with weights, complexes with renegade rows and burpees as well as several cardio series and plank discipline. Love it. P90X Recovery Formula down. Tomorrow I may try another Body Beast workout before starting more formally on Monday. Shakeology accountability – Chocolate Bananas Foster – 1 scoop Chocolate Shakeology, 1 banana, ½ tsp. cinnamon, ½ tsp. rum extract, 1 cup skim milk and ice to taste. What a way to start the day… ALL MY FRIENDS, keep up the good work with the workouts and nutrition. Rage. Become a Machine.
Click the banner below to try BODY BEAST!!!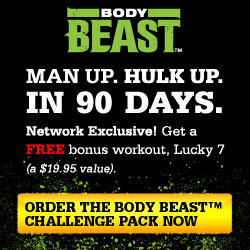 The following two tabs change content below.
Premiere 5 Star Diamond Independent Beachbody Coach, CEO and Founder of TEAM RAGE, Mike Nowak Fitness, HowDoIGetRipped.com and How Do I Get Ripped, LLC. You are about to learn how I went from out-of-shape busy dad with significant travel, 2 kids and a wife to losing 20 pounds, 16% body fat and 7" off my waist while getting paid more income from home than my Ph.D. in Science & Engineering. Retired my Ph.D. career to focus on FAMILY & FITNESS!
Latest posts by Mike Nowak (see all)
Comments