Body Beast TEMPO: Back/Bis Review
How Do I Get Ripped?
Man did I miss the Body Beast workouts during my travels. This program is exactly what I was looking for in a mass gain discipline. Body Beast TEMPO Back/Bis done. These TEMPO workouts are insane. The workout was approx. 48 minutes and leveraged 5 series of TEMPO single set combinations. TEMPO focus is typically 6 sec down (eccentric) and 6 sec up for 15 reps, 6 sec down and 3 sec up for 12 reps, and 3 sec down and 3 sec up for 8 reps. The moves included dumbbell pullover followed by wide plank in & out after last set, wide front pullup followed by hanging circle after last set, reverse bent-over row with EZ Curl bar followed by lat oblique twist after last set, dumbbell preacher curl followed by hanging curl after last set, and, finally, all-angle bicep with EZ Curl bar followed by speed mountain climber after last set. I was pleased with my performance and my arms are on fire. I am good at pullups but the TEMPO pullup count pushed me to the limits. I also enjoyed the hanging circle (hang from pullup bar and work abs side to side with bent knees) and preacher curls. The EZ Curl bar work was a great addition to this workout. P90X Recovery Formula down. Shakeology accountability – 1 scoop Chocolate Shakeology mixed in iced water with banana + natural peanut butter with ice to taste. Everyone keep up the good work with the workouts and nutrition! Rage. Become a Machine.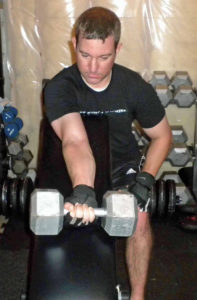 The following two tabs change content below.
Premiere 5 Star Diamond Independent Beachbody Coach, CEO and Founder of TEAM RAGE, Mike Nowak Fitness, HowDoIGetRipped.com and How Do I Get Ripped, LLC. You are about to learn how I went from out-of-shape busy dad with significant travel, 2 kids and a wife to losing 20 pounds, 16% body fat and 7" off my waist while getting paid more income from home than my Ph.D. in Science & Engineering. Retired my Ph.D. career to focus on FAMILY & FITNESS!
Latest posts by Mike Nowak (see all)
Comments