Body Beast Review – Official Day 1 Today!
How Do I Get Ripped?
Day 1 Body Beast done! Build:Chest/Tris. Awesome. Let the games begin – 89 days to go! It was a great workout today with Sagi and crew. The super set with incline dumbbell fly and incline dumbbell press was killer especially with the drop set at the end. I was also challenged by the giant set with close grip press, partial chest fly and decline push-up. Highlight was hitting the 60-lb dumbbells with the flat chest press, will increase next time. My weights will be dialed in for next week looking to increase on all sets. Base Shake, Super Suma, Fuel Shot and Max Creatine down. Shakeology for snack – Chocolate Banana Nutter – 1 scoop Chocolate Shakeology, 1 Tbsp. natural peanut butter, 1 banana, 1 cup water and ice to taste. Will check in here with new workouts that I have not reviewed yet, otherwise follow my progress on my Facebook fan page (check out the right side of this screen, like my page!) Check it out, Sagi has my back!! Everyone keep up the good work with the workouts and nutrition. Rage. Become a Machine.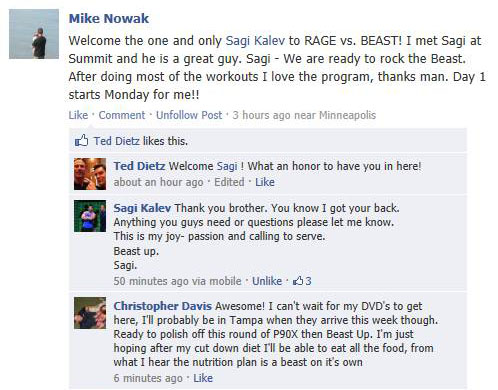 The following two tabs change content below.
Premiere 5 Star Diamond Independent Beachbody Coach, CEO and Founder of TEAM RAGE, Mike Nowak Fitness, HowDoIGetRipped.com and How Do I Get Ripped, LLC. You are about to learn how I went from out-of-shape busy dad with significant travel, 2 kids and a wife to losing 20 pounds, 16% body fat and 7" off my waist while getting paid more income from home than my Ph.D. in Science & Engineering. Retired my Ph.D. career to focus on FAMILY & FITNESS!
Latest posts by Mike Nowak (see all)
Comments