Body Beast Lucky 7 Review
How Do I Get Ripped?
Body Beast Lucky 7 done! This is a great, short workout. Very effective sequence with compound movements hitting the total body in only 23 minutes. There were 7 combo sets of 7 progressive circuits. All circuits leveraged the EZ Curl Bar. Combo sets included EZ Pushup/Clean/Squat, Dead lift/Bent over row, Skullcrusher/Press/Crunch, Curl/Military press/EZ squat, Delt raise/Reverse lunges, Lat oblique twist, Upright row/Calf raise. Awesome. I particularly enjoyed the Curl/Military press/EZ squat. I ended up using 40 pounds on the EZ Curl bar for the entire workout and have a good sense now of where I can increase the weights. This is definitely a workout that I will add to a range of hybrid schedules. P90X Recovery Formula down. Shakeology accountability – Chocolate Banana Nutter – 1 Tbsp. natural peanut butter, 1 banana, 1 cup water and ice to taste. Everyone keep up the good work with the workouts and nutrition. Rage. Become a Machine.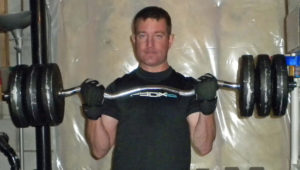 The following two tabs change content below.
Premiere 5 Star Diamond Independent Beachbody Coach, CEO and Founder of TEAM RAGE, Mike Nowak Fitness, HowDoIGetRipped.com and How Do I Get Ripped, LLC. You are about to learn how I went from out-of-shape busy dad with significant travel, 2 kids and a wife to losing 20 pounds, 16% body fat and 7" off my waist while getting paid more income from home than my Ph.D. in Science & Engineering. Retired my Ph.D. career to focus on FAMILY & FITNESS!
Latest posts by Mike Nowak (see all)
Comments