Body Beast BULK:Legs Review
How Do I Get Ripped?
Day 23 Body Beast BULK:Legs done. Wow. That was insane. I was expecting that this would be shorter like most of the BULK workouts. Not. It was 40 minutes and felt every minute of 40 minutes. This is going to be my most challenging workout in the Body Beast program.  With that said, I was able to push hard and I was pleased with my weights for the first run at BULK:Legs. The workout consists of single set (front to back lunges), progressive set (squat), force set (full to ½ sumo squat), progressive set (split squat EZ Curl Bar), super set (stiff leg deadlift, alt. side squat) and super set (calf raise, beast abs). Highlights for me last sets included 25s for front to back lunge, 50s for squat and full to ½ sumo squat, 70-lbs EZ Curl for split squat and 30s for calf raise (50 reps each leg). To me, the split squat sequence was crazy hard and it was difficult to keep up with changing the weights for each set. I also found I could use a little extra room in my workout area. Ha. Legs are a bit weak now. Tomorrow is BULK:Back plus golf. Actually looking forward to that workout. Body Beast Hardcore Base Shake, Fuel Shot, Super Suma and Max Creatine down. Mid-morning Shakeology accountability – Mango Breeze – 1 scoop Tropical Strawberry Shakeology, 1 cup water, ½ cup mango chunks and ice to taste. I am so sore. Love it. Everyone have an amazing day with the workouts and nutrition! Rage. Become a Machine.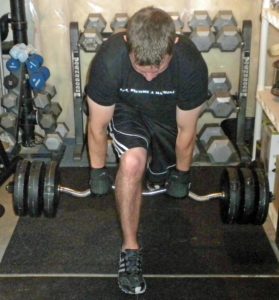 The following two tabs change content below.
Premiere 5 Star Diamond Independent Beachbody Coach, CEO and Founder of TEAM RAGE, Mike Nowak Fitness, HowDoIGetRipped.com and How Do I Get Ripped, LLC. You are about to learn how I went from out-of-shape busy dad with significant travel, 2 kids and a wife to losing 20 pounds, 16% body fat and 7" off my waist while getting paid more income from home than my Ph.D. in Science & Engineering. Retired my Ph.D. career to focus on FAMILY & FITNESS!
Latest posts by Mike Nowak (see all)
Comments