Body Beast BULK:Chest Review
How Do I Get Ripped?
Just finished BLOCK one of Body Beast – BUILD! Love this program. Up 5 pounds in three weeks while reducing body fat. I am really looking forward to the next 6 weeks in the BULK block of Body Beast. Calories are still 3000 per day at 50% carbs – 25% protein – 25% fat. Progress pictures coming at Day 30.
Day 22 Body Beast BULK:Chest done. I have been looking forward to this workout and BULK:Chest did not disappoint. I was pleased with my performance and look forward to gains over the next 6 weeks. The workout consists of super sets (incline fly, incline press), force set (chest press with rotation), progressive set (incline press), combo set (close-grip press to fly) and a strong finish with multi-set (decline pushups, cobra to airplane and Russian twist). All in 30 minutes. Wow. I was able to mostly hit the 45s for incline fly, 50s for incline press super set and 35s for most other movements. I added the 20-lb weighted vest for the decline pushup multi-set at the end. This workout really hammers the upper chest more than a typical workout for me and I know I will further develop. By the way, I am a big fan of the music in Body Beast. Tomorrow is the infamous BULK:Legs. Uh-oh. Body Beast Hardcore Base Shake, Fuel Shot, Super Suma and Max Creatine down. Mid-morning Shakeology accountability – Chocolate Banana Nutter – 1 scoop Chocolate Shakeology, 1 Tbsp. natural peanut butter, 1 banana, 1 cup water and ice to taste. Everyone have an amazing day with the workouts and nutrition! Rage. Become a Machine.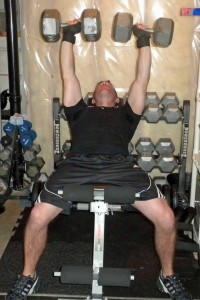 The following two tabs change content below.
Premiere 5 Star Diamond Independent Beachbody Coach, CEO and Founder of TEAM RAGE, Mike Nowak Fitness, HowDoIGetRipped.com and How Do I Get Ripped, LLC. You are about to learn how I went from out-of-shape busy dad with significant travel, 2 kids and a wife to losing 20 pounds, 16% body fat and 7" off my waist while getting paid more income from home than my Ph.D. in Science & Engineering. Retired my Ph.D. career to focus on FAMILY & FITNESS!
Latest posts by Mike Nowak (see all)
Comments