Body Beast BULK:Back Review
How Do I Get Ripped?
Day 24 Body Beast BULK:Back done. Love this workout. Only 30 minutes in length and goes after the range of back muscles in a targeted approach. The movements include super set (dumbbell pullover, pullup), progressive set (reverse grip row), force set (one-arm row, 5×5 under tension between sets), single set (deadlift) and super set (reverse fly, plank rotation). I was pleased with my performance with highlights being last set weights of 70-lb dumbbell for pullover, 20-lb weighted vest for all pullups, 100-lb on EZ Curl bar for reverse grip row and 50-lb dumbbell for force set. My back was worked. Later today I have golf and then tomorrow is BULK:Arms and BEAST:Abs. Looking forward to the Arms workout. Body Beast Hardcore Base Shake, Fuel Shot, Super Suma and Max Creatine down. Mid-morning Shakeology accountability – Chocolate Banana Nutter – 1 scoop Chocolate Shakeology, 1 Tbsp. natural peanut butter, 1 banana, 1 cup water and ice to taste. Life is good. Everyone have an amazing day with the workouts and nutrition! Rage. Become a Machine.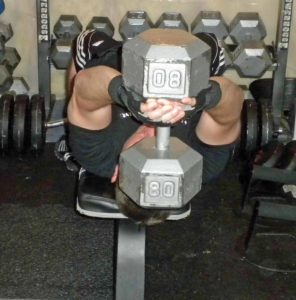 The following two tabs change content below.
Premiere 5 Star Diamond Independent Beachbody Coach, CEO and Founder of TEAM RAGE, Mike Nowak Fitness, HowDoIGetRipped.com and How Do I Get Ripped, LLC. You are about to learn how I went from out-of-shape busy dad with significant travel, 2 kids and a wife to losing 20 pounds, 16% body fat and 7" off my waist while getting paid more income from home than my Ph.D. in Science & Engineering. Retired my Ph.D. career to focus on FAMILY & FITNESS!
Latest posts by Mike Nowak (see all)
Comments