Body Beast BULK:Arms and BEAST:Abs Review
How Do I Get Ripped?
Day 25 Body Beast BULK:Arms and BEAST:Abs done. BULK:Arms was the last workout in the Body Beast program that I have not tried yet so I was pumped for the workout today (as pumped as I can be at 5AM). As always, I loaded up on Beachbody E&E Energy and Endurance pre-workout formula and then hit the workout approx. 30 minutes later. This was a challenging workout. Loved it. BULK:Arms consists of progressive set (standing curl), single set (tricep extension), force set (wide EZ Curl bar curl 5 sets x 5 reps with biceps under tension between sets), single set (skull crusher), progressive set (hammer curl, concentrated version), progressive set (tricep kickback) and single set (weighted crunch). The first progressive set for standing curl was much harder than I expected and the workout was relentless from there. For last sets I ended up hitting 35s for standing curl (well, part 35s, part 30s), 50-lb dumbbell for tricep extension, 40-lbs on EZ Curl for the force set, 70-lbs on skull crusher, up to 35s for hammer curls, up to 30s for tricep kickback and then used a 20-lb dumbbell for weighted crunches. Some sets I will increase weight next time. I then strapped on the 5-lb ankle weights and did BEAST:Abs. Used the 15-lb dumbbell for weighted moves. Went well. I am ready for 10-lb ankle weights next time. Good stuff. Tomorrow is BULK:Shoulders and then REST day. Much needed. Tomorrow I also plan to increase calories to 3500 per day at 50% carbs – 25% protein – 25% fat since I have been hungry. 30-day progress pics and measurements next week. Body Beast Hardcore Base Shake, Fuel Shot, Super Suma and Max Creatine down. Mid-morning Shakeology accountability – Chocolate Banana Nutter – 1 scoop Chocolate Shakeology, 1 Tbsp. natural peanut butter, 1 banana, 1 cup water and ice to taste. Arms are sore already. Everyone have an amazing day with the workouts and nutrition! Rage. Become a Machine.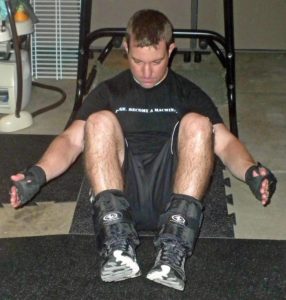 JOIN ME WITH BODY BEAST!! Click the banner below for everything you need to get started… As always, please let me know how I can help! FOLLOW MY DAILY PROGRESS ON FACEBOOK!!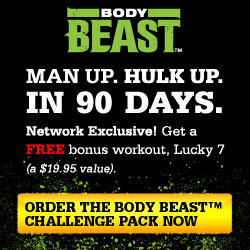 The following two tabs change content below.
Premiere 5 Star Diamond Independent Beachbody Coach, CEO and Founder of TEAM RAGE, Mike Nowak Fitness, HowDoIGetRipped.com and How Do I Get Ripped, LLC. You are about to learn how I went from out-of-shape busy dad with significant travel, 2 kids and a wife to losing 20 pounds, 16% body fat and 7" off my waist while getting paid more income from home than my Ph.D. in Science & Engineering. Retired my Ph.D. career to focus on FAMILY & FITNESS!
Latest posts by Mike Nowak (see all)
Comments